What Year did Galileo Make his First Telescope? Learn how in 1609, Galileo Built a Telescope Making 2009 the 400th Anniversary of Galileo's Telescope, International Year of Astronomy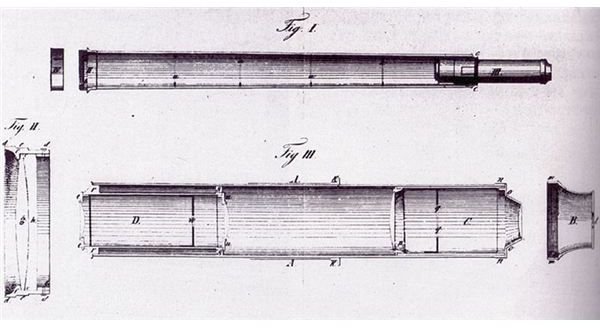 In 1609 Galileo Made His First Telescope
In the summer of 1609, Galileo Galilei was in Venice, where he heard news of a Flemish inventor's new creation, "a glass by means of which distant objects could be seen as distinctly as if they were nearby" (see Stillman Drake's book, "Galileo at Work"). Returning home to Padua, Galileo put his mind to assembling such a device of his own, and one day later he built his first telescope.
Four hundred years later, astronomers and astronomy buffs around the world plan to mark the anniversary of Galileo's first refracting telescope, with a 12-month calendar full of special events and programs.
(Note: while Galileo gets credit for the telescope because of the ground-breaking influence of his creation, the first "spyglasses" were made in 1608 by three men in the Netherlands: Hans Lippershey, Zacharias Janssen and Jacob Metius. Hence, Europe's 400-years-of-the-telescope celebration is taking place this year.)
Also dubbed "The International Year of Astronomy" (IYA), 2009 "will be a global celebration of astronomy and its contributions to society and culture, highlighted by the 400th anniversary of the first use of an astronomical telescope by Galileo Galilei," according to the IYA's Website. Heading up preparations for the IYA are two key partners: the International Astronomical Union and the United Nations Educational, Scientific and Cultural Organization (UNESCO).
A 19th Century Telescope
An illustration of a telescope that appeared in the Prussian Optical Telegraph Handbook for Telegraphists, (Museum für Post und Telekommunikation, Frankfurt), circa 1835.
Image credit: https://commons.wikimedia.org/wiki/Image:Teleskop-pruss-opt-teleg-co.jpg
2009 Anniversary Highlights
So what exactly will be taking place during this global celebration of the invention of the telescope? Some of the highlights include:
100 Hours of Astronomy. Set for April 2 through 5, this event kicks off when the moon's phase goes from first quarter to gibbous. True to its name, 100 Hours of Astronomy will run for 100 continuous hours, with activities planned worldwide. The celebration opens by featuring the telescope first used by Galileo and then moves on to observing sessions, educational activities, 24 hours of live Webcasts and 24 hours of sidewalk astronomy (coinciding with the International Sidewalk Astronomy Night) in cities around the globe. A key goal of 100 Hours organizers is to "have as many people as possible look through a telescope, as Galileo did for the first time 400 years ago."
A Galileoscope in every backyard. Well, not quite. But IYA organizers aim to put a simple telescope, akin to the one used by Galileo, in the hands of as many people around the world as possible. The goal: to give 10 million people their first glimpses of the heavens through a telescope.
A professional astronomer blogfest. The IYA's Cosmic Diary Blog (coming here soon) will feature ongoing online commentary by 24 resident astronomer-bloggers hailing from everywhere from Belgium to Vatican City. The purpose of the blog will be to "put a human face on astronomy" and let astronomer-bloggers talk not only about their work but where they live, what they do when they're not working, their hobbies, their families, and more. When completed, the blog will eventually also be repackaged as a book and a documentary.
The unveiling of a new "Portal to the Universe." Now in development, the Portal to the Universe will be a global, one-stop shop for all things astronomical. In addition to featuring news, photos, art, and resources about astronomy around the globe, the portal is also being designed to serve as a social networking site for anyone interested in astronomy.
A tour of Galileo's "Tuscan Sky." The Astronomical Society of the Pacific plans to embark on an eight-day tour of Italy to explore all things astronomical and Galileo-related. Travelers on the March 25 to April 2 trip will get to hear lectures about astronomy, tour Florence's Science History Museum, visit Galileo's final resting place at the Church of Santa Croce and, of course, make a pilgrimage to Galileo's House and Observatory.
A two-hour, high-definition production of "400 Years of the Telescope." Produced by Southern Oregon Public Television, in collaboration with the 'Imiloa Astronomy Center of Hawaii, the Carnegie Science Center's Buhl Planetarium, the Astronomical Society of the Pacific, and Interstellar Studios, "400 Years of the Telescope" will take viewers on a journey through time and around the world. The globe-hopping documentary will explore everything from ancient peoples' view of the heavens to advances in both telescope technology and our understanding of the universe. The program will also feature interviews with astronomers and philosophers about the future of astronomy, the impact we might one day feel upon discovering other civilizations in the universe, and "how our journey of discovery began with two small polished pieces of glass." A trailer for the production can be viewed on the 400 Years home page, as well as on YouTube.
Telescopes in Space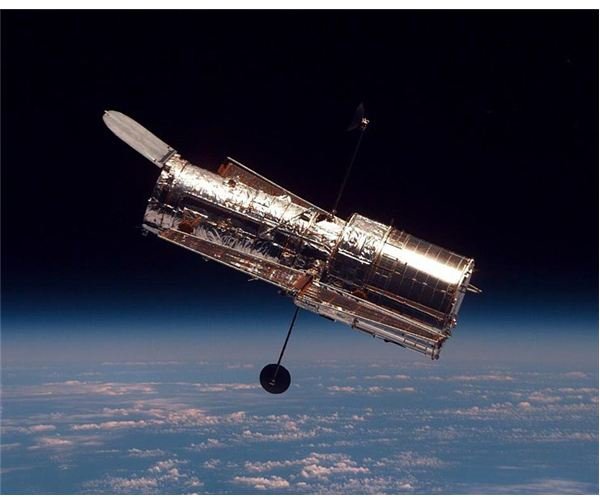 The Hubble Space Telescope.
Image credit: https://commons.wikimedia.org/wiki/Image:Hubble_01.jpg