First Female Space Tourist - Anousheh Ansari. Also the first Iranian and Muslim in space!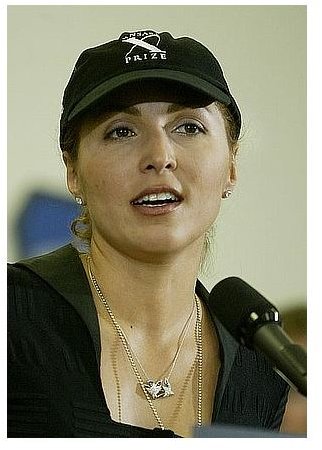 Anousheh Ansari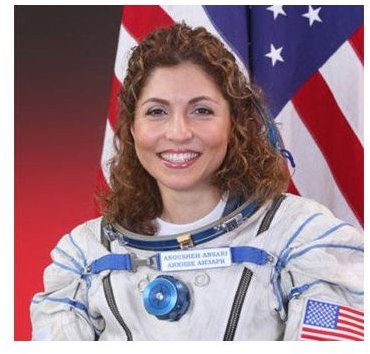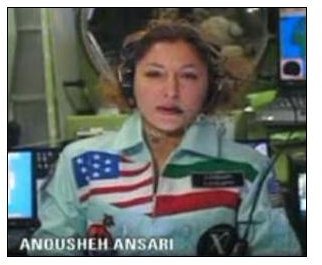 Childhood and Education
Anousheh Ansari was born on the 12th of September 1966 in Mashhad, Iran. After the Iranian revolution in 1979, she, along with her family settled in the United States in 1984. She managed to get a bachelor's degree in electronics and computer engineering from George Mason University and went on to earn a master's degree in electrical engineering from George Washington University. Later on, Ansari was honored with a doctorate by the International Space University.
Business Career
Anousheh Ansari started to work in an American telecommunications company, MCI, Inc. It was during this time she met Hamid Ansari to whom she married in 1991. With the help of her husband and his brother Amir Hansari, she managed to open Telecom Technologies, Inc in 1993. The company later merged with Sonus Networks, Inc in 2000, making the Ansari family extremely wealthy.
Space Interest
Ansari took a step towards her dream to visit space when she became a member of X-prize Foundation Vision Circle and donated a $10 million cash award for the first non-governmental organization to launch a spacecraft in space. The X-prize was renamed the Ansari X-prize and the firm announced a partnership with Space Adventures, Ltd and RosCosmos, a space agency from Russia. Ansari started her training for her flight on the 21st of August 2006. Luckily, she replaced Daisuke Enomoto who was the original "tourist" but disqualified for medical reasons. Of course, being a "space tourist" meant that Anousheh had to also pay for her trip (reportedly about $20 million dollars). The Soyuz-TMA started its journey in space on September 18, 2006 from Baikonur, Kazakhstan. Along with her team members, Ansari conducted series of experiments for the ESA during her 8-day stay on the International Space Station.
The Flight and Honors
Anousheh Ansari not only became the first person to publish a blog from space but she conducted many experiments along with her crewmembers. The research included mechanisms behind anemia, effects of space radiation on space visitors and microorganisms, and how changes in muscles affect lower back pain.
Anousheh Ansari was honored with many awards and she continues to work as a social industrialist to bring about essential changes globally with organizations such as the X-Prize, ASHOKA (by investing money in work with social entrepreneurs around Iran), and the Parsa Community Foundation - Ansari is a co-founder of this organization which helps Persians all around the world.