Nothing but the facts – Svetlana Savitskaya, the first woman to walk in space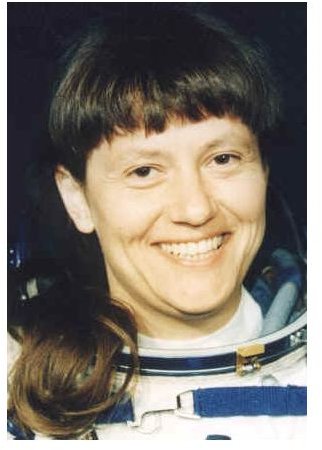 Introduction
Svetlana Savitskaya became the second women in space and was the first woman to perform a spacewalk. She was a world aerobatic champion and is currently serving as a member in Russian parliament. Her complete biography can be found in our "Women in Space" series, but here is a list of facts about this notable woman.
Svetlana Savitskaya
Nothing But The Facts
Full name: Svetlana Evgenyevna Savitskaya
Famous for: First woman to walk in space, second woman is space
Birth date: August, the 8th 1948
Birth place: Moscow, Russia, USSR
Father: Yevgeny Savitsky, aviation Marshal, WWII hero
Mother: Lidia Savitskaya, housewife
Family: brother Evgeny
Attended space program: July, the 30th, 1980
Pre-flight occupation: pilot, flight instructor, paratrooper (sport)
Age at the first flight: 34
Rank at the first flight: Lieutenant, Soviet Air Force
First mission name/code: "Dnepr-3"
First mission date: August, the 19th, 1982
First mission vessel: Soyuz T-7, Soyuz T-5, Salyut-7 Orbital Station
Number of missions: 2
Second mission date: Jule, the 17th, 1984
Second mission vessel: Soyuz T-12, Salyut-7 Orbital Station
Total time in space: 19d, 17h, 06m
Missions canceled: 2 (1985 – technical problems in Salyut-7 Orbital Station, 1986 - pregnancy)
Space Exploration contribution: First woman to walk in space, scientific research
Space roles: astronaut-researcher, engineer
Post-flight career (space-related): space-flight instructor, second-in-command to 292 space group, space research team leader
Education: M. Sc in Flight Engineering 1972, M. Sc. in Technical Engineering 1986
Retired: 1993
Retired Rank: Major, Soviet air force
Post-Space career: member of Soviet government (1989-90), member of Russian parliament (Communist Party - KPRF, 1990-93, 1995-today)
Marriage: Hatkovsky Victor
Children: son Constantin, born November, the 7th, 1986
Honors: Twice Hero of Soviet Union, 2 orders of Lenin, Order of Honor, numerous medals.
Other achievements and positions: World aerobatic champion (1970), 23 records for aircraft speed, 3 records for parachute jumps
Named after her: Asteroids Sveta 4118, Savitskaya 4303
References
https://www.astronaut.ru/as_rusia/energia/text/savitskaya.htm?reload_coolmenus
This post is part of the series: Facts About Female Astronaut Pioneers
Over 50 women have visited space since Valentina Tereshkova made her first flight in 1963. Svetlana Savitskaya and Sally Ride joined this elite club from the Soviet Space Agency and NASA respectively. Learn the facts about these pioneers of space exploration.