The First Woman in Space: Biography of Valentina Tereshkova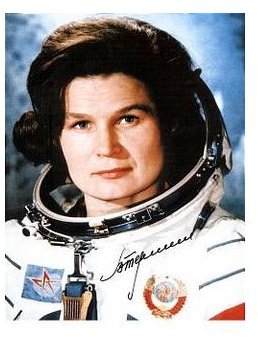 Introduction
Valentina Tereshkova is widely recognized for being the first woman in space. If you have no time or patience to study her complete biography (provided in "Women in space" series), here is a list of facts about this notable woman.
Valentina Tereshkova
Nothing But The Facts
Full name: Valentina Vladimirovna Tereshkova
Famous for: First woman in space
Birth date: March, the 6th 1937
Birth place: Maslennikova village, Yaroslavl' oblast' (region), Russia, USSR
Father: Vladimir Tereshkov, tractor driver, killed during WWII
Mother: Elena Tereshkova, cotton mill worker
Family: Brother Vladimir, sister Ludmila
Attended space program: February the 16th, 1962
Pre-flight occupation: Textile-factory worker, Komsomol and Communist Party activist, amateur parachutist
Age at the first flight: 26
Rank at the first flight: Junior Lieutenant, Soviet Air Force
First mission name/code: Chaika (Seagull)
First mission date: June the 16th, 1963
First mission vessel: Vostok VI
Backup: Irina Solovyeva
Number of missions: 1
Total time in space: 70h, 50m – 2 days, 22 hours, 50 minutes
Space Exploration contribution: First Woman in Space, horizon photographs - later used for identifying aerosol layers
Post-flight career: Member of the Soviet government form ruling body at various levels from 1966 to 1989.
Education: M. Sc in SpaceEngineering 1969, Ph D in Engineering 1977, Doctorate of University of Edinburgh (honorary)
Retired: 1997
Retired Rank: Major General, Soviet Air force
Marriage: Andrian Nikolayev, November the 3rd, 1963, divorced in 1982.
2nd marriage: Yuli Shaposhnikov, 1982 (died in 1999)
Children: Daughter, Elena, born June, the 8th, 1964
Honors: Hero of Soviet Union, 2 orders of Lenin, Order of October Revolution, Karl Marx Order, United Nations Gold Medal of Peace, Hero of Vietnam Mongolia, numerous medals.
Other achievements and positions: Vice President of the International Woman's Democratic Federation, President of the Soviet-Algerian Friendship Society.
Named after her: Crater at the far side of the moon, asteroid Chaika 1971
Famous phrase: "Sky, take off your hat!" - said before the flight.
Sources:
Valentina Tereshkova - Wikipedia article (russian)
Tereshkova Biography atr astronautix.com
This post is part of the series: Facts About Female Astronaut Pioneers
Over 50 women have visited space since Valentina Tereshkova made her first flight in 1963. Svetlana Savitskaya and Sally Ride joined this elite club from the Soviet Space Agency and NASA respectively. Learn the facts about these pioneers of space exploration.