Biography and Contributions of African American Astronaut Guion Bluford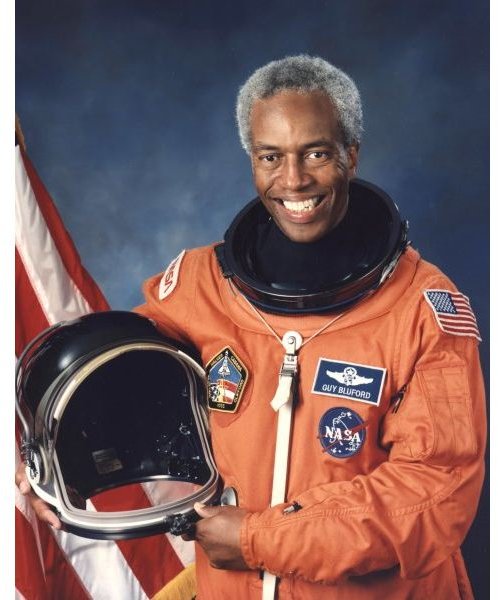 NASA's First African American Astronaut
Guion (Guy) Bluford was born in 1942. He is mostly known for his career in NASA as an astronaut. Bluford has also served in the United States Air Force and he is also known as the first African American to have traveled in space.
Biographical Data and Education
Birth Date: November 22, 1942
Birthplace: Philadelphia, Pennsylvania
Nationality: United States
Family Status: His mother was a special education teacher and his father was a mechanical engineer. Married to Linda Tull. They have two children, Guion III and James.
Hobbies: Reading, swimming, jogging, racquetball, handball, scuba diving and golf.
EDUCATION
1960: Graduated from Overbrook Senior High School in Philadelphia, Pennsylvania
1964: Received a bachelor of science degree in aerospace engineering (Pennsylvania State University) as a distinguished Air Force ROTC graduate
1974: A master of science degree with distinction in aerospace engineering (Air Force Institute of Technology)
1978: A doctor of philosophy in aerospace engineering with a minor in laser physics (Air Force Institute of Technology)
1987: A master in business administration (University of Houston, Clear Lake).
Bluford's Experience in Brief
1967: Bluford becomes a T-38A instructor pilot for the 3630th Flying Training Wing, Sheppard Air Force Base, Texas, serving as a standardization officer and as an assistant flight commander.
1971: He becomes an executive support officer to the Deputy Commander of Operations and a School Secretary for the Wing.
1974: He becomes a staff development engineer in the Air Force Flight Dynamics Laboratory at Wright-Patterson Air Force Base in Ohio (deputy for advanced concepts for the Aeromechanics Division and branch chief of the Aerodynamics and Airframe Branch).
1979: Bluford joins NASA.
1993: He leaves NASA and takes a post of Vice President/General Manager, Engineering Services Division, NYMA Inc., Greenbelt, Maryland.
1997: He becomes Vice President of the Aerospace Sector of Federal Data Corporation.
2000: He becomes Vice President of Microgravity R&D and Operations for the Northrop Grumman Corporation.
2002: He becomes President of the Aerospace Technology Group, an engineering consulting organization in Cleveland, Ohio.
NASA Career
In August 1979, Bluford joined NASA. He has worked on several assignments regarding the Space Station, Spacelab and Space Shuttle systems, the Shuttle Avionics Integration Laboratory (SAIL) and the Flight Systems Laboratory (FSL). He served as a crew member and mission specialist on four NASA missions_:_
STS-8
On August 30, 1983, the STS-8 mission was launched from Kennedy Space Center. It was the first mission with night launch and landing, and it was also the first mission for Bluford. During the STS-8, several medical experiments were conducted regarding the effect of space flight on the human body. The mission lasted 145 hours and during this time the shuttle Challenger completed 98 orbits around the Earth.
STS-61-A
On October 30, 1985, STS-61-A launched from Kennedy Space Center aboard Challenger. Eight members of the crew, along with Bluford performed 76 experiments in Spacelab. The mission lasted 169 hours and completed 111 orbits.
STS-39
In April 28, 1991, Bluford participated in the STS-39 mission, launched from Kennedy Space Center aboard Discovery. The mission lasted 199 hours and completed 134 orbits.
STS-53
On December 2, 1992, STS-53 launched from the Kennedy Space Center, Florida aboard Discovery. The mission lasted 175 hours and completed 115 orbits. This was the fourth and last mission Bluford participated in.
Image: Guion Bluford in the aft flight deck photographing the Earth during the STS-053 mission. The photo was taken on December 9, 1992.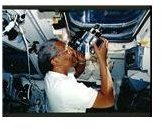 Interesting Facts About Guion Bluford
Bluford was the first African American in space.

He has more than 688 hours in space.

He flew 144 combat missions, 65 of which were over North Vietnam.

He has written several scientific papers in the field of computational fluid dynamics.

He is a certified scuba diver.

He has an FAA commercial pilot license.

He has over 5,200 hours jet flight time in the T-33, T-37, T-38, F-4C, F-15, U-2/TR-1, and F-5A/B, including 1,300 hours as a T-38 instructor pilot.

Bluford was included in the list of 100 Greatest African Americans in 2002.

He was selected as the Grand Marshal of Penn State in 2006.

He was inducted into the International Space Hall of Fame in 1997 and the United States Astronaut Hall of Fame in 2010.
Most Important Awards and Honors
National Defense Service Medal (1965)
Vietnam Campaign, Cross of Gallantry with Palm and Service Medals (1967)
Ten Air Force Air Medals (1967)
Three Air Force Outstanding Unit Awards (1967, 1970, 1972)
German Air Force Aviation Badge from the Federal Republic of West Germany (1969)
Air Training Command Outstanding Flight Safety Award (1970)
Air Force Commendation Medal (1972), Mervin E. Gross Award (1974) and Meritorious Service Award (1978)
National Society of Black Engineers Distinguished National Scientist Award (1979)
Four NASA Group Achievement Awards (1980, 1981, 1989, and 2003)
Pennsylvania State University Alumni Association's Distinguished Alumni Award (1983)
USAF Command Pilot Astronaut Wings (1983)
NASA Space Flight Medals (1983, 1985, 1991, and 1992)
Ebony Black Achievement Award (1983)
NAACP Image Award (1983)
Pennsylvania Distinguished Service Medal (1984)
Defense Superior Service Medal (1984)
Three Defense Meritorious Service Medals (1986, 1992, and 1993)
New York City Urban League's Whitney Young Memorial Award
Black Engineer of the Year Award (1991)
NASA Exceptional Service Medal (1992)
National Intelligence Medal of Achievement (1993)
Federation Aeronautique International Komarov Diploma (1993)
NASA Distinguished Service Medal (1994)
Air Force Institute of Technology Distinguished Alumni Award (2002) and Clear Lake Distinguished Alumni Award (2003)
Sources:
Image Credits:
Guion Bluford (commons.wikimedia.org)
Guion Bluford During the STS-053 Mission (images.jsc.nasa.gov)
The Crew of the STS-61A Mission (commons.wikimedia.org)