NASA iPad App Review: A Look at the Design, Content, and Connection You Get to NASA Through Your iPad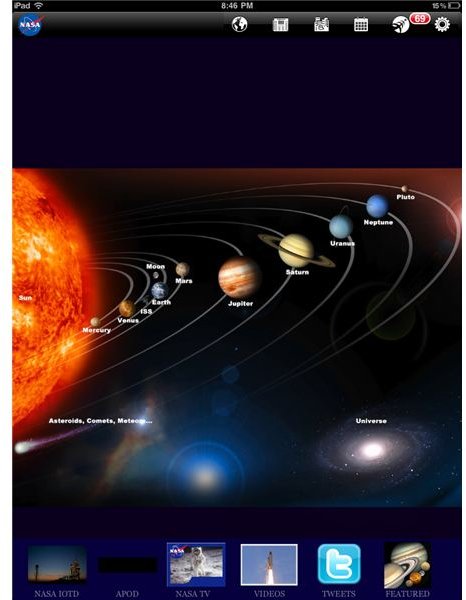 Bringing it Together
Today it is pretty common for different government agencies, following in the footsteps of larger corporations, to try and centralize all of their different divisions for communication into a single mobile application. NASA is a government agency that is not just dedicated to research and development around astronomical issues, but also about education with the public and to students about these sciences. NASA has successfully brought their web experience, which is a way of centralizing information about their various programs utilizing popular media and social networking, onto the iPad for a high quality portable experience.
Design (5 out of 5)
The design of the NASA iPad app is really about bringing info graphics into a visual framework that makes navigating the source of information a pleasure. The main screen is presented with an image of our solar system,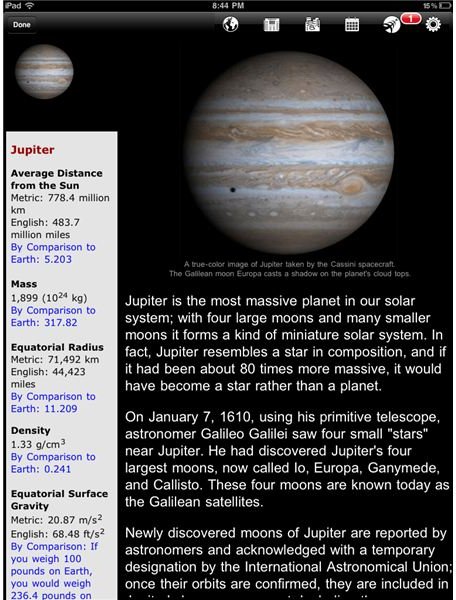 and you can select specific images for profile pages including cosmological timelines, stats, and a lot of information about the scientific details. If you want to choose the Sun, you can find out how it got its name, how the size of Saturn compares to the earth, or how NASA has contributed to the general understanding of our universe.
This is really just the opening for quick facts, but you will find that the real depth comes in its direct features that keep you plugged into NASA developments. At the bottom of the opening screen in the NASA iPad app you are going to find option for NASA TV, videos, tweets from the official NASA Twitter account, as well as primary sections for recent NASA events such as launches. This allows for an easy entry into specific media outputs for NASA, oftentimes giving you high quality images or feeds of shuttle launches.
Content (5 out of 5)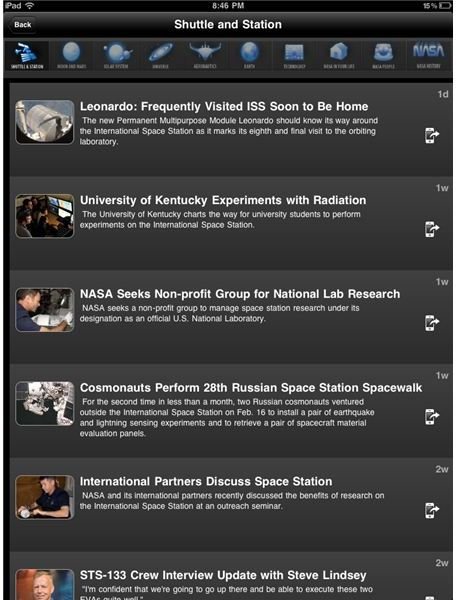 The NASA iPad app is built around bringing in relevant NASA content as it comes through, news and technical data related to the NASA mission objective and agency, as well as exclusively developed content such as the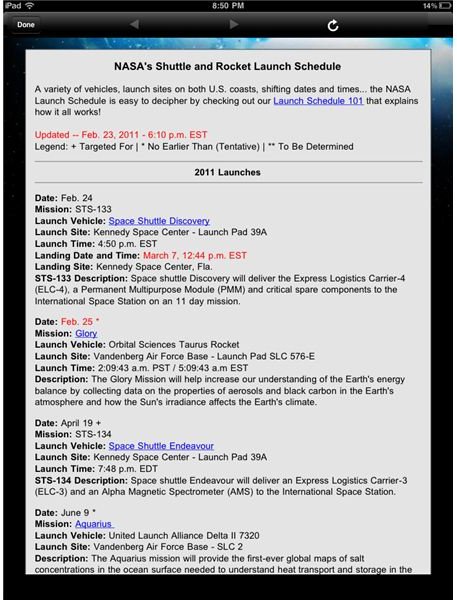 statistical phenomenon about cosmological phenomenon. What this actually leaves us with is an incredible amount of content broken up into different areas that will lead us to what we want. The bottom bar leaves us with easy access news content such as videos and photo galleries about recent news events, while the top bar is dedicated more specifically to data information for specific areas that are found using the iPad's location features.
For example, the News and Features tab will break down news related to NASA into specific areas according to different NASA missions such as Shuttle & Station, Moon and Mars,Solar System, Earth, Aeronautics, or NASA History. This will streamline news stories and then link you into longer features,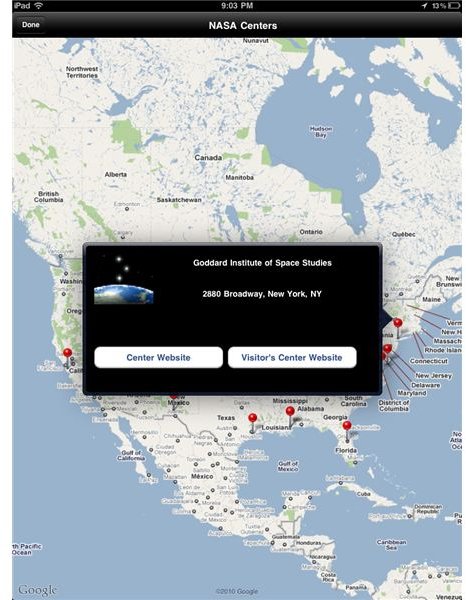 which allows for a strategic use of the iPad's visual format since articles in this distribution method are easy an enjoyable to read.
One of the more interesting aspects of the NASA iPad app is NASA's Shuttle and Rocket Launch Schedule, which attempts to keep you up to date on changing schedules for NASA events. For NASA enthusiasts out there, this is the best way to actually keep access to the NASA feed consistently through their mobile platform.
Along with this is the NASA Centers feature that also brings in the location features to provide you a map indicating all of the local NASA locations with links to their website as well as their visitor's center. This is a nice way to give yourself a spatial sense of NASA's presence in the U.S. and how to connect locally with your own near by branches. It is also a great app for the classroom as students can see what is happening with NASA in real time.
Conclusion: Check it Out! (5 out of 5)
There is a sense that it seems redundant to include how much information is built into the NASA iPad app, but more than anything, the structure of the software is to make the sheer volume of content manageable for the user. What really makes it successful is that it channels its design to feel like an interactive magazine, using the physical structure of the iPad to really allow for longer readings, visual interactivity, and video content. This shows that NASA is committed to continuing a communicative presence with the public, and it is a saving grace that they have allowed this type of application onto the market for free.
Download the NASA iPad App for Free
Screenshots and information provided by author.