The Best Online Explore Space Games for Kids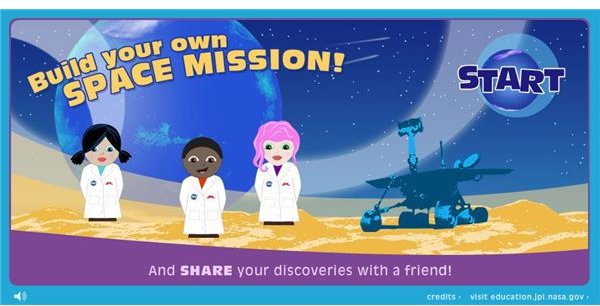 Educational Space Exploration Games
Better known as edutainment, education in games began in the mid-1980s. Games like Reader Rabbit and Math Blaster were some of the most successful educational games for K-12 students. With rapid improvement in technology, educational games have evolved considerably. The advent of advanced processors, graphics and the Internet revolution has encouraged entrepreneurs and developers to develop educational games that not only teach math, vocabulary, history and literature, but also help kids learn more about space and Earth science.
Regarding edutainment in space science, NASA is in the lead. It has launched several interactive space exploration games for kids and teens, including the latest MoonBase Alpha, a 3-D multiplayer online game, which is a part of NASA's Learning Technologies program. The sole aim is to raise interest in STEM education (science, technology, engineering and mathematics) among K-12 Students. Besides this immersive 3-D online game, NASA has several Flash and Shockwave browser-based games. The Space Telescope Science Institute (STScI) website also has a variety of space exploration games to teach astronomy to kids.
Today's educational games on space and Earth science are ingeniously designed and are quite effective in providing an interactive learning experience to children. Kids can solve problems on their own by participating in mini-games, which are engaging and inspiring. Educational games allow them to do research and find answers to their queries. Here are some of the most inspiring and engaging explore space games for K-12 students.
NASA Build Your Own Space Mission
This online interactive educational game lets kids create their own virtual scientist, and build a research lab and spacecraft. The main objective of Build Your Own Space Mission is to explain how a spacecraft functions. While playing this game, kids will learn more about the orbiter and rover and get key facts on Jupiter, Saturn, Mars, Earth's Moon and Titan.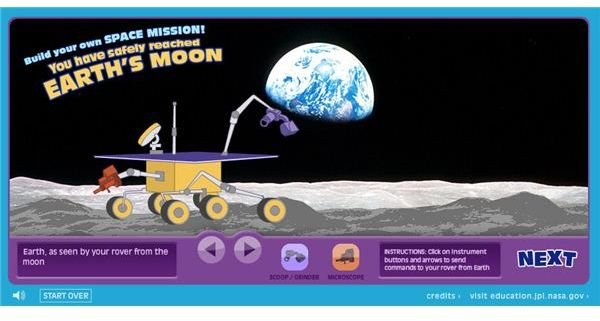 Build Your Own Space Mission also lets kids launch their virtual spacecraft and land an animated rover on the Earth's Moon, Mars, and Titan (Saturn's largest Moon). They can control the rover using arrow buttons located at the bottom of the screen and take photographs of the planet or the Moon's surface using the rover's camera. The animated camera and the microscopic imager will take pictures once kids press a button at the bottom of the screen. The images displayed after the animated capture is actual and below every image there are some key facts about the planet or moon. Build Your Own Space Mission is a great way to explore space and learn some key facts about the planets in our Solar System. You can find the link to Build Your Own Space Mission game at the end of the article.
NASA's Buzz Lightyear - To Infinity and Beyond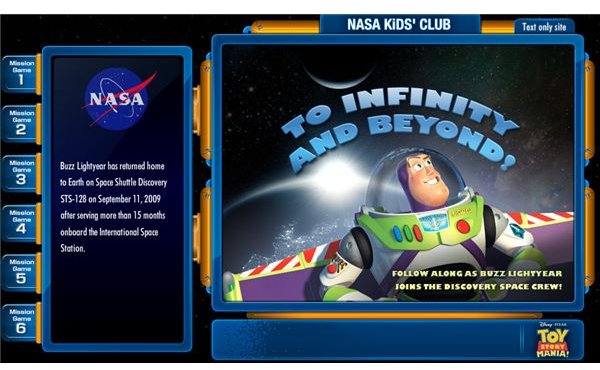 Packed with fun mini-games, this interactive educational game features every kid's favorite cartoon character – Buzz Lightyear. Based on popular games such as I-Spy, Match-3 and other puzzle games, these interactive online explore space games lets your kids learn about the key facts on the International Space Station (ISS), space missions organized by various countries, the instruments used in space shuttles, planetary rovers and orbiters.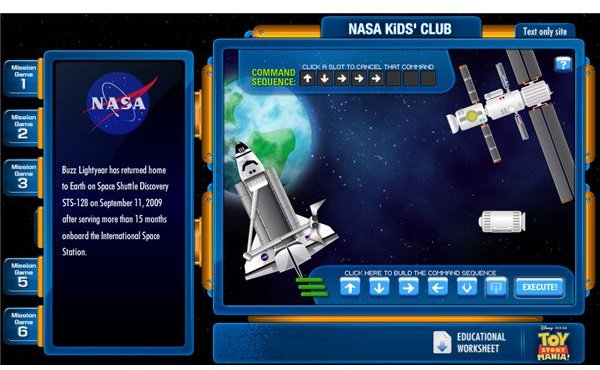 Buzz Lightyear: To Infinity and Beyond has 6 interactive and challenging games. For example, one game lets kids assemble the International Space Station by dragging and dropping the ISS instruments to their appropriated place. Another game explains how a robotic arm functions. This mini-game lets kids click on a few buttons to command a robotic arm. The objective is to attach the Japanese Kibo module to the International Space Station using the robotic arm. The series of games is an excellent way to enlighten your kids about the ISS and other space programs. You can find the link to Buzz Lightyear: To Infinity and Beyond online game at the end of the article.
Solar System Trading Cards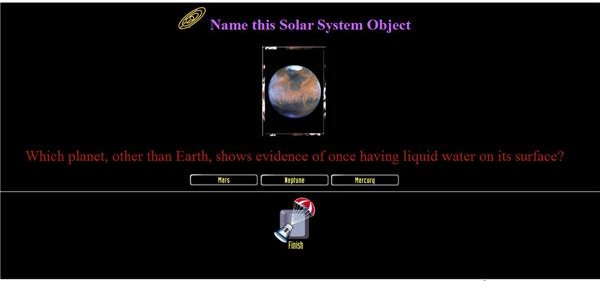 This educational trading card game helps kids explore space by answering a series of questions. Kids will have to choose a category and then answer a simple multiple-choice question and in return collect virtual cards. A correct answer will take them to a page containing random facts and the prized trading card. They can then pick another category and answer a multiple-choice question to collect a different trading card.
While this isn't a game technically, it certainly is quite entertaining. Kids will learn more about the Solar System, how fast does an asteroid travel and many more, as well as get key facts on comets and planets. Solar System Trading Cards' quiz-like mode provides an interactive experience and can be a great teaching aid for schools. You can find the link to Solar System Trading Cards at the end of the article.
Planet Impact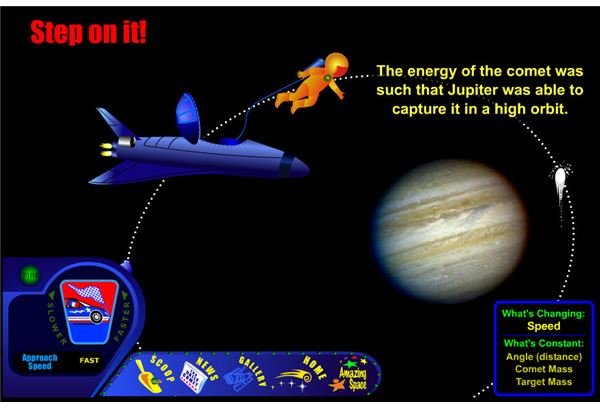 Planet Impact is a fun way of learning about motion and forces. Students will learn about the variables that affect the gravitational force on an object by playing a series of mini-games. The games focus on a comet's impact on the planet Jupiter and how changing the angle and speed will will change the comet's impact energy but don't affect the gravitational influence on the comet by the planet. For example, the first mini-game lets students change the possible angle of the comet and then watch how gravity affects the animated comet's path. After the game ends, an animated spacecraft emerges from space and an astronaut explains the possible reason behind gravity's effect how changing the angle has a significant effect on the comet's path.
Other mini-games lets kids change the speed or mass of the comet and watch how the virtual comet's path changes. If you are looking for some great online explore space games for your kid, then Planet Impact is the right game as it helps kids to know more about gravity and its effect on comet's path when different variables are applied. You can find the link to Planet Impact online game at the end of the article.
More Educational Space Exploration Games/Simulation Software
NASA Moonbase Alpha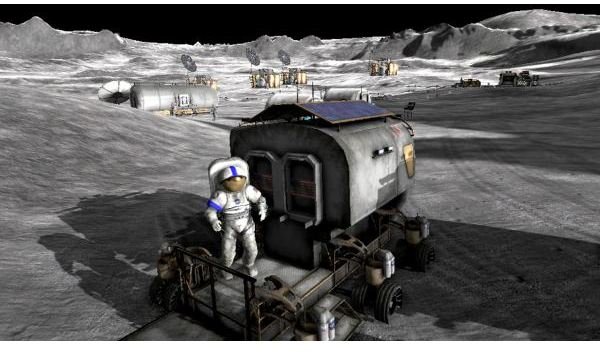 This online multiplayer game from NASA lasts for only 20 minutes, but the learning material it provides is excellent. The game lets kids assume the role of an astronaut whose goal is to colonize, research and explore the lunar surface. Since it is an MMO (Massively multiplayer online) game, kids will have to team up with their friends to help astronauts succeed in their Moon mission. The game teaches teamwork and helps kids learn more about the lunar surface, how astronauts work and function on the moon's surface.
Using sophisticated 3-D engine, Moonbase Alpha simulates the reduced gravitational field, making the game more engaging and true to life. The level of accuracy maintained is just awesome, thanks to several NASA engineers and scientists who worked hard to ensure the simulated moon mission is as realistic as possible. All the vehicles, space suits and models are part of the NASA lunar architecture plan. The game is available free as digital download on Steam. To download and install this game, you will first have to install a small Steam client. You can then install this free MMO for your kids to play and learn. The link to NASA Moonbase Alpha can be found at the end of this article.
Celestia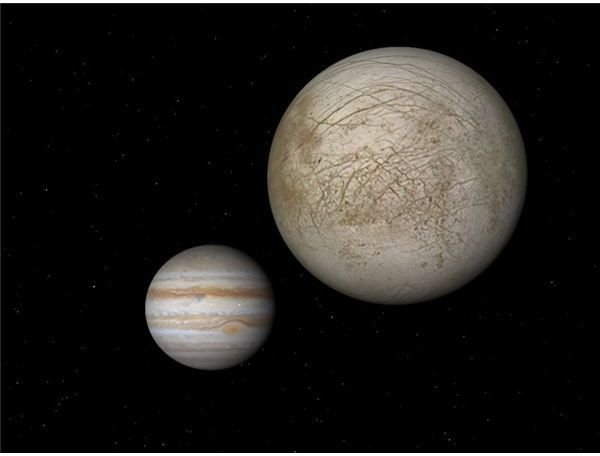 Celestia is a virtual planetarium that allows users to travel throughout the Solar System, and even beyond the Milky Way galaxy. This free space simulation software is a great tool for exploring space and learning more about galaxies, star systems, moons, comets and spacecraft. The immersive 3-D environment is quite fun to navigate through the known universe. The software is a must-have for kids who want their very own virtual planetarium and are looking for free games to explore space. You can find the link to Celetia downloadable game at the end of this article.
Basic PC Requirements for Playing Online Space Exploration Games
Before you download or play these educational games online, make sure you meet the PC requirements:
A good browser – Mozilla Firefox/Internet Explorer (latest version)
Latest version of Adobe Flash Player and Macromedia Shockwave Player
Your PC must have JAVA installed. Some of the online games are Java-based.
Space Exploration Games
NASA Build Your Own Space Mission
Buzz Lightyear - To Infinity and Beyond
Collect Solar System Trading Cards
Download NASA Moonbase Alpha from Steam
References
Etuk Ntiedo**, "**Educational Gaming—From Edutainment to Bona Fide 21st-Century Teaching Tool", https://www.mmischools.com/Articles/ReadArticle.aspx?ArticleID=59693
Webster Andrew**, "**NASA-Funded Game Aims to Make Science More Appealing", https://arstechnica.com/gaming/news/2010/07/nasa-funded-game-aims-to-make-science-more-appealing.ars