Possible Baldness Gene Discovered and How it Could Lead to New Baldness Cures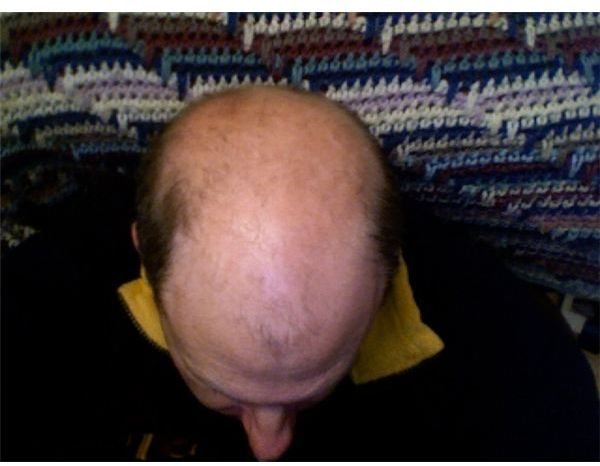 Baldness: A Common Condition
For some people, baldness, especially when it happens relatively early in life is a devastating experience, affecting their appearance at a superfical level and at a deeper level their psychology. In some it can even lead to depression and many men scour the classified ads looking for potions and remedies. There is no cure, but an understanding of the basic genetics of baldness may throw light on the biological mechanisms and provide targets for possible therapeutics.
The most common form of baldness is a progressive hair thinning condition called androgenic alopecia or "male pattern baldness" that occurs in adult male humans and other species. Two thirds of men begin balding at age 60, but for many it starts much earlier in life, sometimes appearing in men in their late teens or early twenties.
Baldness Gene
In order to get to the genetic roots of baldness, Regina Betz of the University of Bonn analyzed blood samples from 11 members of a Saudi Arabian family. This family inherited Hypotrichosis simplex. Hypotrichosis is a relatively common feature of a number of complex hereditary syndromes. However, the isolated variant, called hereditary hypotrichosis simplex (HHS) is especially uncommon. It affects fewer than 1 in 200 000 people and causes hair loss from an early age.
DNA scans revealed that the cause of Hypotrichosis simplex in the form examined in this project is a genetic defect. The children that had the most obvious hair loss had inherited a variant of the P2Y5 gene that prevents certain receptor structures on the surface of hair follicle cells from being correctly formed. These receptors were previously unknown to scientists.
A substance that stimulates hair growth was not able to bind to these defective receptors, and this could be the cause of baldness in many men.
New Baldness Cures and a "Hairy" Future
This rare form of inherited baldness helped the scientists at Bonn University to find the gene that plays a crucial role in normal hair growth. This research could help with the development of new treatments to boost hair growth in a broad range of conditions causing hair loss.
"Although Hypotrichosis simplex is very uncommon, it may prove critical in our search for an understand of the mechanisms of hair growth," says project leader Dr. Regina Betz from Bonn's Institute of Human Genetics, summing up the research results to the Reuters news agency.
Looking to the future, Professor Dr. Ivar von Kügelgen from Bonn's Institute of Pharmacology and Toxicology says:
"We can now search selectively for related substances that may be used in therapies for hair loss."