Who Discovered Achondroplasia?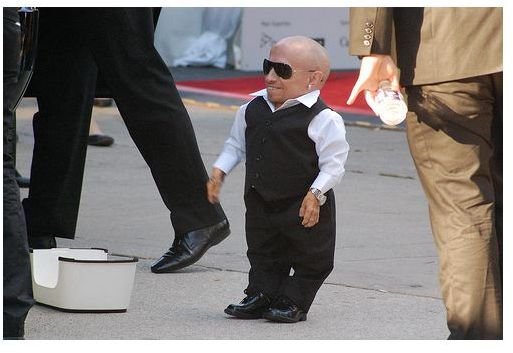 The German physician who discovered achondroplasia described the condition as "congenital rickets" in his doctoral thesis in 1817. Little people or dwarfs have been known and identified throughout recorded history, appearing in ancient Egyptian art and Hindu tradition. Some cultures and people have given them special place in society while others have not been so kind. Their condition happens at birth when a gene mutates and normal growth does not take place. Most mutations are new cases that happen within normal sized families. Achondroplasia is derived from Greek and means "without cartilage formation."
Short-Limbed Dwarfism
Symptoms are present at birth, and the birth defect is part of the bone dysplasia family. Dysplasia is an abnormal functioning of the cells, and in the case of the bones, results in the bones of the child not growing properly. Achondroplasia is when the arms and legs are shorter than normal and disproportionate to the body size. This is the most common type of short-limbed dwarfism and is different from individuals with short stature, but proportionate limb length.
Verne Troyer, Imaginarium of Doctor Parnassus premiere - September 18, 2009
Gene Location and Mutations Found
Francomano and Velinov separately in 1994 are credited with finding the location of the gene on the distal short arm of chromosome 4. Shortly thereafter, Shiang and Rousseau in separate efforts in 1994 found that mutations of the gene encoding fibroblast growth factor receptor 3 (FGFR3) caused the defect. Subsequent experiments by Colvin, Deng, and Naski in separate experiments in 1996, found the process by which the gene mutations act on the body.
Mutation is an Overworking Receptor
They found that FGFR3 is a negative regulator of cell signaling, sending dampening signs to regulate cell growth and differentiation. Turning on the FGFR3 receptor classified achondroplasia as a "gain of function" mutation, in other words the receptor is overworking. Finding the location and mutations of the gene has allowed investigators to pursue treatment for the defect. The defect acts molecularly like a cancer and treatment being investigated is proceeding along the same way as treatment for cancer.
Many Scientists to Credit
The aforementioned scientists who discovered achondroplasia must be credited because as a result of their work, a treatment may be found. However, many scientists and physicians can be credited with pioneering work in this field. Huntingdon's disease was being investigated for many years prior to 1994 and led up to the discovery of the gene location. The Human Genome Project, an international project begun in 1990 was instrumental in the basic research essential to many discoveries. The first person to officially classify the defect was the German physician Moritz Romberg whose doctoral thesis in 1817 is considered the classic description of achondroplasia. He wrote textbooks and encouraged his contemporaries to actively find direct treatments for diseases.
References
William A. Horton, Recent Milestones in Achondroplasia Research, American Journal of Medical Genetics 140A:166–169 (2006)