Caravelle Airliner Taking Off - The History of the Caravelle Jetliner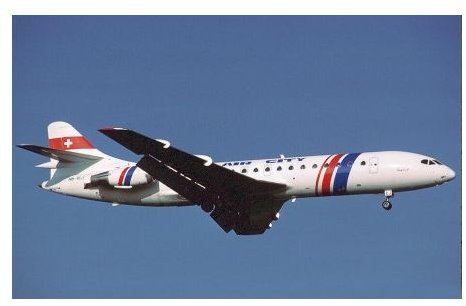 Introduction - How It All Started
In response to a requirement from the French Civil Aircraft Committee (CMC) I October 1951 major French aircraft manufacturers submitted proposals for a medium range airliner, with a 55-65 passenger capacity. Various proposals were submitted and three finalists were selected. In July 1952 the Sud-Est proposed X-210 was accepted and in early 1953, an order placed with the company for two flight prototypes.
The First Prototype
The first X-210 prototype had the innovation of the two engines being placed to the rear of the aircraft, behind the passenger cabin. This was in contrast to the standard under the wing construction and was designed to provide passengers with a smooth, quiet and a vibration reduced comfortable flight. It was also fitted with a cargo door in the fuselage.
The Name and The First Flight
"Caravelle" was the name given to the first prototype of the SE-210 by Madame Yvonne de Gaulle. The maiden flight of the prototype Caravelle Jetliner was on May 27th 1955, with the aircraft flying under the colors of Air France. It was powered by twin Avon RA.26 Mark 522 turbojets with a thrust of 10,000 lbf each. Whilst there were questions asked regarding the "snub nose" comparison with the de Havilland Comet, this design had in fact been licensed by Sud-Est from the de Havilland Aircraft Corporation. On May 6th 1956, the second prototype made its maiden flight and whilst there was a similarity to the first aircraft, a cargo door was not provided for.
An Internatoinal Success
With the aircraft proving itself during the trials, in 1956 Air France ordered the Caravelle and Scandinavian Airlines followed suit in 1957.

During 1957, Sud-Est merged with Sud-Oeust to form Sud Aviation - however the designation of "SE" remained. Following the certification of the Caravelle in 1959, the aircraft went into service with Air France and Scandinavian Airlines shortly thereafter. With the Caravelle Jetliner being recognized as an innovative aircraft, a high number of orders were being received.
Production and Enhancements
The first production model of the "Caravelle I", although matching the prototypes in many ways, differed by having a 1.5 meter fuselage and the radio antenna being housed within a tailfin extension. In addition, the engines had the same thrust as the proto-types, but were technically improved and the aircraft could cater for eighty passengers.
As more powerful engines became available, thus allowing for greater take-off weights, several more models were produced during the production lifetime. Various types of Caravelle were designed and built, to a total of two hundred and eighty two. However, with the normal event of progression in development the design department of Sud Aviation turned their attention towards a supersonic transport.
Summary and Future
Generally, the size and range of this aircraft was the same as the established Caravelle. It therefore naturally followed that this new breed of supersonic aircraft would be named the "Super-Caravelle".
References and Image Credits
https://goliath.ecnext.com/coms2/gi_0199-3842319/Caravelle-world-s-first-rear.html
https://www.vectorsite.net/avcomet.html
https://www.centennialofflight.gov/essay/Aerospace/Sud/Aero48.htm
Image Credits:
https://www.century-of-flight.net/Aviation%20history/coming%20of%20age/Sud%20Est%20210%20Caravelle.htm
https://www.vectorsite.net/avcomet.html
https://www.sebastienbouyssou.com/2009/02/13/air-france-a-un-nouveau-logo/