Responsibilities of an Air Traffic Controller: Job Outlook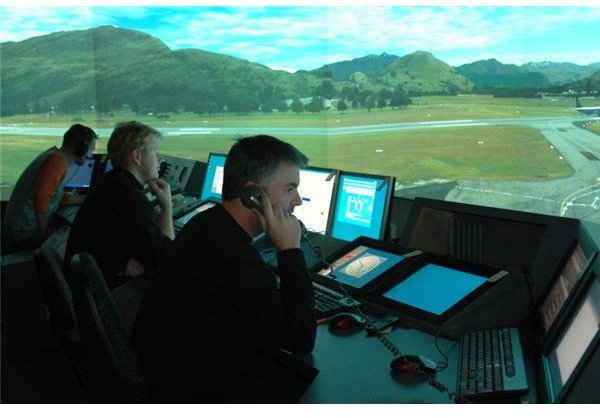 For the last few years the U.S. and many other countries have been in a recession, making it hard to find well-paying jobs. Some of the hardest-hit sectors have been information technology, automotive, banking, and real estate. However, reports suggest that air traffic control was a job field that was least affected. This could be a good career path for anyone seeking a reputable and fast-paced occupation.
Air Traffic Controller Duties
Air traffic controllers have been a very demanding career. For those who are able to meet the requirements, this job guarantees high security along with good financial returns. Air traffic controlling involves a system of interconnected groups of professionals who work towards ensuring safety for all people in private and commercial flight by maintaining the air traffic.
Air traffic controllers are actively involved in the supervision and issuing of directions for air traffic in order to maintain safe distances between aircrafts in the sky. Their work revolves around aircraft movements both on the ground and in the air. Take-offs and landings, controlling and monitoring approaching and departing air traffic, and other advisory services are all part of the job. They are involved in all matters related to safety issues, maintenance, efficiency and reduction of delays. There are some who supervise airport traffic and others who control flights between airports.
Educational Requirements
Prospective candidates for air traffic control could be categorized into two main groups. The first group consists of air traffic controllers with past experience through either the Federal Aviation Administration (FAA) or the Department of Defense. The second group consists of common people who need to have at least three years of significant work experience after completion of a full four years of graduation.
To be eligible for the role of an air traffic controller with the FAA, a candidate must achieve qualifying scores (70 or above) on the authorized employment test administered by the FAA. Some exceptions are made for military veterans or those having exceptional experience in the field. The scores remain valid for three years. Those candidates who lack prior air traffic control experience need to be 30 years of age or less. Besides these qualifications, intelligence, decisiveness and a good memory also become highly essential.
Initially, a fresh hire will begin work as a new controller and will be later promoted to the designation of ground controller, local controller, departure controller, and, lastly, arrival controller. New hires are also required to undergo training once he or she has been shortlisted in the preliminary tests. A twelve week training program at the FAA Academy teaches them about FAA regulations, different characteristics of aircraft performance, controller equipment, airway system fundamentals and other necessary duties.
Income
Around five to six years ago, the average earnings of air traffic controllers were $ 91,600, whereas those working in the non-supervisory, supervisory, and managerial positions had an income of $95,700. In the year 2008, their income soared as high as $111,870. In addition to this, air controllers also get life insurance and health benefits including 13 days of paid sick leave annually. They also have between 13 and 26 days of paid vacation to enjoy which might vary depending on the duration of their service. All controllers need to retire after completing 25 years of service irrespective of their age. Those supervising air traffic need to retire at age 56. However, those exceptional few who have excellent ability and experience might get a federal exemption and can give additional service until the age of 61.
The profession of air traffic controller calls for expert management by trained staff. In the next 10 years, the employment chart of this group is expected to witness a rise of 13 percent which is higher than the average of all other professions. Many of those currently working will be likely to retire in the next decade. In fact, even with a fall in the demand for air transportation, air controllers are hardly ever laid off. With an ever-increasing demand for these skills and heavy pay packets being offered, this segment of the employment market is sure to remain unaffected by conditions like economic downturns.
References
"Air Traffic Controllers" Bureau of Labor Statistics: https://www.bls.gov/oco/ocos108.htm#outlook
"Pre-employment Testing" Federal Aviation Administration: https://www.faa.gov/about/office_org/headquarters_offices/ahr/jobs_careers/occupations/atc/pre_employment/
"Air Traffic Control Careers, Jobs and Training" Career Overview: https://www.careeroverview.com/air-traffic-controller-careers.html
Image Source
Air traffic Controller on arl website (https://arl.co.nz/images/43.jpg)