Virgin Galactic and White Knight 2 - Launching Commercial Space Tourism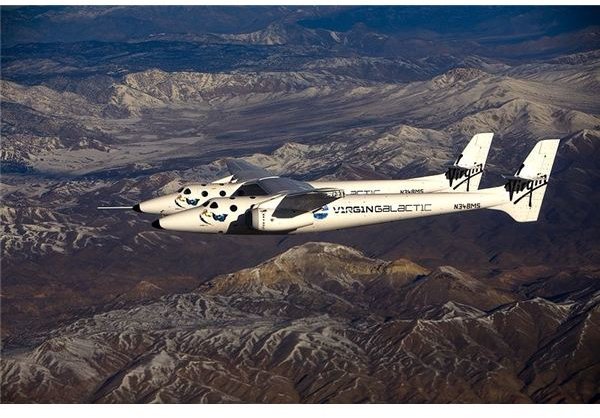 The Rollout Ceremony
Over 100 prepaid future space travellers flew to the Mojave Spaceport in California on board a specially painted Virgin America A320 to attend the rollout of WhiteKnightTwo, the airplane that will eventually carry them on the first stage of their journey into the Earth's upper atmosphere. According to the press release from Virgin Galactic, the event was also attended by representatives of the press, and a variety of VIPs.
The aircraft's designer, Burt Rutan, and Sir Richard Branson who founded Virgin Galactic both attended the ceremony. The sleek and exotic looking airplane was christened "Eve", in honor of Branson's mother who has been both a flight attendant and a pilot.
WhiteKnightTwo
The name Burt Rutan has been associated with innovative, ultra-efficient, non-traditional airplane designs for decades. In that vein, WhiteKnightTwo (WK2) certainly does not disappoint. Even the name, spelled as a single word, seems to represent an aggressively modern Internet-age point of view. The airplane is a major step forward from its prototype, called White Knight, which was the mothership for Space Ship One.
The WK2 airframe is constructed entirely from carbon fiber composite, an ultra light, ultra strong fiberglass-like material that has become an increasingly popular material for building aircraft parts in recent years. WK2 employs a double fuselage design, distantly reminiscent of exotic WWII fighter designs like the North American F-82 Twin Mustang and the Messerschmitt Bf-109Z. The twin fuselages are hung beneath a majestic 140-foot wing that sets a new record for being the largest single-piece composite aircraft part in the world. The launch vehicle, SpaceShipTwo will be mounted in the center, between the fuselages. WK2 is powered by four P&W 308A jet engines, mounted on the outboard wing sections.
During the rollout ceremony, Rutan was quick to point out that WhiteKnightTwo is a highly versatile plane, and that it has the potential to serve multiple roles. According to the press release, the lift capability of WK2 exceeds Virgin Galactic's lift capability requirements by over 30%, and has a maximum altitude of 50,000 feet. It is also capable of flying coast to coast across the U.S., non-stop. Rutan revealed a vision for the aircraft's future well beyond the Virgin Galactic mission, suggesting that additional vehicles could be produced and sold to customers in need of a way to launch various types of spacecraft.
References
"WhiteKnightTwo" Scaled Composites: https://www.scaled.com/projects/ttop/press_release.pdf
Virgin Galactic: https://www.virgingalactic.com/
Image Source
VMS Eve Maiden Flight. (Supplied by Mark Greenberg at Virgin Galactic; Used with Permission; https://upload.wikimedia.org/wikipedia/commons/7/77/VMS_Eve_Maiden_Flight.jpg)