Ideas on How to Include Remote Workers in Company Functions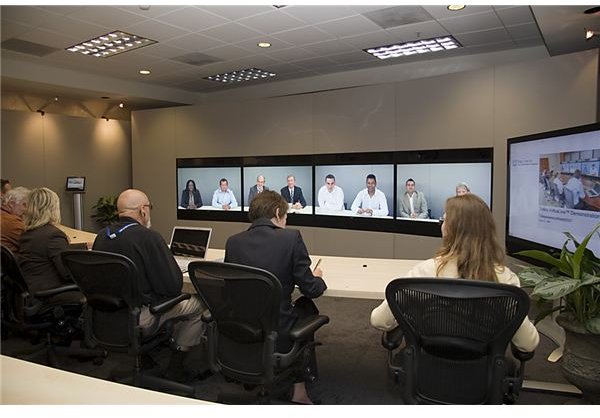 Introduction
As workers increasingly contribute to company functions outside the walls of corporate offices, managers need to plan ways to include them in all facets of work. Many organizations have established contingency protocol for employees to work from home in the event of inclement weather, illness or even a national disaster. Project teams comprised of staff from different countries, speaking different primary languages and working in different time zones require leadership to coordinate their activities. Regularly scheduled conference calls, newsletters and other forms of communication allow employees to interact with their managers and peers just as if they sat next to each other. Occasional face-to-face meetings, supplemented by regular electronic communication, enable company personnel to remain productive no matter where they are located.
Instant Messaging
Instant messaging applications, such as Office Communicator, AOL Instant Messenger and Yahoo Messenger, allow employees to send and receive messages in a pop-up screen, usually in a non-secure environment. Because instant messaging allows communication that is faster and more informal, most workers feel more like they are part of company operations when they connect with other personnel through this mechanism. Additionally, managers can see who is online. While instant messaging can be distracting and short messages can be misinterpreted, for quick answers, this form of communication seems ideal.
Teleconferencing
Conducting meetings using audio and video conferencing allows participants working in different locations to view the same materials and hear the same messages as participants working from the main office. Using tools, such as Microsoft Live Meeting, managers can keep up all employees up-to-date about company policies and how the company functions. Establish rules for participation, such as shutting down other computer applications to pay full attention and not multitasking. Make sure all meetings follow an established agenda. Facilitators should send out requests for topics in advance and follow up each meeting with a summary of action items. Using web cameras allow all participants to see each other, as if they were located in the same room. Company functions such as interviews, project team meetings and training work well when conducted remotely, when thoroughly planned.
Using Social Media
Use social media technology such as wikis, blogs and forums to allow all company employees to participate in documenting company functions. Creating online archives allows an organization to catalog its policies and procedures. Using wikis, websites that any registered user can edit, a manager can promote community participation in documentation activities. Encouraging team members to use blogging software, such as Wordpress or Blogger, allows for remote workers to get their message viewed at the same rate as employees in the office using a physical bulletin board, perhaps even greater.
Final Thoughts on How to Include Remote Workers Company Functions
Including remote workers in company functions requires coordination and planning but presents communication problems and productivity issues. By ensuring all employees receive the same level of information regarding company direction and strategic objectives, managers can ensure everyone works towards the same goals and has the same opportunities for advancement, regardless of their physical location. Shifting work to home or remote offices offers a relatively high return-on-investment solution to managing real estate costs. Remote workers work flexible schedules to support their work-life balance but desire the same level of inclusion they might experience if they worked at an on-site location.
References and Image Credit