Ideas for Fun Office Party Activities That Won't Get You Sued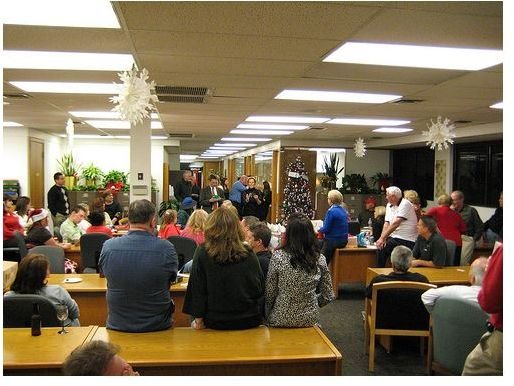 Choosing activities or events for office parties that everyone will enjoy can be challenging. In today's workplace environment, one must be careful about promoting events which could lead to improper or misconstrued behavior. Here are a few ideas for fun and casual gatherings which may be conducted in the office during normal business hours with little to no concern.
Image credit https://www.flickr.com/photos/john_hall_associates/3120845772/sizes/m/in/photostream/
Exotic Coffee and Chocolate Tastings
Chocolate and coffees are not only fun and festive around the holidays, they offer a perfect "pick me up" during the day. Consider hosting an afternoon chocolate tasting complemented with exotic coffees as part of your holiday office party activities.
Begin by searching for chocolatiers or specialty candy shops in your area. Since wine and chocolate is a common pairing, you may even wish to check with a local wine shop to see if they have any chocolate companies they might be able to refer. The MARS candy corporation has begun a new division of direct marketing using their DOVE chocolate brand, called Dove Chocolate Discoveries. Their party hostesses will provide everything your group needs for a chocolate tasting, in return offering the sampled products for sale. By contacting the company directly, you will be given the name of reps in your area.
Similarly, you can contact coffee roasters or cafés to see if they would be willing to provide coffee. Many offer large party containers of coffee for gatherings.
If you do not have any luck finding someone to conduct a tasting, you can always consider devising your own. The website allchocolate.com offers tips and suggestions for hosting your own chocolate tastings. Once the tasting is completed, you can offer a host of chocolate desserts or snacks donated by employees for party-goers to feast on.
Hire a Local Comedian
Having a local comedian entertain in the office is another way to have fun during the work day. Provide snacks, lunch or desserts and let the jokes start flying! Best to preview the routine ahead of time, to be certain the material is appropriate for the workplace. This is not the venue for off-color, degrading or lewd comments. Check comedy clubs, Comedy Sportz or theater box offices in your area for entertainment suggestions.
Adopt a Soldier's Family
When a father or mother is serving overseas, the holidays can be anything but merry. Why not consider hosting a party for the families of local men or women serving in the military? Perhaps someone in your office would be willing to play the role of Santa, to hand out small gifts purchased by the staff and wrapped ahead of time. Others can chip in by volunteering to bake, decorate and even provide the entertainment. Not sure how to locate families to invite? Try contacting your local recruiting office. They should be able to help.
Treat Exchange
When you work full-time, it is hard to find time to prepare for the holidays. Make the baking a little easier by sharing the work! Host an in-office cookie exchange by asking each person to choose their favorite cookie or candy recipe and then bring several dozen to share with others. Lay all of the cookies out in a board room or break area, and then allow everyone to take a few of each kind home with them in their own containers.
Gingerbread House Decorating Contest
Get together for a round of friendly competition. You can ask individuals or pairs to compete, or even encourage company divisions to form a decorating team. Take up a collection ahead of time to help with the purchasing of necessary supplies, or ask for donations of things like colorful holiday candies for decorating, flour, sugar, molasses and butter to make the dough, and powdered sugar to make the icing. Give the competitors an opportunity to plan their creation ahead of time, and then have a set time for decorating during office hours. Remember to assemble of team of judges - preferably those who would be impartial. This, in fact, is a great way to give your boss a specific role in the event! Have a grand prize available for the winner(s). When the competition is complete, consider donating the decorated houses to a local school, or nursing home for others to enjoy.
Round Robin
If you work in a larger office complex, you may want to coordinate a round-robin lunch with other divisions or even other business residing in the same building. One group could host the salads, another could provide sandwiches, and then a third could provide the desserts. Moving from office to office will not only keep the gathering festive, it will provide the opportunity to socialize with those outside of your normal work day - which is a great way to promote collaboration and build contacts.
If you're planning a holiday party, it's important to note that not everyone celebrates the holidays. For this reason, keeping your gatherings optional, low-key and non-secular is advisable.
The suggestions offered above are safe alternatives to the outdated concept of an office bash. If you have other ideas for office activities during the workday which do not include alcohol, please leave them in the comments section below.
Resources
www.dove-chocolate-discoveries.com