Employee Suggestion Programs: Mutually Rewarding Benefits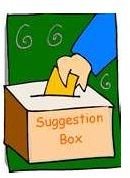 Employee Ideas Can Be Quite Innovative
Employee suggestions have yielded some of the best innovations and cost-saving measures. Since companies usually profit in some form or fashion from these suggestions, it's a great idea to offer some sort of compensation to the employee who has submitted one. The last thing you want is an employee who has a way of improving your business to take it to your competitor!
In an effort to keep employees involved and submitting ideas, monetary or paid-time-off awards will keep the ideas flowing. When a company is offering some sort of compensation for ideas or suggestions, employees will list all sorts of ideas. Some will be redundant or mundane, as employees hope just to hit on something "useful." It's important to look at these submissions very carefully because you never know who might be the hidden creative talent on your payroll. Some people like to hang just below the radar and do their jobs, but when a tantalizing offer is made to possibly implement someone's ideas it can be quite motivating. Rewards can be offered several different ways. You obviously cannot compensate every employee for every submission. One idea is to award monthly for the best submission. You can award compensation on tiers based on the level of impact that an idea will have on your business.
Idea Ownership
Companies often protect themselves from disputes over idea submissions by considering these suggestions to be the sole property of the company and not the individual who submitted it. As long as these terms are clearly understood, you should not run into any problems with someone claiming that his idea is his "intellectual property." You'll probably never have an employee suggest a way to cure cancer, for example, but some suggestions that might not be valid to implement currently might just be the answer to your needs in the future. This might occur because no one fully understands the implications of such a submission or the timing just wasn't right at the time it was submitted. In either case, if you use that idea at a later date and your policy is to compensate people, you better make sure you follow through and make good on it. If that employee is no longer part of your organization, then make every effort to locate him and compensate him as if he were still employed; if you use someone's idea and you fail to follow through he can claim it was his intellectual property, not yours, because you never "rewarded" him.
The opportunity for employees to be recognized has always been motivating. Truly creative ideas that can improve your bottom line are valuable, and the people submitting them might just surprise you with their hidden talents. Not only is it a good way to pick people's brains, but it's also a way to find your future leaders.
Image Credit: adamscityhighschool.com