Reviews on Free Employee Payroll Software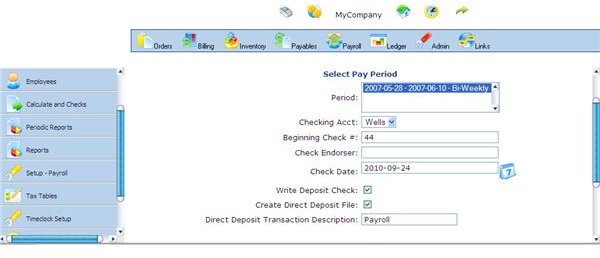 Payroll management can turn out to be a expensive and exhaustive task, if everything from maintaining time sheets to preparing payroll are to be done manually. Using employee payroll software can make this overall process less cumbersome and more accurate, but unfortunately most small businesses cannot afford to purchase expensive payroll software. So, here are reviews on five of the best free employee payroll software which can be used without any fees or charges, to make payroll processing easier.
NolaPro Software for Payroll Management
This free web-based business suite is a true leader among the wide range of free employee payroll software that is available on the internet. It's not just payroll software and is more in-use ERP and Inventory features. Still, looking at the extensive range of payroll features that it offers absolutely for free makes it worth exploring. Here's the good and bad of this software.
Pros:
Detailed employee information can be stored which comes in handy not just for payroll generation but for other employee management related activities. Logging work hours and preparing salary checks is just a matter of a few clicks.
Reporting tools are excellent – reports can be made in a variety of formats and based on specific variables.
Payroll setup is easy and detailed pay slips can be made using this free payroll software. There are provisions to accommodate deductions, benefits, pension plans, employer contributions and overtime.
Updated tax-tables can be used to compute tax automatically for all employees, which reduces the burden of manually updating the tax tables.
There are no restrictions in terms of the data that you can store, the number of employees or the number of users.
Cons:
The first drawback is that it does not come in an on-site version, which is usually preferred by most small businesses. Internet connectivity is a must to use this employee payroll software.
There is not much of customization that you can do with this software, and for most customizations you need to pay a certain fee.
Only federal tax tables are updated automatically, for all other countries manual additions need to be made.
TimeTrex Time and Attendance Software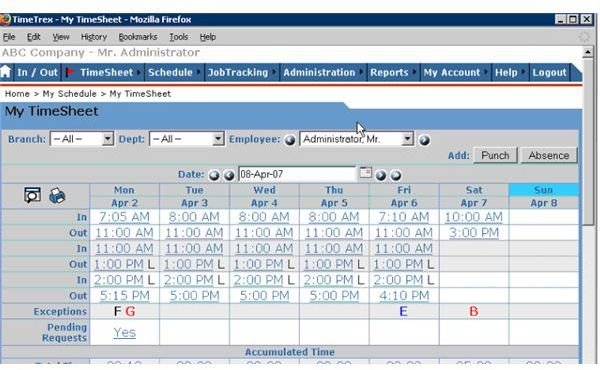 This is free web-based payroll management software that enables you to keep track of employee attendance and prepare employee payroll.
Pros:
A user friendly interface allows for easier manipulation of payrolls, taking into account overtime and premium time payments. Detailed pay slips showing taxes, benefits and allowances can easily be generated both in electronic as well as print format. Printing of paychecks and electronic transfer of funds are also available.
Detailed reports can be made so as to identify employee costs across different branches, departments and employee categories.
In addition to employee payroll processing this software can be used for employee scheduling and attendance management.
Adjustments for missed punches and paid and unpaid vacations can also be made easily with the built in features.
Cons:
Automatic tax updates are not available in the free version, thus tax tables will have to be updated manually.
Job costing feature is not available.
Customization is somewhat limited.
KingSmart Software for Payroll Management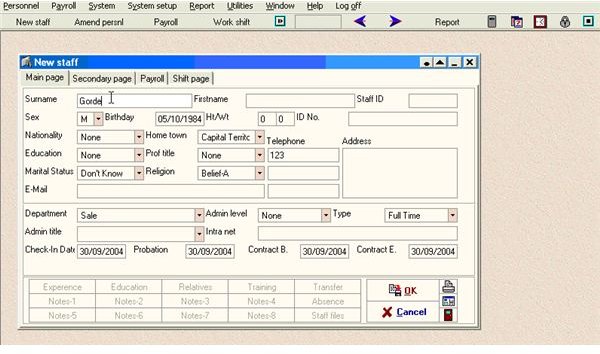 Irrespective of the size of your business, KingSmart Payroll Management Software promises to save your time in processing employee payroll. Here are some of the plus points and the limitations of this free to use payroll software.
Pros:
A fully integrated system that allows you to generate up-to-date payroll records, in sync with entitlements and time records.
Automatic calculation of an employee's monthly pay check along with automatic payment processing – whether the payment is to be made by check, cash or is to be directly deposited into the account of the employee. Also, payments can be processed for employees who need to be paid outside the regular payroll cycle.
This payroll software offers flexibility in terms of the templates to be used for different employees, based on the kind of allowances and deductions that figure on their pay stubs.
The reporting features are worth looking at, as they allow extensive reporting using numerous reporting formats. The reports can also be customized to suit unique requirements of the business.
Customization is another place where this freeware excels; customization is possible at the time of defining employee categories, generating employee payroll and reporting.
Cons:
Since, it's more than just payroll software, its user interface is not very friendly and it takes a while to get acquainted with how to use this software.
There are no in-built tax tables and tax tables must the updated manually.
Reviews on two more free employee payroll management can be found on page two.
Free EzWagez Payroll Software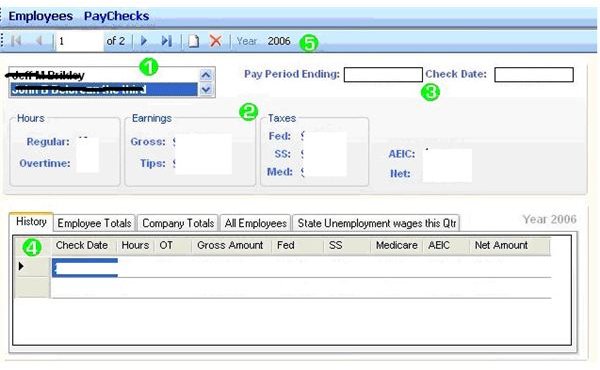 An easy and simple to use free employee payroll software, EzWagez - offers an excellent solution for small businesses. Here's more on the positive and negative aspects of this payroll application.
Pros:
Feeding in employee records, viewing information and generating monthly employee payroll can be easily done with easy to use forms and a few clicks. In addition to monthly payroll details of individual employees, their historical payroll data can also be used to generate yearly statements.
Employees who have moved out can be deactivated so that they do not figure in the monthly payroll; however their historical payroll data will still get accounted for in the quarterly and yearly payroll records.
Paychecks can be prepared in detail irrespective of whether an employee is paid hourly, weekly or monthly. Overtime, benefits and taxes are also taken into account at the time of payroll generation.
This payroll software is easy to use and most functions can be carried out with just a few simple clicks.
A variety of detailed reports can be made for selected periods, based on the specific information required.
Cons:
The biggest drawback here is that paychecks once calculated cannot be edited or modified. Changes can be made only by deleting the paycheck and making a fresh one.
Data once deleted cannot be restored, so the user must be careful about deleting information. There in no data backup or restore provision.
Deleting paychecks or employee entries of employees who have left, erases all past records, which results in incorrect yearly and quarterly totals.
Customized tax calculations cannot be made, as may be required for some employees.
PayPunch Lite Free Payroll Management Software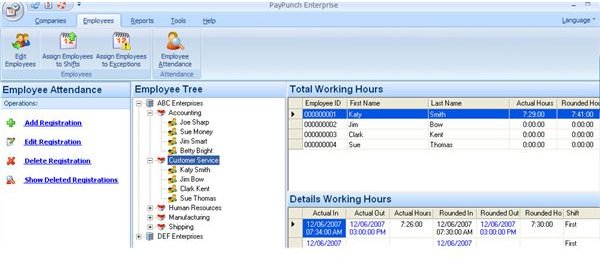 PayPunch Lite is another free payroll management software, which is increasingly used by small businesses. Here's a little insight into the advantages and drawbacks of this payroll software.
Pros:
Employee scheduling, calculating work hours, adjusting overtime and making provisions for tax becomes fairly easy at the time of payroll processing.
Can be used for central payroll processing if a business operates from more than one location with its inbuilt integration features.
Reporting is another area where the user gets a lot of choices, although not as much as some of the other free payroll software reviewed here. .
Manual adjustments can be made to the time cards, whenever needed.
Cons:
The free version is limited to use for a maximum of 25 employees only, thus it is basically useful for very small businesses only.
Recording employee attendance for people working in different shifts is not available.
This software does not allow for rounding policies and rules, which are much needed when preparing payroll for multiple shifts across several departments.
No provisions for entering vacation, sick time, latecomers and exceptions, which makes the payroll calculations inaccurate.
All Screenshots Taken by Sidharth Thakur