How to Explain Business Casual Dress Code to Employees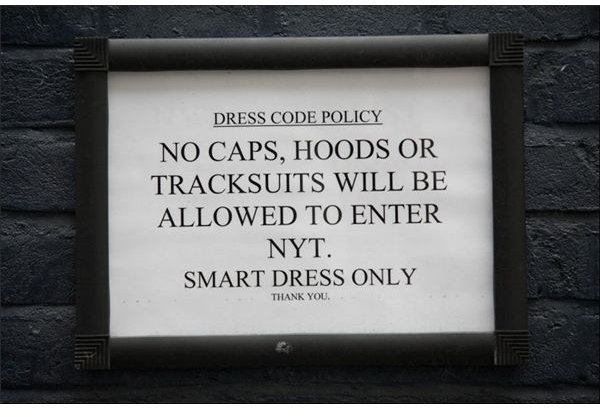 What is Business Casual Attire?
Before deciding how to explain business casual dress code to employees, decide on its application for a specific office or workplace. For example, depending on the setting, business casual may simply mean the absence of suit jackets and ties for men. Of course, if your business is a lot less formal and might embrace Steve Jobs' example, who – according to Gizmodo(1) – incorporates blue jeans into his business casual dress, this opens up many more possibilities.
Business Casual Dress Code Example
Unless there are specific workplace safety concerns, begin the process of introducing a new dress code by posting examples of business casual attire the company will accept.
Women may wear skirts or dresses of at least knee-length
Men and women may wear casual slacks or blue jeans; women may wear calf-length pants
No shorts or stretch pants
Men may wear business shirts with the top button undone, golf- or polo shirts
Women may wear polo shirts or blouses
No t-shirts, shirts without collars (for men) or any clothing that features political, commercial or religious slogans
Tennis shoes and casual footwear are okay but no worn-out weekend sneakers or flip-flops
Exceptions to Business Casual Clothing
In addition to communicating acceptable casual dress code to workers, be sure to also list exceptions. Take a page from the play book of CitiGroup(2), which suggests that any employee attending a business meeting may have to deviate from a business casual attire to reflect that of the meeting partner. In other words, if a company does business with a very conservative partner, anyone going into a meeting with representatives of that company must dress accordingly.
How to Explain Business Casual Dress Code to Employees
It is up to the human resources representative to communicate the casual dress code to the management team and also to supply materials that managers and supervisors may use to explain the policies to those reporting to them.
Prepare handouts with business casual pictures(3); they show examples of acceptable clothing options.
Write out a dress policy in the employee handbook; include information about business casual wear. Spell out what's accepted, what's out and when casual wear may be worn.
Train supervisors who to spot – and deal with – a dress code violation. Put into place clearly defined remedies, such as verbal and written warnings, which become part of an employee's file.
Of course, the most crucial aspect of any dress code implementation is consistent enforcement. Having written rules, example photos and even an employee handbook is insufficient, if the supervisory staff is unwilling or unable to deal with infractions.
Sources
Photo Credit: "Dress code as seen at a London Club in the Soho area" by Paul Vlaar/Wikimedia Commons at https://commons.wikimedia.org/wiki/File:LondonClubDressCode_bordercropped.jpg