The HR Manager's Best-Ever Holiday Gift-Giving Policy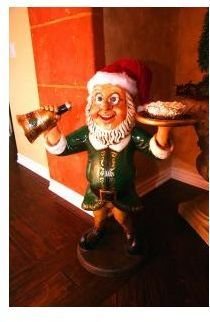 Have You Written a Policy to Cover the Holidays?
It's that time of the year when human resources managers the world over have to risk peace on earth and good will toward men by deciding on a holiday gift-giving policy. Nobody wants to be a Scrooge, but ultimately you are the one who must enforce a policy that will be both fair and festive over the next couple months. Hopefully, with some guidance and good luck, you can make it to January without getting coal in your stockings—or in your socks, as the case may be.
First and foremost, your policy depends on your corporate culture. Do you acknowledge and celebrate diversity at your company, or
not? What kinds of communications between employees take place on a daily basis? Some places function best only when full formalities are observed and maintained, and others bask in an atmosphere of relaxed creativity. However, whether your own personal flavor of Muzak involves classical or hootenanny, people will want to give one another gifts, at one level or another, during the silly season. We'll get back to that in a minute.
But second, and more important, no matter what kind of policy you decide upon, you have to make sure the information about it is out there and reiterate it every year. New employees need to know about it. Of the longer-term employees who remember the drill from last year, there will always be some who think they can pick and choose what policies to pay attention to if you don't specifically tell them. They just need to hear you say it!
How Pittsburgh Handles It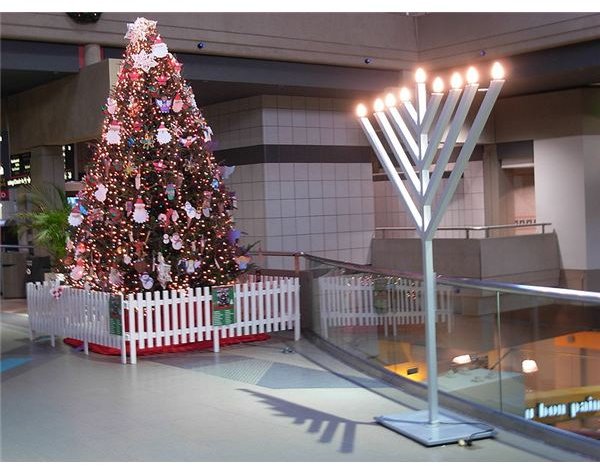 For starters, just what do you call the holiday season? Being from Pittsburgh, I enjoy telling how the Pittsburgh holiday season got its name. Back in the late 1980s, a handful of Pittsburgh residents sued the City of Pittsburgh to remove a nativity scene that was set up in the Allegheny County Courthouse.
As part of the lawsuit, they mentioned another display in front of a nearby building owned by both the City and the County—but this display boasted a Christmas tree and a Hanukkah menorah plus a sign from the mayor saluting liberty.
The case ended up in the laps of the Supreme Court justices. Three of the liberal judges and one of the conservative judges felt that both displays violated the separation between Church and State. However, one of the liberal justices viewed the tree/menorah display differently: He felt that the liberty message from the City's mayor (a Jewish woman, incidentally) rendered the display nonsectarian and thus acceptable. The courthouse nativity scene was abolished, and the joint City-County display remained. But from that point forward and still to this day, the holiday season in Pittsburgh is known as "Sparkle Season."
Why do I love telling this story? The administrative side of me feels vindicated that work and religion were kept separate, as they ought to be (hmmph); and my people-loving side rejoices in the celebration of a beloved holiday, honoring diversity, at this special time of year (yay!).
Someone Will Always Be Offended
No matter what decision you reach, and no matter what kind of gift-giving policy you decide upon, be assured that you will offend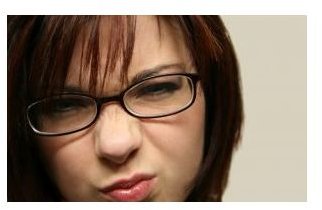 someone. People's traditions for observing all kinds of celebrations vary broadly. Certainly you've heard about parents who don't allow their children to go trick-or-treating on Halloween, and a teacher I know tells me that she has two students whose families do not observe birthdays.
There will also be some who object to holiday celebrations, including parties and gifts, just because they like to throw a monkey wrench in the works. That's why your policy must incorporate some kind of broad seasonal acknowledgment. It must be inclusive, and above all you must maintain consistency—so that nobody can say they are surprised or excluded by it.
In the Spirit of Fairness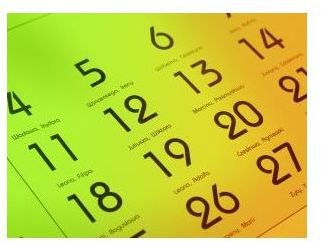 In my work at a rehab center for teenage boys, I enjoy making calendars for the clients on my computer. I don't include every holiday that comes down the pike throughout the year, but I make sure to mention the most important events.
We don't care much about Valentine's Day in February (no girlfriends allowed) or St. Patrick's Day in March (no beer). April Fool's Day carries prime importance ("play jokes on Miss Angie," says the calendar). The football draft is like a national holiday and, come late summer, I make calendars showing the schedules for both the Cleveland Browns and the Pittsburgh Steelers.
I also include the holidays of diverse religions and ethnicities. Rosh Hashana, the Jewish New Year, fell on September 16 in 2012, followed by Yom Kippur on September 25. We have Christmas, Hanukkah, and Kwanzaa yet to come, followed by New Year's Day, Martin Luther King Jr.'s birthday (January 17) and Chinese New Year (February 10.) The point is, if we are going to observe one religious or ethnic holiday, we will observe them all. The boys become curious and ask questions about the holidays not in their ken, and they actually learn something.
Okay, So Here's Your Policy
This is the part where I tell you that you can't just be a humbug. Consider the fact that your employees spend as much time with one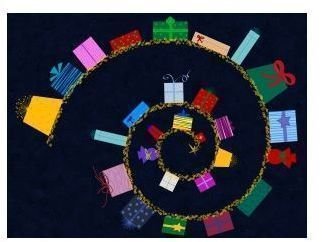 another as they do with their families, and also keep in mind that the holidays, although a happy time, carry a full complement of stresses. Your people will be happier and less stressed out if they know what boundaries the company is setting for the exchange of gifts and the observance of the holidays.
If you sincerely worry how to handle complaints from staff members who don't wish to participate, spell out your gift-giving policy in writing, and put it in your employee handbook or circulate it in a memo to be distributed any time after September 1—items 4 and 6, below, are optional. You can download this holiday policy and print it on your company letterhead.
"While the Acme Company does not observe or prefer any religion, its managers are aware that most employees enjoy celebrating various religious-based holidays. The company will accommodate the holiday spirit enjoyed by most people near the end of the year:
The company will observe holiday celebrations including paid time off work for full-time employees for Thanksgiving, Veteran's Day, Christmas, and New Year's Day. Part-time employees will be paid double time for hours actually worked on those days or on the actual holidays, but not both.
We recognize that some employees celebrate other holidays and invite those employees to submit a written description of the holiday to the human resources department for mention in the holiday newsletter or for posting on the employee bulletin board.
Employees who need time off to celebrate other holidays may take one vacation day for each of those holidays if a request to do so is submitted in advance to the appropriate supervisor and if that person has vacation time available; otherwise non-paid time off can be taken.
A gift exchange will take place on (date). Details will follow. Participation is voluntary.
Acknowledging that individual employees may wish to exchange gifts, we take no responsibility for the types or security of gifts exchanged, nor should such individual gift exchanges interfere with the daily schedule of work.
There will be a [company party] [potluck gathering] for all employees to be scheduled on (date). Participation is voluntary.
Any persons who wish to comment on this memo should submit such comments to the HR manager no later than (date). Participation in all aspects of holiday celebration is strictly voluntary."
Oh, You're So Generous!
Just like Santa travels round the world in his globe on Christmas Eve, I have traveled the World Wide Web in search of some great gift-giving ideas you can integrate into your corporate culture this year.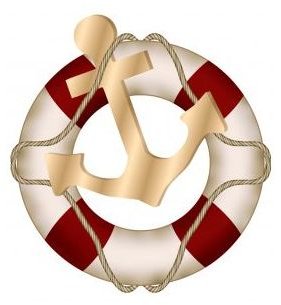 From the National Oceanic and Atmospheric Administration: NOAA advocates giving gifts with the potential to save lives. How about an all-hazards radio?
The State of Indiana Parks and Recreation system hopes you will give everyone on your list a pass to get into one of its parks in the upcoming year—and if you have someone on your list who doesn't want a gift, then donate money to the Parks Department in their name, by all means!
The American Red Cross wants you to give blood—just kidding! Seriously, it suggests that you make donations in someone's name to provide meals, military comfort kits, vaccinations, or just aid where needed.
The Minnesota Pollution Control Agency wants you to think green when you choose gifts—like reusable lunch bags, diaper service for a month, refillable pens—and wrap them in something that won't go into a landfill, like a scarf, hanky, maps or even fabric scraps.
Hanscom Air Force Base in Massachusetts and the federal Department of Defense both have guidelines stating that while supervisors may not normally accept gifts from subordinates, they may do so during the holidays if gifts are valued under $10 and are not cash gifts. Supervisors may accept food and refreshments shared and may participate in planning festive gatherings. If a subordinate goes to a supervisor's home for an event, it is permitted to take a customary hospitality gift. I really like this idea of limiting gifts for supervisors.
Group Gift Exchanges
If you permit a group gift exchange, you should issue written guidelines that include a reasonable price limit per gift and ask people to stay within the limit. It's also okay to remind people that gifts should be fun and useful—I knew someone once who got a shower cap in the group exchange. As everybody is supposed to comply with the price limit, it's okay to suggest that the receipt be included if possible. In your memo, tell people that attempting to recycle a gift is in poor taste; they might inadvertently include something that a coworker gave them last year. You can also prohibit items of a sexual or offensive nature. Also, remind them to wrap the gift.
I once worked at a place that had three gift-exchange days. We had a name drawing a month before the holidays including only those people who opted in and identifying three gift-exchange dates. On the first date we exchanged $2 gifts; on the second date, $5 gifts; and on the third date, $8 gifts. That meant that nobody spent more than $15. At the time we submitted our names we included suggestions for each price limit. The person whose name I drew wanted a Yankee Candle tart; homemade brownies; and Steeler socks. When the third gift was exchanged the day before the holiday, we revealed ourselves to our "giftees"—it was fun.
If You Absolutely Don't Want to Celebrate the Holiday…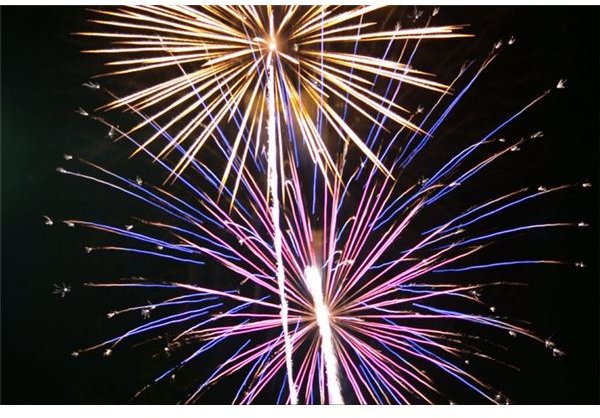 Despite the widespread celebration of the holidays by most private and government agencies, some people just feel strongly against condoning such observances. The Society for Human Resource Management (SHRM) suggests, if you don't want to condone holiday gift giving as part of a corporate policy, why not let people have a potluck lunch and exchange New Year's gifts in the lazy days just before December 31?
New Year's Day is a holiday for all people, and it has the added benefit of taking place just after the religious celebrations. It's a time for winding down from all the holiday stress, and it gives people a chance to kick back and relax. Whatever you decide on, put a comment in the box below—it helps each of us to know what other companies are doing. And—enjoy your Sparkle Season!
References