How to Retain Multigenerational Employees Using Social Media Technology Strategies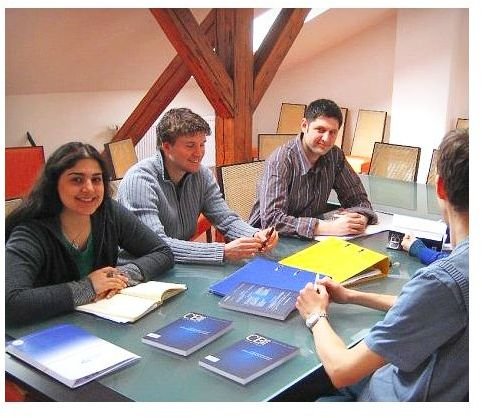 Today's Diverse Workforce
Establishing policies and procedures that describe how to retain multigenerational employees begins by assessing the current workforce's skills, needs and career objectives. Then, successful human resource professionals map these results to the strategic goals of the company. They recognize that each generation currently in the workforce has unique needs.
For example, millennials tend to expect immediate feedback on their performance. Older baby boomers tend to have diminishing physical capacity, increasing family commitments such as caring for elderly parents and may require more flexible work schedules or assignments. By quantifying the number of employees in each age group and accommodating the needs of talented workers, companies can retain the skills and knowledge developed over the years while incorporating new strategies and methods for communication and workplace productivity.
Attracting and Retaining Millenials
Millennials tend to have high expectations for corporate social responsibility. They demand that the companies they work for and buy from be more socially responsible. To attract and retain millennials, companies need to publish and act on their environmentally friendly strategies.
Additionally, beginning with people who graduated from high school in the year 2000, workers expect to change jobs every 18 months. They look for jobs that allow them to develop personally and professionally without committing to a single company for 30 or more years like their parents may have done. To attract this type of employee, companies need to recognize that these type of workers expect to learn on the job. Many want to advance into management jobs quickly.
Successful human resource managers help recent graduates make the transition from an educational environment to the workforce by providing comprehensive employee orientation programs. These encourage new staff members to develop meaningful relationships with other employees. Because this age group tends to be results oriented, retaining millennial workers typically also entails assigning these employees to fast-paced projects. This benefits the company as well, by contributing to bringing products and services to market faster.
Trends in Training
According to Pew Research, 71% of adults use online video‐sharing sites. Training professionals recognize that this represents an opportunity to present engaging content that meets the learning needs of all generations and to retain talent of all ages. Millennials and Gen Xers tend to expect to be entertained while learning. They also expect training to occur in short segments, often less than 10 minutes.
Additionally, each generation, including Baby Boomers, works away from their desk more frequently so mobile learning solutions have become increasingly popular and necessary. Packaging and delivering compelling instructional content has never been easier. Wireless networks, smart phones, eBook readers and tablets enable collaborative learning as never before. Games and applications that take advantage of a mobile device's location identification capabilities provide learners with new opportunities to develop the skills, knowledge and competency to succeed in a dynamic, global workplace.
Each generation appreciates the chance to compete. Current obstacles to providing quality mobile training include high costs associated with developing content that can be displayed on all types of devices and platforms, security issues, IT policies restricting access and inadequate learning management systems.
Social Media Strategies
Retaining today's multigenerational workforce also typically involves establishing a cohesive social media strategy. Using wikis, blogs, forums, instant messaging and other social media technology enables employees to connect effectively during project work. However, building truly cohesive, successful teams requires establishing policies and procedures for ethical use.
Human resource professionals need to clarify the code of conduct expected by all employees. In general, they do this by asking employees to consider how they might feel if what they've published online were front page news in their local newspaper. When in doubt, employees should not publish questionable comments, content or photos. Additionally, all company departments need to work together.
For example, the IT department should collaborate with the marketing and sales departments to generate a comprehensive plan that links web pages representing the company's products and services. Having short and long-term goals for their company's online presence allows company employees of every generation to sponsor, support and contribute to social media in a constructive manner.
Mentoring Strategies
By establishing comprehensive mentoring programs, HR professionals enable new employees to join a department, learn from more experienced employee and reach productivity sooner. Older workers can also benefit from mentoring from younger employees, who teach them how to use new technology, such as social media tools. Creating a detailed action plan enables both the mentor and the mentee to describe concrete tasks and measurable goals.
Successful companies provide support for career development, collaborative process improvement projects and other efforts that allow multigenerational employees to interact, communicate and work together more productively. They recognize that due to cost constraints, mentors may never meet their mentees in a face-to-face setting. Leveraging web-based conferencing tools, including audio and video, employees can still build strong relationships.
Mentoring allows older workers to share their knowledge with younger workers. This prevents loss of intellectual capital and enables ongoing maintenance of legacy systems and tools. Younger employees share their expertise with technology and new methods. This helps existing employees incorporate techniques such as quality management techniques and social networking into workplace functions and communication. That leads to improved processes and company profits. Mentoring relationships tend to be a win-win situation for a multigenerational workforce.
References
"Innovations to attract, develop, and keep talent." 2020 Workplace. N.p., n.d. Web. 29 Aug. 2011. <www.2020workplace.com/>.
Image Credit: Wikimedia Commons - CEJISS