The Office Flu Shot: Make It Happen!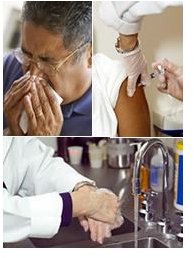 Flu season is just around the corner. Many people are considering getting flu shots–and with good reason. Most people want to avoid the fever, aches, chills and chest pain that accompany the flu. Large and small businesses want to avoid the profit loss, rise in insurance costs and decline in productivity caused by flu-related illness.
Influenza Costs Companies Millions
According to the CDC, "Every year influenza, or flu, affects employers and businesses. Influenza costs businesses approximately $10.5 billion in direct costs for hospitalizations and outpatient visits for adults." Low-cost and free employee flu shot clinics are becoming the preferred method of ensuring the health and safety of American workers.
Education and Prevention is the First Defense
Many health service companies across the country assist human resource managers in setting up on-site flu clinics. Most of these companies also provide educational services to employees by implementing corporate wellness plans to help reduce health risks.
It's important to recognize that education is the first step in combating the flu. Many people are not aware they have unhealthy habits that leave them vulnerable to certain infections and disease. The flu is a highly contagious respiratory infection that is spread through coughing and sneezing. The risk of getting the flu can be greatly reduced by frequent hand washing and covering mouths while sneezing and coughing. Health service companies supply businesses with a variety of educational pamphlets and brochures that include these and other flu preventative methods for distribution to employees.
Scheduling an On-Site Flu Clinic for Employees
Companies that employ at least 25 workers can set up on-site flu clinics through most health service companies. But, the more people you have, the more cost effective it is for your company. Small companies can team up with other local companies in order to increase numbers. Large corporations with multiple locations can usually be accommodated with a central location. Most health service companies offer free online quotes to businesses.
Ensuring a Successful On-Site Flu Clinic
Make clinics more appealing to employees by incorporating other health-related services at the same time. A full-scale health fair usually attracts more participants. Consider offering blood pressure checks and cholesterol testing along with flu shots.
Ensure a successful turnout by following some effective techniques. Free shots will almost always be best. Encourage employees to attend flu shot clinics by setting a positive example. Managers and supervisors should be the first to get flu shots. Consider offering flu shots to employee family members. Allow employees to visit on-site flu clinics as part of the work day as opposed to requiring employees to receive shots only while off the clock. Serve refreshments. Hold contests to award departments with the most vaccinated employees.
Partnering With Other Local Businesses
Smaller companies, with few employees, should consider partnering with local pharmacies and health clinics. Putting a policy in place that permits employees an hour or two to receive vaccines in the community encourages participation. Place flu clinic notices, flyers and posters in break rooms, above time clocks and in other common areas to let employees know where and when clinics will be held. Be sure to include the information in employee newsletters and on company websites. Provide pamphlets and brochures for employees to take home to family members.
The CDC's Flu Clinic Toolkit
The Centers for Disease Control and Prevention (CDC) has a wealth of flu prevention information for businesses on their website. An entire toolkit, titled "Make It Your Business to Fight the Flu: A Toolkit for Businesses and Employers," is available for download directly from the CDC website. The kit provides a Podcast, printable flyers, checklist and a list of valuable links for businesses to find more information.
Free Flu Shots Are Cost Effective
It's always preferable to offer employees free flu shots. Employees are more likely to get the shot if there is no out of pocket cost to them. The increased cost to businesses incurred by sick leave, expensive insurance claims and decreased work production greatly outweighs the cost of providing free flu shots to employees.
The Patient Protection and Affordable Care Act
The Patient Protection and Affordable Care Act (PPACA) is a grant program that assists small businesses to offer workplace wellness programs. Awarded grants began in 2011 with $200 million appropriated for a five-year period. The PPACA is an excellent way for small businesses to establish an affordable workplace wellness plan. Interested employers should submit applications to the Health and Human Service secretary.
Free Flu Shots Are Good For Business
Employers who offer free flu shots to their employees promote an environment of company involvement and well-being among staff. Employees who feel valued by managers and supervisors are more likely to be more productive. Offering a free wellness planning program that includes free flu vaccines to employees can help increase employee morale and productivity.
References