Assessing Corporate Culture as Part of Strategic Management Planning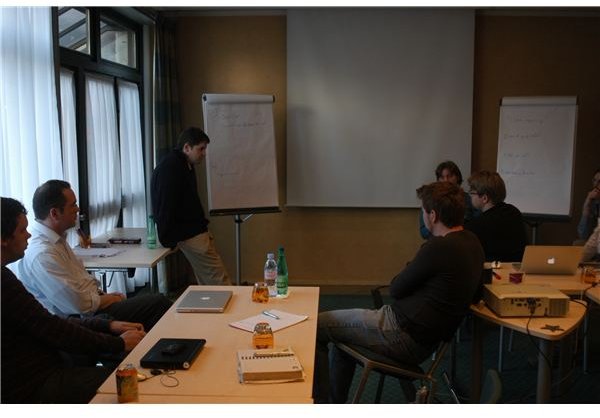 The Assessment
Assessing corporate culture can help your company prepare to avoid threats and manage risks more effectively. Human Resource professionals can contribute to the definition of a company's mission and vision statements by soliciting input from employees. Worker feedback often more precisely describes the values held by the organization than any other mechanism. This input can help set the strategic direction for the business by capitalizing on the natural strengths of the organization.
Additionally, when you ask for their input, employees tend to feel valued and empowered. They are likely to be more loyal and committed to achieving the company's strategic goals. Since they contribute constructive ideas that help management streamline workflow and improve policies and procedures, they help maximize success. Corporate strategy feeds into the culture by establishing the business infrastructure. Human Resource professionals ensure the company culture and trained personnel support the strategy to respond to the global challenges and meet financial goals. Dynamic business conditions force company personnel to be flexible because relying on obsolete techniques can become an obstacle to ongoing success. For example, where telecommuting and flexible schedules are encouraged, working parents thrive and clients get support during non-traditional nine to five business hours, which is a bonus for everyone involved.
Culture
To assess your company's culture as part of the strategic management planning process, start by identifying business problems your company faces. By conducting surveys, focus groups and interviews, you can gather critical information about what people in your company feel should be done to attack these problems. By analyzing the responses, you can see if trends emerge. If everyone wants to approach problems the same way as always but without achieving the required results to be successful, it's time to conduct more comprehensive strategic planning to produce innovative approaches that will help your company overcome cultural obstacles to success.
Human Resource professionals also participate in the strategic management planning process by conducting skills assessments and benchmarking employee skills to industry standard competency models. For example, the American Society for Training Development publishes a model for sales competency. This model defines the skills and behaviors required to conduct sales activities successfully. Using this model, Human Resource professionals can ensure sales training, performance improvement programs and incentive initiatives produce the desired results. To fully understand what the staff does, an assessment must include what characterizes excellent and productive behavior, what is the best way to train personnel and what skills and knowledge are required to perform sales tasks.
Defining Organizational Structure
Your company's organization structure, policies and procedures help define the culture and acceptable team behavior. Details such as dress codes, preferred communication methods and disciplinary actions for unacceptable practices enable new employees and current staff to function more effectively. Without understanding your company's structure and history, you can't accurately adjust strategic management initiatives to ensure the company prospers long into the future. For example, as personnel have begun to rely on mobile devices, such as phones and laptops, Human Resource professionals have adjusted training and business practices to support the way people work today. Additionally, when companies acquire other businesses or merge with other organizations, Human Resource professionals need to gather and align policies and procedures from all organizations and communicate the company's current operational strategy so there are no misunderstandings about the rules in the new organizational structure.
Establishing Goals
During the strategic planning process, assessing corporate culture helps effective leaders identify the activities needed to reach short and long-term goals. The company's mission statement reinforces the cultural identify of the organization and serves as a reminder to employees and customers of why the company exists and what the current leaders intend to do to maintain profitability and success. Human Resource professionals help employees align their personal and professional goals to these directives. By generating templates that support employees in the creation of specific, measurable, attainable, realistic and time-constrained objectives, Human Resource professionals ensure that employees focus on work improves company profitability and growth.
Considerations
Effective managers recognize employees at companies that have been in business for decades have perceptions, beliefs and feelings about how to conduct business including how to treat customers, how to handle employee disputes and how to weather tough economic times. For example, when the Malden Mills factory burned down in December of 1995 in Lawrence, Massachusetts, the CEO, Aaron Feuerstein chose to use the insurance money to rebuild the factory and pay the salaries of the employees while it was being built. His commitment to his employees reflected his personal convictions and the culture of the company. As company executive make strategic decisions, there's more at stake than short-term goals. By considering the long-term impact on employees and their families, managers make decisions that impact not just the company but society at large.
References and Image Credit
Image Credit: Wikimedia Commons
Ambler, Thomas E.. "Know Thyself - Culture in Strategic Management." Course and Direction: Strategy Bits. https://www.strategyletter.com/CD1205/featured_article.php (accessed June 30, 2011).
"Malden Mills- a study in leadership." Create Strategic Business Advantage through Organizational Development - Strategic Talent Management. https://www.opi-inc.com/malden.htm (accessed June 30, 2011).