Benefits of Putting Together a Wellness Program for Cost Effective Measures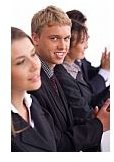 Many workplaces are implementing planned wellness programs as cost effective measures to help prevent low productivity and high turnover on the job from overworked, unhealthy and stressed out employees. A corporate wellness plan is a helpful way for an organization to promote healthier lifestyles, which have been shown to reduce work related stress, illness and employee absenteeism. When designing a workplace wellness program it is important to consider how this will effect the company as a whole, as well as how it can benefit both employees and the organization over time. Learn more about the reasons for creating a wellness program that will essentially pay for itself over time.
Wellness Programs to Combat Employee Absenteeism
There are many reasons why employees call out from work, but the most common is from personal illness. While this may seem trivial to most employees, the cost to employers is staggering over time. As much as 8.7% of total payroll in average costs can occur with a single event of absenteeism, according to a recent report from Mercer in 2010. For the employees who do report, many end up being less productive and community illnesses can spread throughout the entire company, causing further costs to the organization. Wellness programs can become cost effective measures to prevent illness in the first place, helping to reduce these costs over time.
Reducing Workplace Stress with Corporate Wellness Programs
Another key benefit of a workplace wellness program is that it can drastically reduce the amount of job related stress. The National Institute for Occupational Safety and Health reported that work related stress, brought on by more production-oriented businesses in the later century, has become the number one cause of workplace illness, absenteeism and replacement costs for organizations. Stress can affect workers in many different ways, from loss of productivity to outright depression. It is of vital importance for all companies to consider the ramifications of not having a standard workplace wellness program in place to deal with the issue of workplace stress. Just by having a basic corporate wellness strategy, a company can reduce episodes of workplace stress and create a more harmonious work environment where real progress takes place. This benefit is priceless.
Promoting Healthier Lifestyles for Employees and the Community
A company wellness program can also help to create an environment where living a healthier lifestyle becomes part of the corporate norm, rather than the exception. Instead of encouraging employees to skip lunches to work on projects, sit in office chairs for hours on end, or lead otherwise miserable daily lives – a corporate wellness program as a cost effective measure will include accessible wellness activities. These can include on-site healthy snacks, plenty of hydration from spring water machines and common employee areas where exercise and break time is encouraged. Many workplaces have established employer-sponsored fitness centers, fresh air work areas, and freshly prepared lunches as a way to combat work related stress and illnesses. The results are happier, more productive employees, who then lead by example in the communities in which they live and play.
Lowering Employee Insurance Premiums through Wellness Programs
Perhaps the greatest advantage to a company considering a wellness program in terms of cost effective measures is one of saving money on employee insurance premiums. Workers who lead healthier, more active lifestyles are more apt to avoid the doctor and this keeps health insurance costs lower. Over a period of time, it's easier to obtain lower cost health insurance rates with companies that are focused on working with companies that have a lower rate of incident. This can save a company that's paying for a portion of the health benefits a substantial amount of money over a period of a year or more. Additionally, the employees benefit because their insurance rates go down accordingly. In some cases, encouraging the use of medical insurance for preventative care may help as well, since it encourages people to get help early on for various health care concerns and lead healthier lives to avoid having to file claims and pay out of pocket for more serious medical needs, like emergency and surgical care.
Corporate Wellness Programs Beneficial for Everyone
It's clear to see that adding a corporate wellness program as a cost effective measure can be a positive thing for all involved. Not only are companies smart to add this as an employment benefit due to its effect on employee wellness and the community as a whole, but employees who take advantage of corporate sponsored wellness programs will lead healthier, less stressed-out lives. Over time, this can save companies and employees a great deal in work time and spending on health care. A solid wellness program can help to reduce many workplace woes and lead to happier, more productive employees for the long term.
Sources & Photo Credit
Sources:
"Unplanned Absence Costs Organizations 8.7 Percent of Payroll, Mercer/Kronos Study", Mercer, June 28, 2010, Retrieved on June 13, 2011 from: https://www.mercer.com/press-releases/1383785
"The Changing Organization of Work and the Safety and Health of Working People", National Intitute for Occupational Safety and Health, April 2002, Retrieved on June 13, 2001 from: https://www.cdc.gov/niosh/docs/2002-116/2002-116c.html
Photo Credit: https://www.freedigitalphotos.net/images/view_photog.php?photogid=2125