Learn Easy Ways to Use Online Job Applications and How to Create Them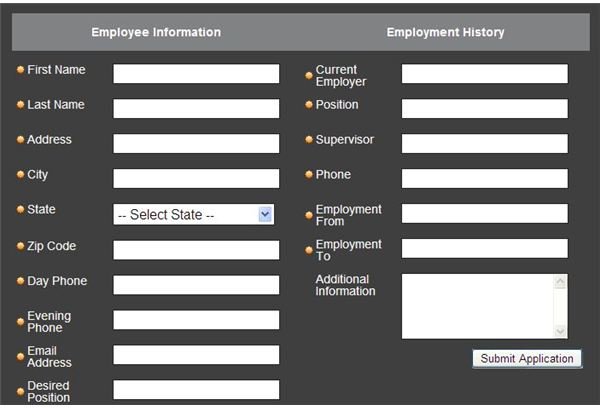 The World Wide Web and Hiring
More often than not, mid- to large-size companies are utilizing online employment applications to weed through candidates prior to actual face-to-face interviews. These apps online also help to determine which candidates you feel confident enough to offer aptitude or assessment testing.
While this can be frustrating for those with a huge personality and much experience trying to get their foot in the door, it is an advantageous way for employers to select candidates based on what is submitted on the online job app.
How do organizations wishing to use this type of pre-screening go about it? Is this a process you can implement on your own or do you need to employ specific software geared toward job apps entered online? Below, we'll answer these questions.
The Legalities
First off, let's get the legalities out of the way. Just as with hand-written job applications, there are things you are not allowed to ask such as age, marital status, number of children, if the candidate has a disability and other questions—read the article Job Interview Questions You Should Never Ask for more information.
What you can do online is create an optional employee questionnaire page asking such questions as age, birthdate, race and gender, and if the candidate can provide proof he is eligible to work in the United States—but these questions must be optional, not mandatory.
Cost Effective Methods or Free!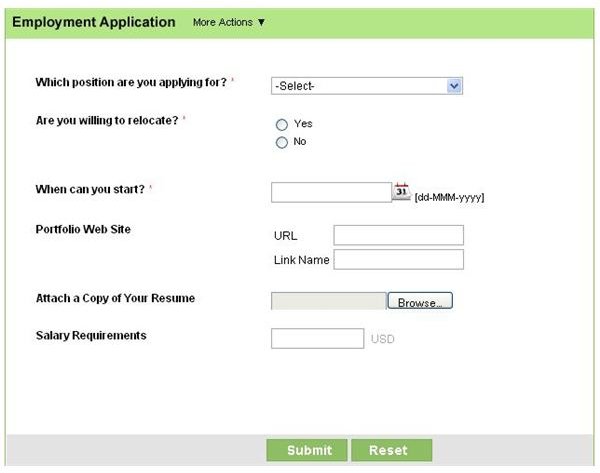 Many companies offer an easy process to receive online apps via their website in the "contact us" or "about us" web page or simply offer a link directly from their home page to complete the job application–see the screenshot to the right. If you do include an employment or job app link, it's also a good idea to list any job openings. If there are none, state you will keep the app on file if a job becomes available suiting the submitting candidate.
Many websites offer online forms for free. Zoho (link in reference section) offers unlimited HTML forms so easy to build (no HTML experience needed) and have a ready-made job application form as seen in the screenshot to the right.
One nice feature of the Zoho job application is it allows the candidate to upload his resume, making the process much easier.
Or, your webmaster or web building tools can aid you in creating a section such as this—just keep in mind the area that allows additional information for the actual resume upload must allow for enough characters to hold the average resume of one to two pages.
Or, most website building tools offer a way for you to design your own online job application form which allows for the candidate to also sign the form electronically. It also includes a statement about credit, driving or background checks the potential employee must agree to via the signature. And an online signature has been deemed to be as legal as a handwritten signature if the sender accepts the terms. An example of one company utilizing such website building tools is Meyer Oil Company (link to job app in reference section).
From there, human resource personnel can skim through the apps to find candidates who qualify for any open jobs.
Low Cost Methods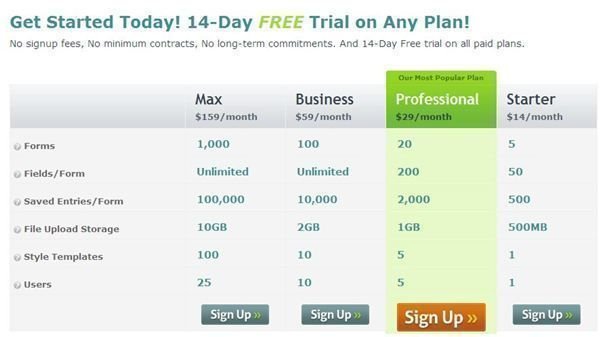 Large corporations such as Sears Holdings, auto manufacturers, and large retailers such as Best Buy and factories use these online formats and in fact, you'll find them in almost any industry—even government and state agencies use dedicated software or programmers to aid them in utilizing the Internet job app.
One company, Formstack offers a fourteen-day free trial and pricing packages (see screenshot at left) depending upon your online form needs. Their most popular is the $29 per month package which gives you 20 forms with 200 fields per form—plenty for a job application. They also have live support, forums and techie help, although their easy-to-use format doesn't require HTML knowledge much like the Zoho forms.
Assessing the Candidate
Once you've received the online job applications your next step is to assess candidates to ensure you choose the right people for the interview process. If you need help in this area, Bright Hub can help with that too! Read the article, The Value of Using Online Aptitude Tests to find out how to implement testing prior to the interview to make informative decisions prior to scheduling interviews.
Final Thoughts
Allowing job seekers to enter job apps and upload resumes online is easy on the employer and the applicant. However, it can be frustrating for the worker hunting for a job. While the world is Internet savvy, taking the personality or meeting out of the process may lose you a good candidate.
On the other side, however, when times are tough and people are moving from one state to another, using these online venues may find you a candidate with the qualifications you want and can't find in your area, giving you a larger pool of candidates to choose from.
Please be sure to check out the other tips and strategies found in Bright Hub's HR Guide for Recruiting and Retaining Employees.
References
Helpful Resources:
Zoho HTML Form Builder - https://www.zoho.com/creator/html-form-builder.html
Meyer Oil Company Online Job App - https://mach1foodshop.c2.ixwebhosting.com/Mach1_Pre-app.htm
Formstack - https://www.formstack.com/web-forms.html
Image Credits:
Screenshot job app via website courtesy of author
Screenshot of job app form courtesy of Zoho
Screenshot of Formstack pricing courtesy of Formstack