Create a Performance Improvement Plan Based on SMART Goals: Free Tips & Template Download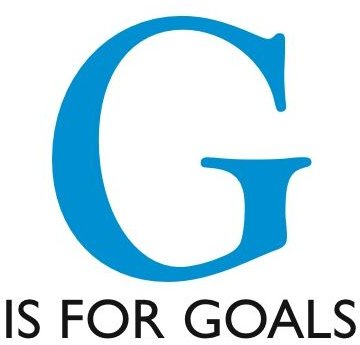 The Need for Improvement Plans
Whether you utilize a standard performance review or a 360 degree performance appraisal, if the employee shows weak areas and they need to improve, you may want to develop a performance improvement plan based on SMART goals.
The acronym SMART stands for specific, measured, agreed upon, realistic and time and can easily be implemented into any plan for improving employee skill levels.
Failing to come up with a plan for the lackluster employee only results in frustration on your end and a complacent employee who feels he is doing a good job.
Creating a SMART Goal Improvement Plan
To implement an improvement plan based on SMART goals, first you must identify areas where the employee needs to improve or become further educated on skills or needs additional training. To aid you in preparing an improvement plan, download the free SMART goal improvement plan from our Media Gallery.
Once you've downloaded the template you can see how SMART goals can effectively be used in pointing out weak areas and devising a plan for improvement.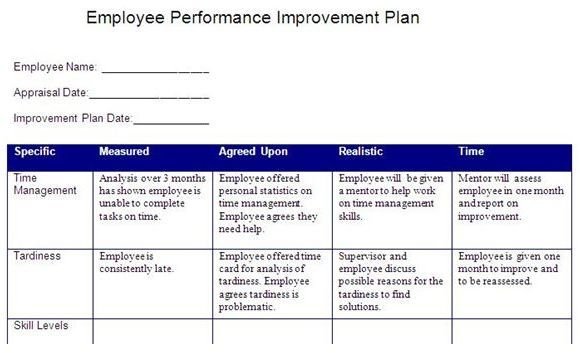 In our sample template, the employee never completes assigned tasks on time and is continually late to work (see screenshot to right—click to enlarge).
Using this SMART goal template an HR manager or supervisor will take actions that are:
Specific – State the specific problem area – in this case two line items are completed, one for time management and one for tardiness. Each area where the employee requires improvement should be identified on one line.
Measured – This line item shows how the problem area was discovered (or measured). For instance, the supervisor notices the employee over a three month period is unable to finish work on time and is consistently late. This section should be used as a way to show the employee how problematic areas were identified.
Agreed Upon – Our next line item shows the employee is offered up a three month assessment by the supervisor showing the inability to complete tasks on time along with time cards showing tardiness levels. With documentation, the employee can agree the area is problematic.
Realistic – Here, identify how the problem area will be improved. In our case, the help of a mentor will teach the employee effective time management skills. For the tardiness problem, the supervisor and employee engage in a conversation on possible reasons and solutions to the continual lateness.
Time – Under the time action item, place a time limit on how long you feel it should take the employee to improve—in our case, the employee will be reassessed in one month on both time management and tardiness.
Using the Plan
Using a performance improvement plan based on SMART goals is a very effective tool as problems or weak areas are specifically outlined and via the SMART goals, the employee is able to understand the weak areas by viewing documentation. Further, the employee is offered a realistic way to improve along with a set time to improve on the weak or lacking area.
Once the time for reassessment comes, the HR department or supervisor should meet with the employee to announce success or revisit why he or she has not improved and take further action such as a written warning or implementing another improvement plan.
Using our free download is the best way to begin analyzing your employee's performance levels, identify where they need to improve and both supervisor and employee can agree to a time limit to improve. Make sure all improvement plans are signed by both the employee and supervisor. A signed copy should be offered to the employee and another placed in the employee's personnel file.
The author holds a degree in human resource management and has years of experience working in the HR field.
Image Credits:
G is for Goals - Wikimedia Commons/Kfuot001
Screenshot created by author