Diversity Training Topics for the Workplace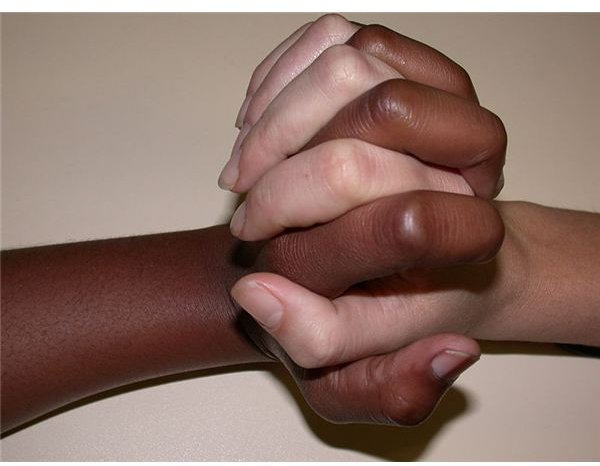 Assessing Diversity Awareness
Diversity training often begins with a self-assessment survey. Participants reflect on their own appreciation for accepting individual differences, use of vocabulary for discussing diversity, and knowledge of techniques for communicating across cultures. By honestly rating themselves on their ability to avoid prejudice and stereotypes, participants learn what they need to improve in their ability to work in a multicultural society.
Avoiding Discrimination
Diversity training presents instruction and historical information on how to avoid discriminating against others based on race, gender, sexual preference, religion or culture. Participants typically share their own perspective and learn from others so they can work more productively with team members, customers and suppliers of different backgrounds. Students learn to recognize discrimination, even when it is not blatantly obvious. By using strategies to make everyone feel included, such as soliciting employees' opinions on how to improve the services they provided, supervisors improve productivity while reducing employee discontent and stress. Maintaining a diverse workplace makes good business sense too. For example, many nonprofit agencies get their funding from grants. Having a non-diverse workplace could affect an organization from getting these grants.
Promoting Effective Communication with Diverse Populations
As the populations that a business serves become more diverse, employees need to develop the communication skills and knowledge that enable them to function more effectively. Web based training courses provide effective communication tips, techniques and templates for busy professionals who require flexible alternatives in learning and development. During live training events using role-playing activities, training professionals help employees practice resolving conflicts, safeguarding against harassment charges and capitalizing on diversity to solve problems in creative and innovative ways. Participants develop confidence in interacting with others of a difference race, gender or nationality. Employees who complete diversity training work more effectively on teams to produce products and services in a timely, constructive manner.
Using Simulations
Simulations and case studies, such as those provided by the Cultural Navigator website, prepare employees to communicate with nonnative English speakers, negotiate in multicultural environments and respond with respect and courtesy to clients and co-workers from different backgrounds. Complex scenarios present different realistic situations and allow students to select an answer to question, such as assessing how to handle the situation in the most productive way possible. Using the feedback provided, students gain the skills and experience necessary to handle similar situations in their workplace, such as a small company, global corporation, school, hospital or charitable organization.
Conclusion
Providing employees with diversity training in the workplace prepares them to work well with others to conduct business in global markets. By gathering information about business practices in other cultures, participants learn to adapt their own methods and develop a cultural competence and sensitivity that enables them to build and maintain successful working partnerships. Participants who complete diversity training typically enhance their understanding of cultural differences and develop the skills and knowledge to bridge cultural differences.
References and Image Credit
Image Credit: Wikimedia Commons - Freieke
"Cultural Navigator: Virtual Guided Tour." Cultural NavigatorL Virtual Guided Tour. N.p., n.d. Web. 9 Feb. 2011. https://tour.culturalnavigator.com/.
"Workplace Diversity Education Diversity Training : American Conference On Diversity." American Conference On Diversity : New Brunswick New Jersey Middlesex County NJ. https://www.americanconferenceondiversity.org/acod_workplace_det.html (accessed February 9, 2011).