Useful Examples of Written Job Descriptions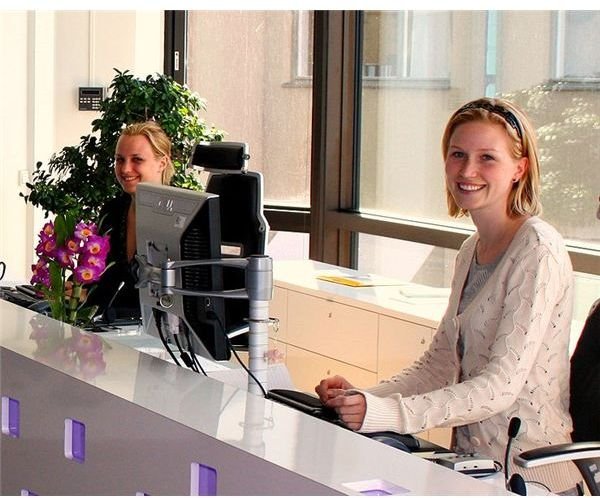 Behind the Job Description
The roles and responsibilities of employees are neatly defined by their individualized job descriptions. These documents outline a chain of command, skills required, basic job expectations and also areas of possible overlap with other professionals in the company. So why look for effective examples of written job descriptions?
The answer is surprisingly simple: Far too many businesses either do not have job descriptions or only rely on generic versions for even diverse positions. In so doing, the business sells itself short with respect to the development of a well-defined competency architecture.
Job Summary
Part and parcel of a job description, the job summary, reduces the various aspects of a position into general terms. A good example is the written job description of a receptionist working for a small business:
"Answers incoming calls, greets visiting clients, performs back-up clerical tasks at the direction of the office manager and readies the office for daily business upon arrival in the morning."
Note that it covers the basics of the job and also opens up some cross-functionality with respect to basic clerical duties and even some light housekeeping. Experts at Aurora University(1) point out that this portion of a well-written job description should be no longer than two to three sentences.
Duties and Responsibilities
Keep this section devoid of flowery language and make it gender neutral. A bulleted list is the easiest way of communicating a number of tasks that may not directly relate to one another. DePaul University(2) considers these to be "essential functions." Although they may sound mundane, each duty is integral to the performance of the duties associated with one position. In the case of the receptionist, this portion of the job description could read:
Answers the telephones between the hours of 7:55 a.m. and 4:55 p.m. with one hour for lunch between 12:00 p.m. and 1:00 p.m.
Receives incoming mail, opens and date-stamps it. Distributes the mail.
Greets clients, offers refreshments and alerts administrative assistants to the presence of clients.
Performs clerical duties using the computer, Microsoft Office Suite, the copier, fax machine and other officer technology as directed by the office manager.
Is a Special Requirements Section Necessary?
Even though it is not frequently used in today's business environment, the special requirements section of a well-written job description has the potential to head off quite a bit of Human Resources trouble. For example, if this section specifies that straightening the law library and dusting the shelves is part of the position, there will be no misunderstanding later on, when an employee is expected to perform this task. Make known ahead of time that light housekeeping is part of the job when recruiting and selecting employees. Applicants who find this task to be unsuitable for them will know not to apply.
Northwestern University(3) warns that a job description should never be so finite that it limits the employee from growing or being utilized in a manner that makes her or him more valuable in a changing business environment. In the reception example, the special requirements area may be covered as bullet points or in a couple of brief sentences:
"The receptionist understands that during the winter quarter – from October 1 to December 31 – weekend overtime hours become mandatory. They generally take place on the first and third Saturday morning of the month. Additional tasks that are to be performed during the regular workday may be assigned year round, as determined by the office manager."
Remember that even successful examples of written job descriptions will turn from assets to liabilities if they are not revisited frequently. As the business needs change – and as new positions are introduced into the company – be sure to reevaluate all job descriptions for possible updating.
Please be sure to check out the other tips and strategies found in Bright Hub's HR Guide for Recruiting and Retaining Employees.
Sources
Photo Credit: "Reception people at DICE in Stockholm" by Evan Bench/Wikimedia Commons