Importance of Workforce Planning Vs. Talent Management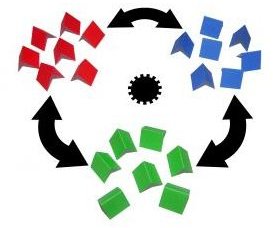 Talent Management & Workforce Planning
It is crucial for a business organization to understand the careful distinction between workforce planning vs. talent management. Both tasks are critical to the long-term survival and success of an organization, and both are dynamic and multi-faceted processes that need to be handled efficiently. Both these tasks can range from simple to complex depending upon the size and the manpower needs of the business organization.
Planning Tools Vs. Management Tools
Workforce planning is a key tool of planning that encompasses a scientific and methodical process to make the right human resource decisions in consonance with the organization's goals, budgetary allocations, and the necessity of human resource competencies. The key challenge before management is to anticipate the future volume of business and plan for the necessary workforce to successfully execute and manage that scale of business. Workforce planning (WFP) ensures that the quantity and quality of staffing requirements are ideally matched against the business needs of the organization. In other words, its primary concern is to achieve an optimal utilization of human resources.
Talent management, on the other hand, is primarily a management tool that is concerned with ensuring that job profiles of the employees are in accordance with their natural talent, experience and performance, and working to ensure high motivation levels and optimal output per employee. It is a management function that not only ensures the right employees are in the right place at the right time, but also there is a progressive process of employee growth and development. This includes cultivating the internal talent pool of the organization for expanded responsibilities as well as looking for external opportunities to hire good talent that can prove highly beneficial for the organization.
Dynamics of Workforce Planning Vs. Talent Management
Workforce planning is a dynamic process to enable staff, worker and managerial planning for different situations. The process may be conducted in a particular department, a particular branch, or organization-wide, depending on the needs of the situation. In the prevailing conditions of economic uncertainty and high economic fluctuations, workforce planning dynamics have come to play a critical role in the survival of the organization. Some divisions may have added staff requirements, whereas some others may need to reduce the number of employees. This is a constant and evolving process that is conducted according to the changing business scenario for the organization.
Similarly, when it comes to talent management, the risk of executive tunnel vision must be avoided during times of economic difficulty or unpredictability. The company's employees are its strongest assets, and the organization is only as capable as its people. Therefore, employee development and motivation must not suffer when the organization is faced with prospects of substantial layoffs or external hiring of new talent to reinforce the competitiveness of the business. The talent management process must work hand-in-hand with the workforce planning process in order to successfully move toward achieving the organization's corporate mission and objectives.
Photo Credit: www.sxc.hu kikashi