Vitalist Review: An Automated System of "Getting Things Done"
Introduction
Do you have a list of everything you need or want to do? Is it all in one place? Can you easily sort through what is urgent? Can you group like tasks together for maximum efficiency? Vitalist Solutions, LLC devised a system to do these things and much more using the "Getting Things Done" or GTD philosophy developed by David Allen. His method and more advice on handling time management issues are discussed in his book Getting Things Done: The Art of Stress-Free Productivity. This Vitalist review will help you decide whether to invest in this productivity software. It is based upon the free version, but includes information on the paid versions as well.
Getting Started (5 out of 5)
Signing-up for Vitalist is easy. For the free version, simply create a username and password. There is no software to install because you are accessing the software on Vitalist's server.
The next step is to setup your "Vitalist Inbox." (See a screen shot at the left.) This simply entails creating a pin number that will attach to your user name to create a Vitalist email address. Mail sent to the Vitalist email address goes directly to your Vitalist Inbox.
Why would you need another inbox? The Vitalist Inbox provides a central location to send any to-dos or notes that you think of during the day. This is a streamlined way to send information to the Vitalist system quickly. You have an opportunity to formalize the entry later. Use a regular email account (it does not have to be your own), Twitter or Voice-to-Text services to send items to your Vitalist Inbox. Each entry becomes an action item.
You may also enter action items directly into the system, which is a good idea when you first begin. Entry is easy and allows the user to associate a context (i.e., errand, computer, phone call, etc.), project name, contact, due date, estimated completion time (i.e., 15 minutes, 1 hours, etc.) and priority with each action item.
The screen shot below shows the pop-up screen to enter or revise an action item. Click on a screen shot to enlarge it.

Features (4 out of 5)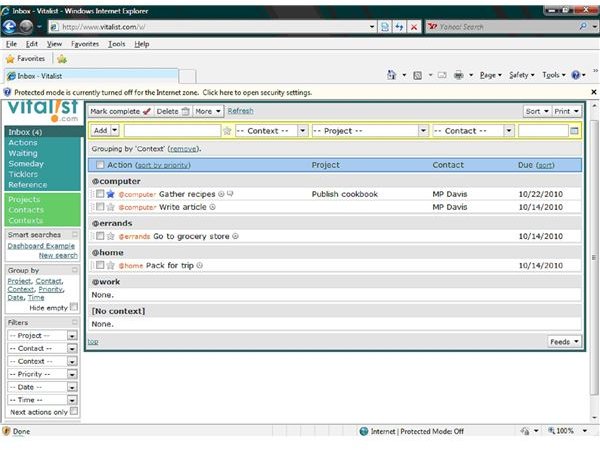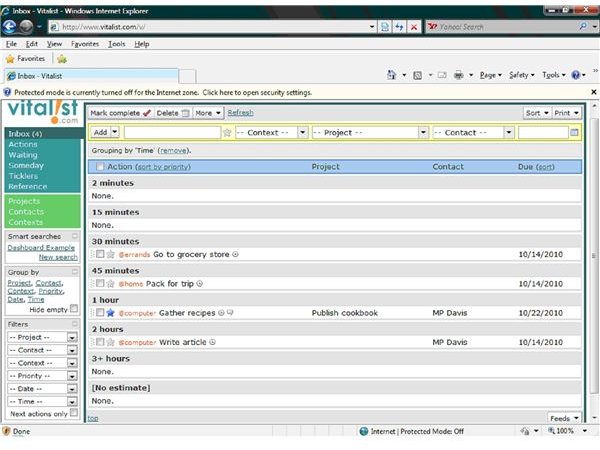 There are many benefits to centralizing your projects and to-dos in Vitalist:
Actions can be sorted by priority, due date, time to complete, project, context or next action due for each project and they can be filtered by these categories. For example, actions associated with one particular project, such as writing a book, can be sorted by priority, due date, etc. The screen shots at the right show sorting by context and time.
Smart searches allow you to create and save a customized sorting algorithm. For example, you can look at completed actions for a particular project.
Notes may be associated with an action item. For the paid version, attachments may be uploaded too.
Actions may be classified as waiting, someday, ticklers or reference items. This enables the user to include a large number of to-dos in the system without worry that the list will be so long that you won't know what's important.
Lists may be printed.
The software is optimized for access on the iPhone and other mobile devices.
Information may be shared with other users for the paid versions.
Information may be accessed offline for the paid versions.
Price to Value (4 out of 5)
The free version does a lot. You can enter as many actions as you like, maintain five projects, five contacts, five contexts and five smart searches.
The basic upgrade bumps the number of smart searches to 10 and the other items to 25. You also receive 250MB of storage, the ability to share information, off-line access and email support. The cost for the basic service is $5/month or $49/year.
The Premium version is $10/month or $99/year. This version provides unlimited smart searches and other associations, 1GB of memory, the other benefits listed above for the Basic service and additional SSL security.
User Support (3 out of 5)
A number of tutorials are available on the system as well as a Frequently Asked Questions section. Otherwise, problems are addressed through the company's email system. I had quite a few questions during my Vitalist review that were not addressed in the FAQ section.
Is Vitalist for You?
The free version will give you a good idea if the software will meet your needs. However, most people will probably want the ability to access this type of information off-line in the event of an internet outage or other problem. For a fairly low price, this system offers a robust productivity tool that really will help you "Get Things Done."