Learn About a Great Way to Telecommute in This Go To Meeting Review
Usability (5 out of 5)
Go To Meeting is extremely easy to use. I tried it recently, and the process began with a link emailed from the group planning the meeting. Through the link, I set up an account by providing a user name and password. I then received a confirmation that I was registered for that particular meeting and received a link to use the day of the meeting. Then, you download the NetMeeting software and you are ready to go, there is no configuration necessary. While performing the Go to Meeting review, I did not own a subscription, but I was still able to register for the meeting for free.
Features (5 out of 5)
With the features available, you can setup a meeting, invite members, and begin your meeting with relative ease. Some of the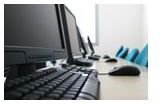 features include:
One Click Meeting: This feature provides users with "Meet Now" buttons for instant participation in a meeting.
Share Keyboard and Mouse Control: This allows you to securely turn over control of the keyboard and mouse to participants in the meeting.
MSOutlook and Lotus Notes Integration: Give users access to their MS Outlook and Lotus Notes applications.
Desktop Recording and Playback: Gives you the option to record the meeting so that it can be played back later, or shared with team members who did not attend the meeting.
These features allow more flexibility and accessibility for participants, making the meeting process more productive. When working from home, this gives you the opportunity to collaborate with others on shared projects.
Reliability (4 out of 5)
The encryption of Go To Meeting makes it secure enough to hold any type of meeting; your corporate secrets are safe. The speed of the application will depend upon the speed of your Internet access, which anyone working from home should already have a high-speed provider to work efficiently. The process was free of any glitches and ran smoothly.
Pricing and Support (4 out of 5)
You can purchase Go To Meeting through a monthly subscription fee of $49 or a annual subscription of $468, a savings of $120 over the course of a year. There is a 30 day free trial offer to try out the service. This allows you to hold meetings for up to 15 participants, and the meeting participants to not have to be members. As noted above, the process for participants to log in is quick and easy. There are larger subscription packages for larger meeting numbers. The voice conferencing option comes with the subscription.
If support is needed, it is provided online and through a 1-800 number. Those that I know who have used the program shared that email queries are normally responded to within 24 hours.
Is Go To Meeting for you?
Go To Meeting offers users the flexibility to hold meetings with anyone who has access to a computer and Internet. When you are working from home, this can be an invaluable tool, allowing you to reach out to co-workers or clients at your convenience. You can run a meeting from home and conduct business in a professional manner. If Go To Meeting fits within your business budget, it would be a wise purchase. If this Go To Meeting review has made the program appear useful to you, then you will definitely want to make use of this telecommuting tool.
For ideas on other necessary work-at-home items read "10 Essential Items in a Telecommuting Office".