Review of Chrometa Time Tracking Software
What Is Chrometa?
Chrometa is time-tracking software that automatically tracks your work time. Additionally, it allows you to categorize your tracked time and it helps you when it comes to billing clients. Like other great time tracking software, the gist of this program is to simplify the way you work at home and bill clients. It allows you to reconstruct how you spent your time on any given day. In addition to the obvious uses, it can help you plug time leaks and increase your time management and productivity skills.
This program is different from Rescue Time in that the second program also allows you to block programs that distract you for a designated period of time. Chrometa is more geared toward tracking all of your activities, online and off, and makes it so that you're sure you're capturing all of your billable hours in an easy-to-use program.
Installation and Setup (5 out of 5)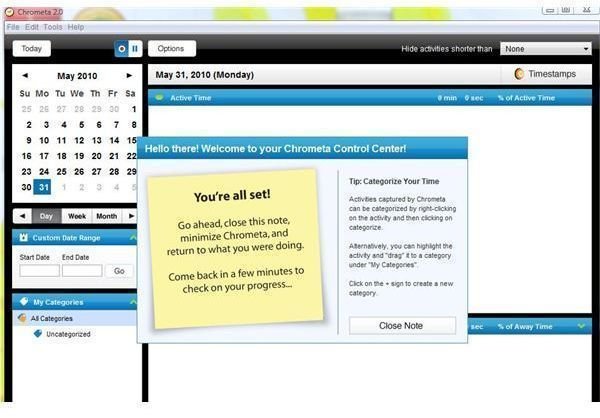 To install and set up Chrometa, download the program from the company website. It downloads quickly. When you click on the .exe file (it is not yet available for Mac computers), the program self-installs. It will also install the latest version of Java should you not already have it on your computer. The whole installation process is quite simple.
Once you have it installed on your computer, you will be faced with a dashboard for the current day. You can add different categories to start with, if you wish. The program begins recording how you spend your time, as soon as you begin navigating through it.
User Interface (4 out of 5)
The program is simple to use. Even if you have never used the program before, its interface is simple. As you navigate through your day's tasks, it records your movements and how much time you spend, to the second, on each of these tasks. Not only does it record whether you are working in Word, Outlook, the program itself, or on the internet, it records the pages you visit, the file names, and even the folders you are using in Outlook. This means that even time spent replying to a client email is easily tracked. Once your time has been tracked, you can then categorize each activity through user-specified categories.
Features (4 out of 5)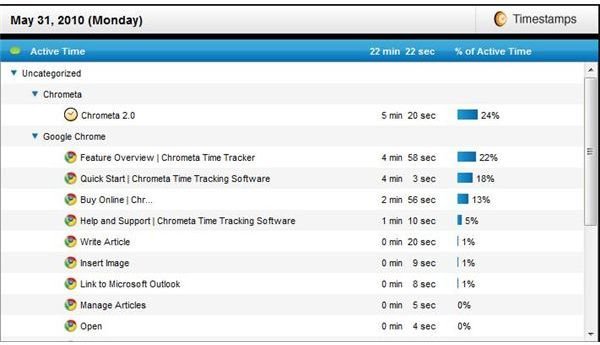 Chrometa has some great features for a program that tracks your time.
Unless you are away from your computer, you can see exactly how your time is used.

You can go back in time to any date that Chrometa was on your computer and view your activities for that day.

Chrometa groups your activities by type - i.e. Excel, Firefox, Skype, Word, etc.

Chrometa uses the website name - so if you spent lots of time online, you'll know if that time was spent on Facebook or on research for your client.

You can track your time away from the computer as well. When you are away from your computer, Chrometa will prompt you to enter what activities you were engaging in upon your return.

You can categorize the time you spend by client or by project.

You can view a timeline of activities for a specified amount of time.

You can export data to Excel for billing purposes.
While Chrometa is an outstanding time tracker, part of me wishes it could generate invoices per client or project directly from the program. At the same time, having such a specialized program is great because it allows you to see exactly how your time was spent unlike some of the competing time tracking programs. For example, Outlook's Journal will track only how long you have a document open. Chrometa tracks how long you are actively working on the document, and if you veer away from it to update your Twitter status or take a phone call, this time is accounted for without your having to pause the time tracking feature.
Finally, should your privacy be an issue, you can have Chrometa require a password for viewing the time log.
User Support (4 out of 5)
Chrometa has a very nice user support system set up on their webpage. Their user support services include a quick start guide, FAQ, free online training, support forums, and toll-free phone and email support. In all, should you have a concern about Chrometa, it will be answered in one of these venues.
Price to Value (4 out of 5)
Chrometa offers a free thirty-day trial to see if you enjoy the product and if it works for you. There are certain instances where you may qualify for a free license to use Chrometa (if you're a student or working for a charity organization or non-profit organization, for instance). There are three options for your Chrometa subscription. The basic subscription allows you to track time across three devices and store information for three months. This version costs $19 per month. The premium version is $49 per month and it allows you to track your information across five devices. Finally, you have the option of paying for an unlimited subscription, which will cost $99 per month.
Is Chrometa for You?
Chrometa is a great program if you need to track your time and you've been looking for a program to do this with ease. It's an outstanding program so long as you don't mind entering the information into your billing or invoicing software. It's perfect for freelancers, consultants, lawyers, and anyone who spends time at a computer and bills by the hour (or who wants to track how his time is spent on various projects).
References