Review of OmniPage Professional Software: Did OmiPage Pro 16 Deliver as Promised?
Introduction
OmniPage Professional 16 by Nuance Communications, Inc. offers features that would seem to supplant even a combination of Adobe Acrobat and an OCR program. My intention in this review is not only to examine whether the application lives up to its claims, but also to determine if OmniPage really does what would otherwise require multiple pieces of software.To get started, I spent quite a bit of time looking over the web pages for OmniPage Professional 16.
This product is so feature-rich that even a cursory explanation requires a sizable chunk of content. OmniPage uses "zones," which define what a chunk of a content is: text, image, form field, etc. This is how the software can interpret a document's various regions, and run OCR on the text zones and allow for scanner enhancement technology (SET) on the image zones. But are the website's intimations that OmniPage is truly a magic bullet for paper-free business, workflow design, and content repurposing true?
OmniPage seems capable of taking care of everything you might want to do with a document; from a legal filing or a medical record, to a marketing piece, to any generic kind of form, whether paper-based or electronic. Besides creating PDF documents**,** there's a broad range of file types you can save to, even disparate types like typical text-based formats, image formats, and even a simultaneous audio file of the content. There are toolbar add-ins for the obvious Microsoft Office programs like Word, Excel, and PowerPoint, and you can convert from paper or electronic format to PDF, or even edit PDF files directly and save or edit them in a number of different ways. There's also batch processing, custom workflows, and so on. OmniPage is truly a monstrously ambitious piece of software.
Price to Value (4 out of 5)
The only way to assess a price-to-value ratio for this product would be to compare it to Adobe's Acrobat Pro, since that's the only other product that I can think of that comes close to the features in OmniPage Professional. The two products also have very close price levels; Nuance has OmniPage Pro 16 listed on their website for $499.00 and Adobe has Acrobat Pro listed for $449.00. But there are features in OmniPage for which you'd also need at the very least a good scanner utility and OCR program in addition to Acrobat, and even then the combination would still leave holes in comparative features.
If you need the features, then OmniPage is a good value, if you consider the power of the product I would have to say that OmniPage is not only a good deal, but something that an organization could make and or save tons of money with, and here's why: with OmniPage, you can set up workflows and output options that anyone in an organization can capitalize on.
For instance, you could set up a printed "cover sheet" that initiates a workflow within the software. Virtually any computer user can be shown how to use it just once and be able to repeat it at will. To get the same capabilities out of another product (or set of products), the user will have to actually learn how to do something, and worse, that user would need to be a much more proficient computer user in general and most likely have to know the bigger concepts of what they're doing even to figure out how to get the result they want.
More than most pieces of software, the level at which you use OmniPage has more to do with the price-to-value ratio than the price itself. If you use it for things like document conversion, workflows, and content repurposing, then it's a total bargain, if you use it just as a "PDF printer," it's no deal at all and you should look at some of the lesser alternatives on Nuance's website.
The price isn't a problem if you use even a few of the unique features OmniPage Pro possesses.
Continue to page 2 to learn about OmniPage Pro's installation and setup and user interface.
Installation & Setup (1 out of 5)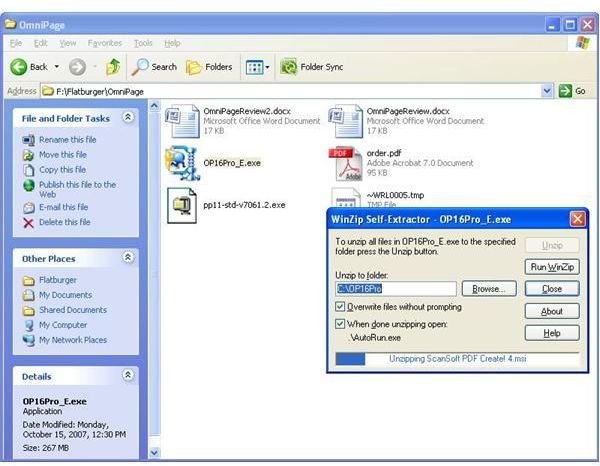 There is nothing hot at all about the installation and setup of the download version of OmniPage Pro, except maybe that you get PaperPort free (but it's not the Pro version of PaperPort, and it duplicates a lot of OmniPage's capability, anyway).
Oddly, the download is an EXE clearly of the WinZip variety, which really surprised me. You'd expect some kind of higher-end installer. Here's what the ZIP is all about: apparently OmniPage and PaperPort are designed to be "shrink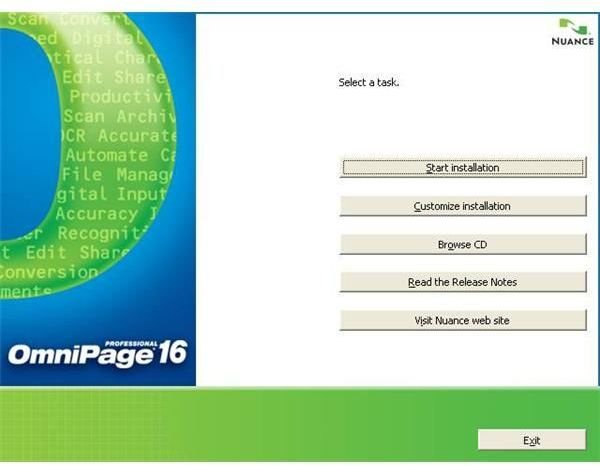 -wrap" products, in that you'd have a CD. When the CD autoruns, there's the typical "modal"-type menu window, where you can install the software, browse the CD, view the documents, etc.
If you're considering OmniPage just get the CD, because it'll be a better experience. What they've done for electronic distribution is to make a self extracting WinZip file that copies all of the content from the CD to your hard drive and then fires up the executable that would autorun if it were a CD.
It's a sloppy method, and it doesn't really give a novice user any idea that the unzipped content isn't deleted after the actual program installs. If you must take the electronic distribution, you'd be best off to run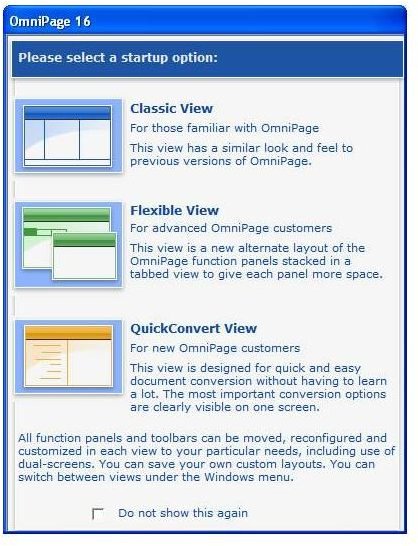 the extractor and then copy the contents (just the contents, not the parent folder) to a CD and just burn your own disk, and then delete the unzipped files from your computer. From that point on, you could just pop the CD into your computer and have a "normal" installation experience. I wouldn't complain if this was some kind of $50 shareware stuff****, but this product is high-end and has a high-end price; distributing the electronic software distribution (ESD) smacked together like this should be embarrassing to the product management.
Once OmniPage is installed, you are prompted to register it, and then once registered, you're required to activate it. While this was kind of intrusive, it worked well; OmniPage made it through the firewall on my computer and behaved as expected, and most of the registration form questions were voluntary.
User Interface (4 out of 5)
The interface in OmniPage Pro is exceptional. Since it's such a deep program with so many capabilities,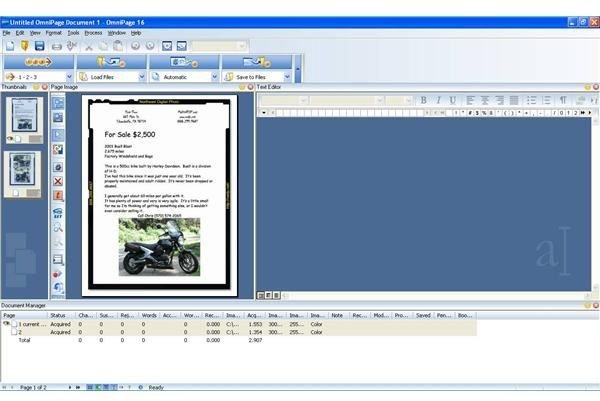 it's destined to be a little overwhelming, but the startup options screen allows you to choose from three layouts depending on your level of familiarity with the program and your intended use.
Classic View

Designed to retain the look and feel of previous versions of OmniPage.

Flexible View

Stacks the function panels in a tabbed arrangement in order to provide more space for each panel.

QuickConvert View

Designed for quick document conversion and a softer learning curve. This layout would be ideal for new users.
Users can also create and save their own layouts and switch between layouts at any time. It's nice that the developers of this program realized how intimidating exposing its complete functionality at once would be.
Besides the gentle UI induction, until you select otherwise, the program will open a how-to guide, along with the initial workspace layout. This how-to guide isn't a subset of the F1 Help menu, but more of a quick-start guide, which I found to be very helpful. After a little bit of use I noticed that I most often gravitated to Flexible View.
There's nothing about the UI that rises to a notable level in a negative way.
Product Features (5 out of 5)
This application is the epitome of feature-rich. Clearly, the level and depth of the feature set is what warrants its price. While there are broad features, they're all easily accessible from the program's user interface. Some of the features and capabilities I found to be most intriguing are:
PDF Editing

You don't need to print and then scan a PDF to have access to its assets. You can open a PDF directly in OmniPage, and copy and paste any zone to any other document. This is a great feature for updating and repurposing existing assets.

MRC Compression

This is a type of high-compression technology that works on PDF documents, in color, grayscale, image only, or searchable text varieties. It results in documents with dramatically smaller file size.

Form Data Extraction

By setting up a workflow, you can

extract form data from PDF documents (either scanned or filled and saved electronically). The workflow will extract the form data on a file-by-file or folder basis and save the form input as a comma separated value (.CSV) file that you can use with other software such as Excel, Access, and so on.

Audio Book Creation

As if the basic document editing, saving, and manipulation capabilities aren't enough, there's the built-in ability for OmniPage to create audio files from text that is either scanned in from a paper-based source or opened from an existing electronic source.

Paper-Based Scanner Workflow

OmniPage Pro can create a printed bar code cover page that will fire a specific workflow. This is a powerful option for an office scenario where complex workflows need to be initiated by a staff member who isn't a power user. By simply starting the stack of files being scanned with a special barcode cover page, any workflow that you've designed can be initiated by even the most novice user.

Image Extraction

Because OmniPage works with zones, you can simply zone-over an image in a document and export it into several image-based formats. This is particularly helpful if a user is repurposing existing advertising collateral.

SET Tools

It's almost like an image editor built right into the program's user interface, but these tools are designed specifically to enhance and improve document-based images. Using these tools, I was able to get great results from a scanner that I was about to scrap.
---
![Multiple Format Save](https://img.bhs4.com/34/1/34108a362cc2da22f565733edd49d12e640ced1d_large.jpg)

Multiple Format Save**
*   Not only can OmniPage save to more than 20 different document file types, it'll even save to several types at once, including text-based, image-based, and audio files.

User-Intervention-Free Zoning

For large paper-to-electronic-document conversion jobs, it's not very workflow-friendly or efficient to have a user monitor every incoming document. OmniPage has the ability to set up different zoning sensitivities in order to provide the best balance of accuracy and efficiency.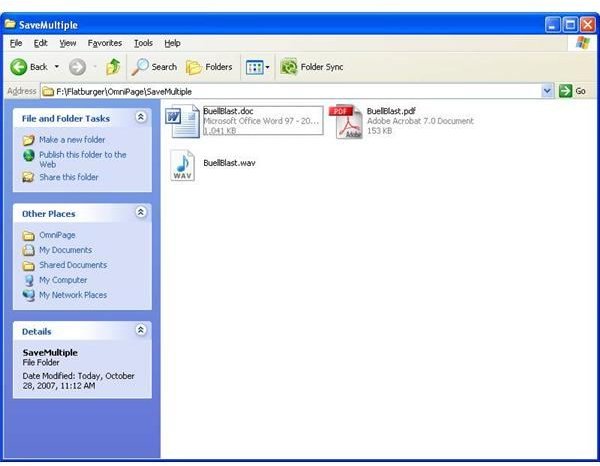 There are many more features within OmniPage that users can leverage; take a few minutes to visit the Nuance website and see what captures your imagination.
It'd be nice to see non-overlapping capabilities in the PaperPort application included with OmniPage, rather than having PaperPort as a "side program." The same goes for PDF Create. The way I see it: since OmniPage is such a capable product, the "little things" that are done with the inclusion of extra programs should simply be part of the OmniPage installation. The need for extra programs tends to diminish the perception of a main program's capability.
Performance (5 out of 5)
I had absolutely no performance issues with this product, no matter what I did: batch processes, multi-format saves, folder conversion, or any other procedures. I've been using it on my fairly weak laptop, which is a Dell Inspiron 1300 with a 1.5 GHz Celeron processor with 525MB RAM, Windows XP, and Microsoft Office 2007. OmniPage Pro will also run in Windows Vista, and Nuance is a Microsoft Gold Certified Partner. The software is designed to take advantage of dual-core processors (which I didn't have, and still had good performance on mundane tasks).
I actually expected worse performance from the software, based on my experiences with lesser programs of a similar nature and how they ran on my laptop, but I was pleasantly surprised.
As a side benefit, a clunky Microtek 2400 scanner that never really worked very well on my main computer worked great through the combination of the scanner set-up wizard, button set-up, and SET (Scanner Enhancement Technology) features in OmniPage. That's a nice bonus, and I think it's indicative of how much work and effort went into this product, and how Nuance's work branches out well beyond document editing, conversion, and repurposing.
Help & Support (4 out of 5)
With a product as complex and with as broad a feature set as OmniPage Professional, it's important to have top-notch support. Nuance has this covered nicely.
From their website you can access all manner of support: phone support (one incident free of charge and $19.95 thereafter), a nice knowledge base system, a download section, a user guide section, and a forum-style community help section.
There are also several entry points into help and support from within the OmniPage Help menu, including:
Help: The typical .CHM windows help menu.
How-to Guides: The "quick start" guide that pops up when you first run the application.
Nuance on the Web: Shortcuts to updates and web-based help.
You can be certain that if there's something you want to do with OmniPage, there is documentation or assistance for you to learn exactly how to do it.
Suggested Features
It'd be nice to see the non-overlapping capabilities in PaperPort and PDF Create included in OmniPage.
Conclusion
OmniPage Professional 16 is a big-league piece of software. This product's ability to improve your organization's efficiency far outweighs its hefty price. And you'll probably never run into a situation where something you need to do with a document can't be done with OmniPage. This software is the kind of application that most organizations can't live without, once they incorporate its features into their business processes.