A Review of Essential PIM Portable: A Complete Free Personal Information Management Application That Runs on a USB Stick
Introduction
In the good old days, we all kept a diary to organize our lives: they came in all shapes, sizes and colors from elegant leather bound books to small notebooks that fit in your pocket. Not so much has changed in the digital era: there are many ways to keep your diary: on your desktop PC, as an online application such as Google Calendar, on a smart phone, or a PDA. Each has its own advantages. Many of us end up with a diary on two or more devices that must be synchronized.
Essential PIM Portable installed onto a USB stick offers an alternative solution. It is highly portable, and can be used on any PC, so can be run on your own PC and then taken with you wherever you go.
Essential PIM Portable
Essential PIM Portable comes in a free version and a more comprehensive professional version, which comes with free add-ons to synchronize data with desktop applications such as Outlook and Google Calendar. It can be downloaded from https://www.essentialpim.com. It is remarkably simple, with one application file, all data and configuration files retained on the USB stick, so no files are written to the host machine. You can back up your directory to your home PC in case of loss of your USB stick: these devices are small and convenient but that means they are also easily mislaid.
Installation is very straightforward: just set the install directory to your USB stick. To start you can either start a new database or import data from a range of other applications. The interface is clean and uncluttered and provides the functions of a calendar, to do list, contact lists:
The Simple Interface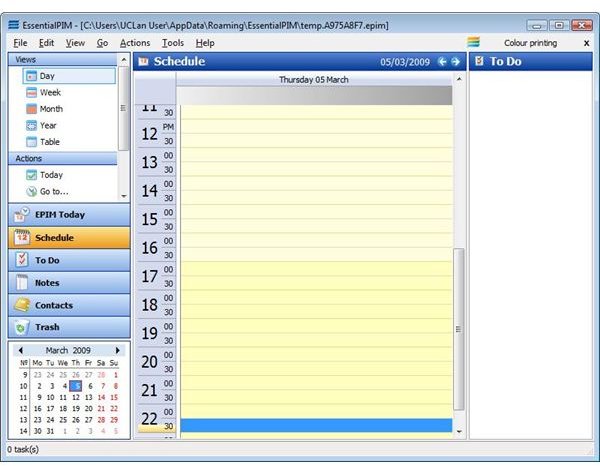 Why use Essential PIM Portable on a USB stick?
This application is all about simplicity. Running on a USB stick it is the smallest most portable way to carry an organizer about with you. It removes the need for synchronizing: just plug it into your main PC and run it there. Many applications provide features that people don't use. This application does what it needs to do, quietly efficiently and with no fuss and provides the features most people need, even in the free version.
There are two things you really should do if you are going to use Essential PIM Portable: On the File menu is the option to Password Protect your information. Please do, it will protect your data if you leave the USB stick anywhere you shouldn't. Secondly, from time to time, simply copy the whole folder to your main PC as a backup again to protect your data in event of loss of your USB stick.
What are the limitations of Essential PIM Portable on a USB stick?
There are PIM applications with more sophisticated features: this is not what this application is about, but if you need these features you should look elsewhere. It doesn't integrate with Portable Apps, which is a shame if you are an enthusiast for this suite of software (see https://www.brighthub.com/office/home/reviews/28335.aspx for more details of this technology) and it won't force you to password protect or backup your data, so you could embarrass yourself if you leave your USB stick in the local coffee shop.
However, none of these limitations should prevent the average user from finding this a very convenient solution for carrying your personal organizer around with you.
This post is part of the series: Portable software for your USB stick
USB sticks can store much more than data these days. In this series of articles we shall focus on how you can carry around many of your favorite applications with you on one small inexpensive stick, how this can make you more productive, and show you the precautions you need to keep your data safe.