A Review of PortableApps: a Complete Software Suite For Your USB Stick
Introduction
For a number of years, USB sticks have provided a convenient way of transporting data around. Now, they have reached the size where you can do far more with them. My latest stick stores 16Gb and is available from www.amazon.com for under $30. PortableApps.com provides a whole suite of software for your USB stick. All of it is free and much of it is based upon your favorite applications from your desktop.
For example, this article is written on the portable version of OpenOffice.org Writer, and loaded onto Brighthub using Firefox Portable.
PortableApps.com
PortableApps.com is an open source project which brings together a shell program for your your USB stick with a range of open source applications: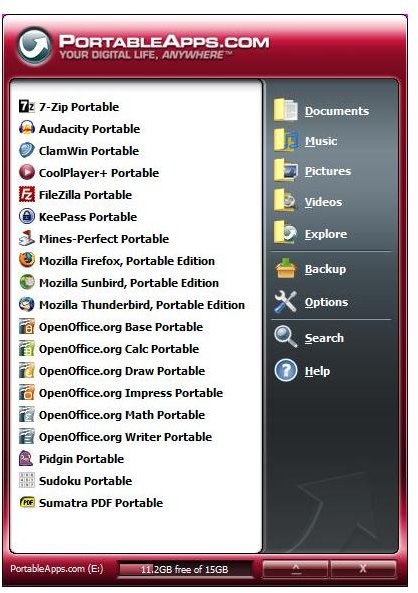 The advantages of carrying your applications around on your USB stick are:
1.You can use them on any PC
2.You can take your bespoke settings with you, for example your books marks including active bookmarks in Firefox.
3.You can use them on PCs without storing any information on the host PC
The default installation installs with a range of standard applications including OpenOffice, Firefox, an Acrobat reader and an anti virus checker. When minimised, it sits quietly at the botom of your screen. When selected, the shell allows you to add a range of applications including 7-zip, the compression utility covered in https://www.brighthub.com/office/home/reviews/10118.aspx, the Filezilla FTP client covered in and Audacity, the open source audio editor.
There are some limitations:
1.Performance is limited by the speed of transfer, and with older PCs with USB1.x slots, this may be a particular problem
2.If your favourite is not available in portable form then you have to choose between convenience and the application of choice.
3.Sometimes the portable version lags the latest desktop version eg OpenOffice portable at the time is at version 2.4, behind the latest desktop version 3.0.1.
4.One of two applications are reported to leave some settings on the host machine
Finally, you should always remember to protect data on your USB stick using passwords to protect directories of files.
Conclusions
PortableApps.com and the range of applications it supports brings to reality of carrying around not just your files but your applications as well. This means you can always have your favourite applications with you, and better still, if you have customized your applications to boost your productivity eg with bookmarks and add-ons in Firefox, or templates in OpenOffice writer then you can take your productivity aids with you wherever you go.
This post is part of the series: Portable software for your USB stick
USB sticks can store much more than data these days. In this series of articles we shall focus on how you can carry around many of your favorite applications with you on one small inexpensive stick, how this can make you more productive, and show you the precautions you need to keep your data safe.