QuickBooks Simple Start Free Edition 2009 Review
QuickBooks Simple Start Free Edition 2009
QuickBooks is virtually a standard in business accounting and bookkeeping. Your small business accountant almost certainly not only has the tools to take your data files and run with them, but is likely very comfortable with virtually every aspect of the program and its data. But QuickBooks Pro isn't cheap, and it has a reputation for being a little more complicated than necessary for the smallest of businesses who don't have the time to do the complex up-front setup, nor to keep everything up to date.
QuickBooks Simple Start Free Edition seems designed exactly with those complaints in mind. The program is FREE of course. But, even more than that, it is a remarkably simple way to handle a home office based operation.
Installing QuickBooks Simple Start
Not long ago, I tried Microsoft's free small business accounting software package, Microsoft Accounting Express. Though it seemed to be a decent way to handle the accounting needs of the home office based small business owner, it required a memory hogging SQL service that not only ran when MS Accounting Express was running, but also insisted on running at startup and staying in memory even after shutting down the accounting program. FAIL! QuickBooks Simple Start also ends up installing an always on process (called QBCFMonitorService), but fortunately, it weighs in at a relatively light 14,000K. Shutting it down permanently takes some doing, but at least terminating it via CTRL-ALT-DEL keeps it off until you shutdown your system.
Beyond that, installation is relatively painless. Choose the install directory and let the installer do the rest. The program itself varies in its memory usage with the size of the database and the complexity of your actions, but starts at around 80,000K. Add in another 40,000K for the QuickBooks Database Manager (plus 60,000K if you leave the Help bar open) and you have a program that certainly doesn't run light, but that cannot be faulted for its size based upon what it gives you.
Getting QuickBooks Simple Start Ready to Run
Of course, getting the program on your hard drive and getting it ready to actually do anything are two different things. Fortunately, even this is simple in QuickBooks Simple Start 2009.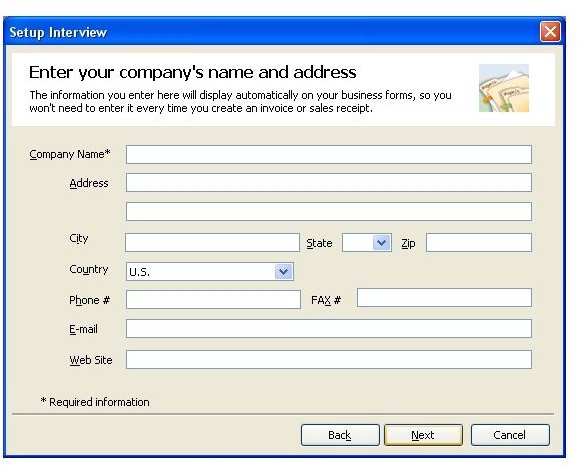 The first time QuickBooks Simple Start is run, it launches an "interview" in which the user fills in some screens to get the basic information into the system. The interview screens are mercifully short and require only the information the average small business knows off the top of their head.
In fact, one of the key strengths of QucikBooks Simple Start is that it designed so that you can start by doing what you need to do right now and everything else can fall into place as you need it. If the program requires a feature or setting that you haven't setup yet, a pop-up message alerts you to what is missing along with a link to set it up now.
Using QuickBooks Simple Start (4 out of 5)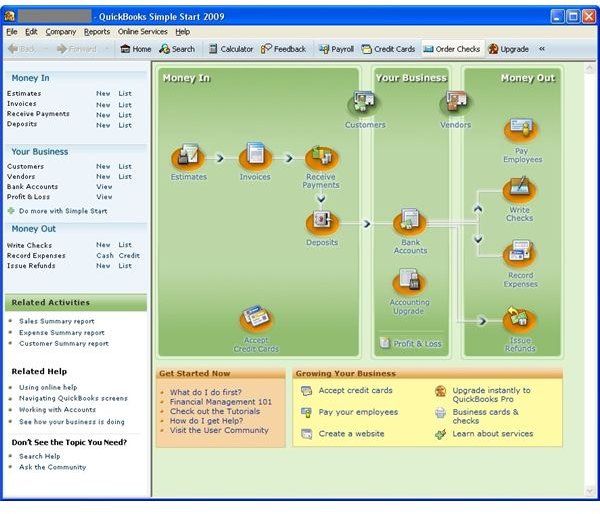 The main screen of QuickBooks Simple Start is a graphical map of all the typical small business functions. Following the path from left to right provides a complete way to capture and input all of your operations.
Nice features include generating invoices complete with company logo if you so choose. There are multiple templates which can be further customized via color choices. The program fills in all of the invoice details. After you have entered the name of the billing contact, the address, and so on of the customer once, you never have to enter it again.
In addition to invoices, QuickBooks Simple Start also will print checks, remind you about bills, and even manage a small payroll. It also comes with a business website builder and free site for one year.
The main limitation of QuickBooks Simple Start Free Edition is that is only allows for up to 20 customers. That makes it best suited for freelancers and service professionals that have no more than a dozen clients at a time. It makes the Simple Start edition pretty much useless for home office professionals who have many customers like those that run an eBay store from their home, or those who perform infrequent services to many customers like resume editing or tax preparation.
In all, QuickBooks Simple Start Free Edition is a great tool for home office based business owners that have less than 20 clients. Get it at Intuit's QuickBooks site.