Google Tasks adds a simple to do list to Gmail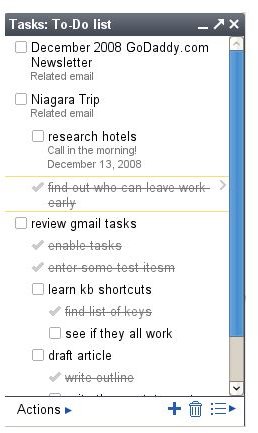 Gmail now has a simple task manager. With this new feature, the busy developers over at Google filled a gaping hole in their on-line productivity suite. To be fair, this is more of a to do list than a full-blown task management application, but it works pretty well for simple uses.
The Good
One thing Google seems to strive for in their products is keeping the cruft out. A clean interface beats out a convoluted one, even if the latter has more functions. Same applies to Gmail Tasks. Upon opening it, you'll see a list with a few icons at the bottom. That's it. And like Gmail Chat, Tasks can pop into its own window.
The coolest feature is something that many task programs lack, except for Microsoft Outlook, turning an email message into a task without having to type it out. Hitting Shift-T while viewing the message or choosing the command from the Gmail Action menu creates a new task. There is even a link in the task back to the message.
It's very easy to add, delete, and reword tasks. Almost all features in the interface have keyboard shortcuts. I like using the keyboard over the mouse for speed, especially for task-management software since I feel they should be quick to access in order to be useful. Hitting Tab indents the task to makes a nested list, and Shift-Tab un-indents. Tasks can easily be re-ordered through drag and drop or with the keyboard. A due date and notes can also be added for each task. Unlike some to do managers I've tried, in this one, the notes appear in the list of tasks, which I like. You can also create numerous lists, each with their own name. Unfortunately, you can't drag items between lists.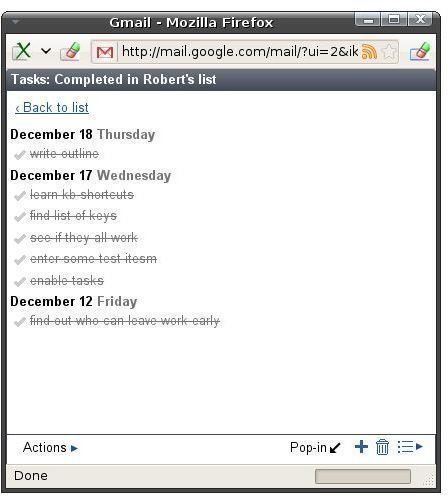 Complete a task and you get both a check mark and a gratifying line through the item. The date completed is also preserved and finished tasks can be archived and viewed in a log-like format. A time-saver for nested lists is completing the top-item also checks off the sub-items.
The Mediocre
Tasks is definitely not an Outlook or Remember the Milk replacement if you need any advanced features. One glaring omission is no synchronizing with a calendar on a Blackberry, in Outlook, or not even with other Google products like Gears and Google Calendar. Since I suspect that many potential Tasks users also use Calendar, not having a link between the two seems like a big barrier to wide-spread adoption. Speaking of the due date, nothing happens if you miss it. No alarm, tasks turning different colors, or messages of impending doom.
There are also no task priorities or filtering. Another biggie is the lack of reoccurring tasks. This is one of the biggest advantages of using a digital to-do manager over a paper one. With digital you shouldn't have to rewrite each week to water the plants.
Google has some wonderful collaboration tools like Documents, Notebook, and Google Calendar. Unfortunately, Tasks isn't one of them. You can't share a task list with a colleague or spouse, and you can't email someone a task like you can Outlook.
You can print out your list, but it's not intuitive. To print in Firefox with Tasks in it's own window, right-click and select Print Frame from the This Frame menu. The result isn't bad, but nothing special.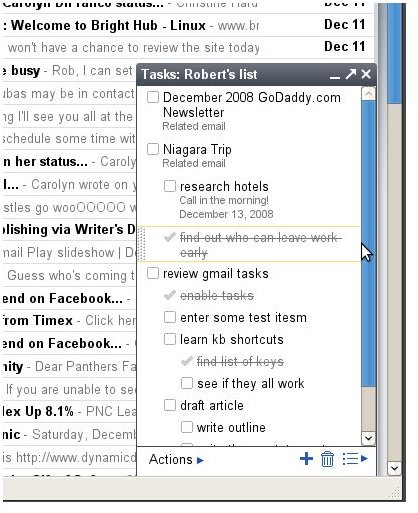 I also suggest using Tasks in its own window instead of in the Gmail screen. When I had it in Gmail, my browser slowed down considerably. Speed was normal when Tasks was in its own window. I also didn't like that when in Gmail, Tasks covers up most of the messages on the bottom right.
Overall
Gmail Tasks is a simple no-frills to do list, and it does that well. it won't replace Outlook for those who need collaboration tools or an integrated calendar. However, for those who value simplicity and have Gmail open most of the day, Tasks may be all they need. Remember, this is a test product, so there may be bugs and the feature list may change. Yet, during my trial period, I had no crashes or data loss.
Resources
Tasks Frequently Asked Questions