Springnote Review: Online Note Taking Tool
What is Springnote?
Springnote is a free wiki platform based online notebook service. This word processing application enables you to create a page, jot down notes, edit, and bookmark similar to other programs.
Springnote is an excellent tool for any students, researchers, or professionals in the workplace. It assists in searching through multiple web pages, recording, taking, and organizing important notes for further reference. Many of us have experienced the numerous roadblocks associated with sharing online information when you're offline. Keeping track of your 'so-called' saved notes and having access to them when you're working on a particular project can almost seem like an impossible task. Springnote advances ordinary note taking. As long as you have an internet connection via computer or phone your notes are simply a click away.
You can use it for effective collaboration during group projects as well. Users are able to instantly share notes, create specific pages, various templates, conduct advanced searches, and store up to 2GB of files which are viewable by friends and work colleagues. The features of this application allows you to exchange significant content, an array of projects, documents, and explore random ideas with one another.
How Does This Application Work?

Springnote applies OpenID authentication allowing users to log on to multiple web sites while recording and pasting notes. No software installation is required. The application supports Internet Explorer and FireFox web browsers. Once you sign-up for account you're given an OpenID and automated URL for easy access.
The two different forms of notebooks are Personal and Group. Every notebook allots 2GB of file storage but there is no limitations on how many notebooks a user can assemble. When using Springnote you have three basic functioning modes Dashboard, View, and Edit Mode. The Dashboard lets users see their account status of assigned notebooks with an option of viewing updated pages.
The View Mode adjusts the screen for comfortable reading of notes and memos. Edit Mode allows users to build up their page content. This screen has a variety of tools to assist you in editing and organizing your notes. The web 2.0 compatibility in this application works seamlessly with Google based platforms.
The pages created in your notebook can quickly be posted to an external blog or shared through the group notebook feature. Bookmarks can be set to specific pages or important notes for a particular date. Springnotes collaboration system allows users to give access to members of their selected group list to add, edit, and view the pages even when that user is no longer online.
Screenshot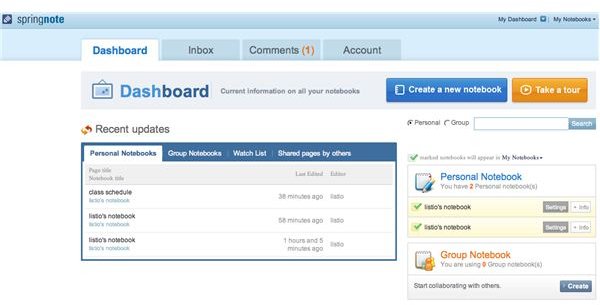 Overall Rating: (4 out of 5)
With this powerful web 2.0 word processing application your daily hassles of note taking will be simply memories of the past. I found it to be quite impressive even though many of the features appear simplistic. Springnote is similar to a virtual spiral notebook that can hold and organize all of your online work, notes, and research.
The best part about this savvy application is it's compatibility with the iPhone. Users can view and access their notes on the go using their cell. If you're looking for more organization for your office and home the wiki based platform known as Springnote may be the answer. Taking advantage of this free software for word processing can be beneficial. Note taking applications such as Springnote aid any student or business professionals in recording information.