GTDAgenda Review: Will This Program Really Help You to Get Things Done?
A Note on the GTD Methodology and What the Program Does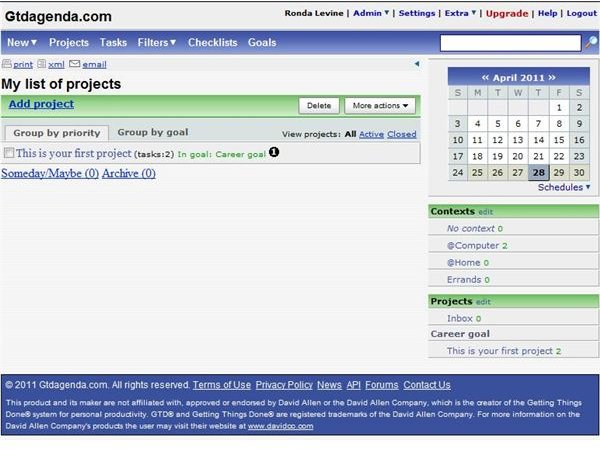 In case you're unfamiliar with it, David Allen's Getting Things Done (GTD) methodology is an outstanding tool for organizing your work. Not only is this method effective in helping you to get more done at work, but it can also help you to get more done at home as well. This system consists of gathering all your "stuff" both physically and mentally and then processing each item one-by-one, until you've organized your list of things that need to be completed. This "gathering" of stuff is a central part of the methodology Allen calls "collecting."
When collecting everything for your inbox, it's not the time to censor or determine what needs to be done. Those are two separate steps. Once everything is collected, then you will determine, item-by-item, whether something needs to be done, what needs to be done, an whether you're the one who needs to do it.
The center of the GTD methodology involves two components: contexts and projects. While this overview simplifies GTD quite a bit, this simplification makes it a bit easier to understand, and will help users to understand the gist behind the program. Contexts are the places or tools that are required to perform each action (calls, computer, errands, office, home, etc.) and projects are larger collections of action items that need to be accomplished.
Finally, each project and action item needs to tie into a larger goal. Before you begin using the tool, GTDAgenda, it may be helpful if you take a moment to write down three to five over-arching goals you have. That way, when processing the collection of "stuff" that you have on your plate, it makes decisions much easier. If an item doesn't fit into a goal you have, perhaps it isn't something you need to do.
In GTDAgenda, you can collect your "stuff" and you can process it, organize it, and have greater command over your life and the things that you find important.
Installation and Setup (4 out of 5)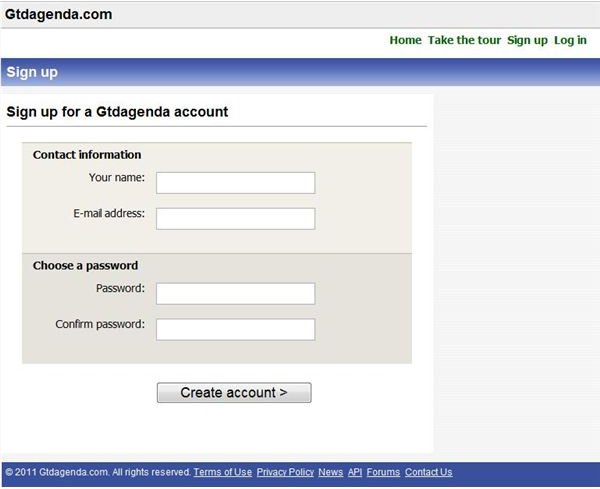 When you setup GTDAgenda, all you will need, initially, is to fill out a brief form with your name, email, and password. Because this application is delivered to you on-demand, you don't need to download any software or install any software on your computer. This means you can be up and running in a matter of a couple of minutes after signing up for the application.
Entering information into the program to get started is also pretty straight forward. You'll probably want to enter your goals in first, and then enter other information in after. The great thing about this program is that you don't have to use it with the GTD methodology (though it accommodates this nicely), you could also use Covey's system, the Zen to Done system or any other consistent method for entering in information.
Ease of Use (4 out of 5)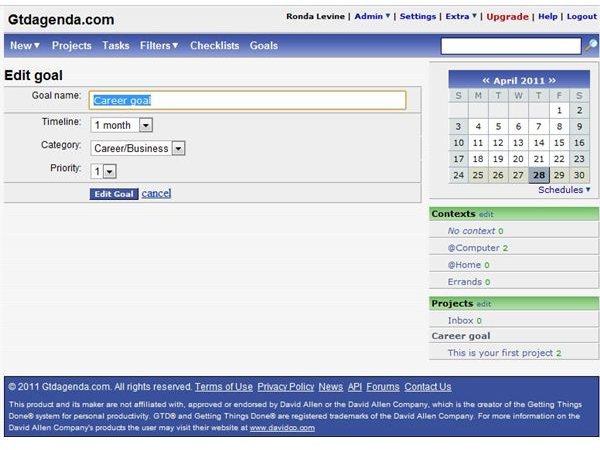 While the program is not the easiest program to use of those out there, for the detail you get in managing your tasks, it is exceedingly easy to use, especially when you compare the program with others on the market that both track your action items and allow you to track projects. The program can be as complex or simple as you would like it to be. For instance, while it's advisable that you take advantage of all the features of the program (which I will get into on the next page), you don't have to.
The program is easy to learn, and the functions of the program are pretty straight-forward. For most features, you just click and type in your information. You can then further edit the entered information by clicking on "edit." There are no complicated tricks or techniques involved with using GTDAgenda.
Please continue reading to the next page to learn about features and more.
Features (4 out of 5)
The great thing about this application is that no matter what you want to track, there's a tool that will help you to do it successfully. In addition to being able to track your action items using the tasks function, you can track your projects, and your goals. Additionally, you can track your habits over time.
It will depend upon which subscription level you have, but the free version allows you to create up to three goals. When you create your goals, you can give it a timeline, categorize the goals, and assign a priority to the goals.
You will start with five projects at the free level. Each project can be linked to a goal. This is great, because it allows you to see how your tasks relate to your goals. When you create a project in GTDAgenda, you will give the project a deadline and a priority. You can then add tasks to the project.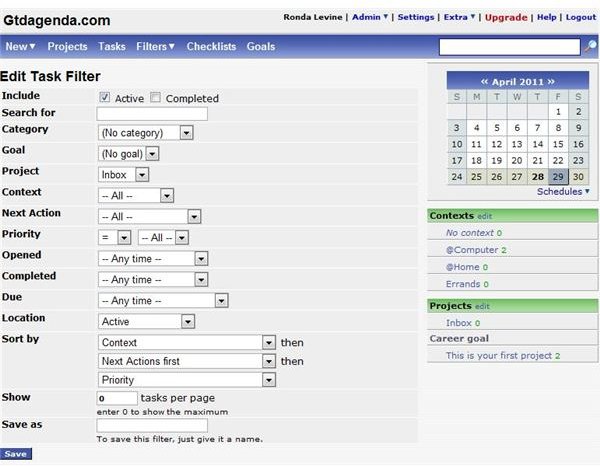 When you add a task, you can select the project, context, priority, and due date. In addition, you can flag the task as being the next action and you can select whether the task repeats and how often it repeats.
For tasks that haven't been processed (say you're doing a mind dump), they will all appear in the "inbox" for you to process later. You can also set up filters that will automatically sort the tasks by specific rules to make processing or reviewing tasks easier for you to perform later on.
You'll find that you're able to track habits on a "checklist." Rather than create a recurring task, you may simply want to create a checklist for things that should be part of your daily habits.
Finally, GTDAgenda allows users to log in from any computer or mobile device to update their task list, check of completed tasks, and even mark items on the checklist complete.
Price to Value (4 out of 5)
There are five different levels for use of this program.
Free: Individual users can set up to three goals, create up to five projects, create five contexts, and create five checklists with standard security features.
Basic: Individual users can set up to 30 goals, create up to 50 projects, 50 contexts, and 50 checklists while enjoying schedules, a calendar, and a personalized dashboard. In addition you may store up to 1 GB of information. The subscription rate is $9 per month or $81 per year.
Premium: The premium account allows for two users to enjoy unlimited goals, projects, contexts, and checklists along with schedules and a calendar along with a company dashboard. Users may store up to 5 GB of data. The premium account costs $18 per month or $162 a year.
Business Silver: Manage up to ten users with unlimited data entry and up to 10 GB of data storage. This account costs $49.95 per month or $449.95 per year.
Business Gold: Manage up to 50 users with unlimited data entry and up to 20 GB of data storage. The cost for this subscription is either $99.95 per month or $899.95 per year.
For the home office worker, most likely the highest version of the application you would subscribe to would be the premium edition. The free program works well for many, though if you're a heavy planner (like myself) you may want to use the basic account. If you had a personal assistant, or if you had a partner, you might use the premium account. The prices are quite fair and offer quite a bit of flexibility for those wishing to purchase a subscription.
User Support (5 out of 5)
In addition to being able to contact the creators of the program directly, there are other support options as well. There is a forum where users can ask questions and discuss what's going on in their projects. One of the most useful user support options is the ability to read ideas for how to best use the program in combination with popular productivity methodologies.
Is This Program for You?
This program is an outstanding program that can greatly increase your organization and approach when it comes to being more productive. While ultimately, it is the user that needs to complete the tasks, this program can be useful for organizing all sorts of things on the to do list. When compared with other online task management programs, GTDAgenda ranks high - both for its functionality and for its ease of use. The program is recommended for those working from home who wish to implement a more standard method for getting things accomplished.
References
GTDAgenda https://gtdagenda.com
All Screenshots courtesy of Ronda Roberts Levine