Task Management Online: Remember the Milk Review
What is the Program About?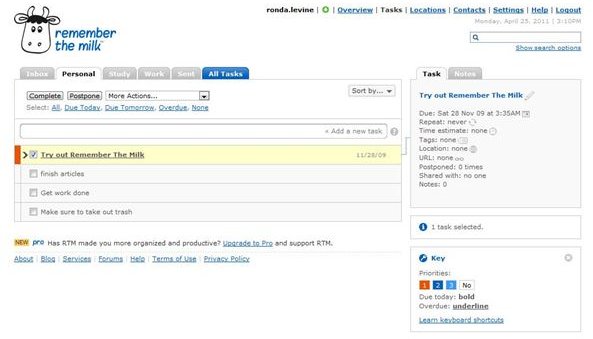 Remember the Milk promises to be a tool that can help you to increase your productivity. This task management program allows users to input their to-do items, create different contexts for each item, and even prioritize your tasks. In fact, this program has so many features, when you use them to their fullest capabilities, you will increase your productivity (just don't get so caught up in planning your actions that you don't act on them!).
Users will find that there are both free and professional versions of the software available. The free version of Remember the Milk has enough features on its own to make sure that you are able to adequately track all of your tasks and calendar items. The professional version allows you to sync Remember the Milk with all of your mobile devices and even with Microsoft Outlook. What other features does Remember the Milk have and how does it stack up when compared to other free PIM programs?
Installation and Setup (5 out of 5)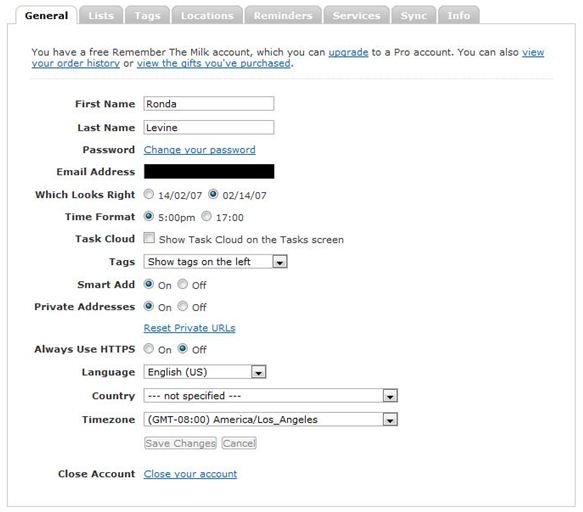 Because Remember the Milk is an online application, as soon as you sign up for the program you will be able to use it. When you sign up, you will be asked to give your name, select a user name and a password, and give your email address. Once you have signed up for the program, you may then go onto the settings page and customize the program to meet your needs.
You may further customize the program by customizing the lists for your tasks. What task groups do you have? Some might organize tasks by the different roles they play - marketing, family, business, etc - while others might organize tasks by the type of activity - calls, emails, errands, etc. Whatever means for organizing tasks you determine are necessary, make sure to be consistent.
Ease of Use (5 out of 5)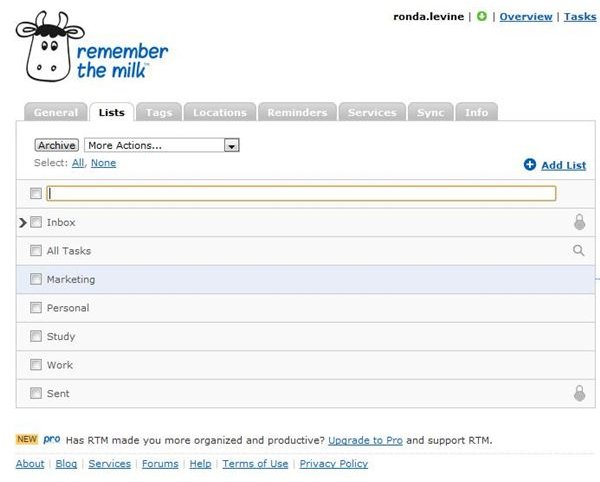 This program is really easy to use as far as task management programs go. Remember the Milk makes it so that users can quickly add tasks, sort tasks, and complete tasks. Should you wish to complete a mind-dump, you can use the "inbox" for tasks, then come back later to sort tasks into contexts or by project. When you add tasks, you can simpliy place your cursor inside the box and type in your task.
If you accidentally delete a list or a task, you will be given the opportunity to undo this action. This can be a huge help for individuals who are playing around with the program or who accidentally select delete when they had intended to do something else.
Features (4 out of 5)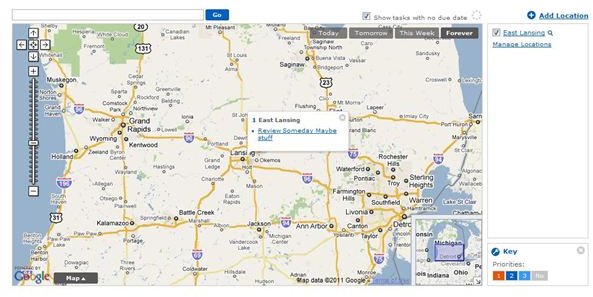 Remember the Milk is plenty full of features that help users make the best of their time. In addition to being able to track tasks, and sort those tasks into groups, Remember the Milk also allows users to track contacts and even locations. In addition to these features, the program allows users to:
Track tasks using RSS feeds
Keep track of tasks using iCalendar feeds
Send tasks to your account using email
Receive reminders for your tasks at pre-specified times
Use a Bookmarklet to add tasks to your list on whatever website you're on
View the locations map so that you can plan tasks by where they need to be completed
Use Netvibes, iGoogle, or other customized homepages with Remember the Milk
Store notes with your tasks
Share tasks with others through email
Use Twitter with Remember the Milk for productivity everywhere
Price to Value (5 out of 5)
The standard edition of Remember the Milk is free, and the pro account is $25 a year. Even without the features of the pro account, you will find that Remember the Milk delivers a lot. In fact, if you're the type of person who regularly needs to track tasks - especially if you like to capture your tasks and then process them later, then you are sure to find this program to be incredibly useful. You get a lot of value for what you spend on the program.
User Support (4 out of 5)
The user support for this program is great. Even without the pro account (features priority support), you will find a plethora of learning resources for the program. You will be able to read the "Getting Started Guide," find useful FAQ, ask questions in the forum, or even email the developers if you have a problem using the program.
Is the Program Right for You?
Remember the Milk is a great program for individuals who need to track their tasks. Whether you use the program in combination with other applications or as a stand alone PIM, you'll find the program is infinitely useful. The program makes it easy to track and organize tasks, keep abreast of your contacts, and even organize your errands.
References
Remember the Milk www.rememberthemilk.com
All screenshots courtesy of Ronda Roberts Levine