Action Method Review: Find Whether This Productivity Method and Online Software is for You
Explaining the Method Behind the Software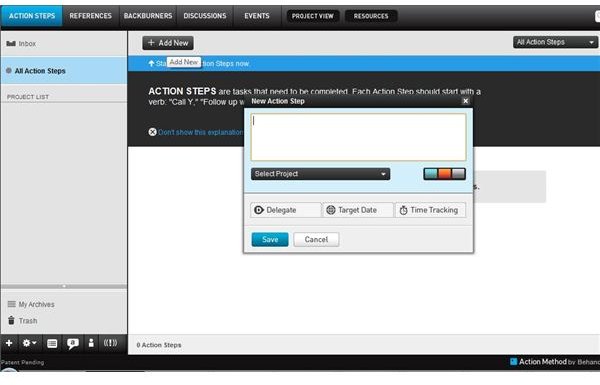 Have you found that it is difficult to decide what needs to be done next? Is your to-do list out of control? If you feel like your daily list just grows, and your motivation to complete the items on that list shrinks, then you might want to look at using action method. This productivity methodology turns your to-do list into a list of action items. The method is inspired by David Allen's methods outlined in his book Getting Things Done, and it really is a great way to organize all of the things that are important in your life.
The Action Method consists of the following:
Projects - In its simplest form, a project is something you want to accomplish that requires multiple steps.
Actions - The basic building blocks for your list - call, write, go, check, wait for, etc.
Action Items - The specific direction that's been broken down from the project - call Joan, write proposal, go to bank, etc.
Resources/Reference Material - This is the supporting information that helps you to complete each task
Someday Items - Those things you would like to complete at a future point, but they are not currently actionable
Delegation Items - Those items on your list that you do not need to complete yourself
Events - Meetings, appointments, and other time-bound activities
In addition, the action method relies on good communication techniques. It's not enough to plan out what's going to be done, you must also tell others what needs to be done.
What makes this technique work so well for home office workers is that you can divide up your responsibilities. You can be general (projects = home maintenance, work, family, etc.) or specific (projects = planting the lawn, marketing, the school play, etc.). Typically, the more specific you are, the more productive you will be.
Action Method Online, an application meant to help you implement this method, is available for you to try on a limited basis for free (you can create up to 50 new actions) or on a subscription basis. Will this software help you to implement the above methodology?
Installation and Setup (5 out of 5)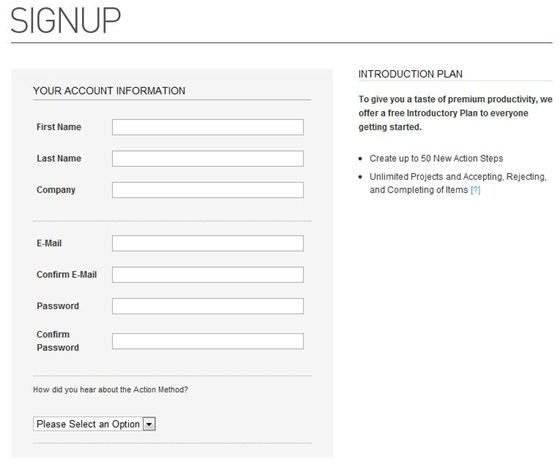 Because the program doesn't install to your computer, all you need to do to get started using Action Method Online is sign up. Once you've completed this process, you will be taken to the opening screen. You will be asked to confirm your email address. As mentioned, the introductory account will allow you to create up to 50 new actions - after that, you will need to upgrade to a subscription account.
To get started using the program, one only needs to start entering in information. Before you do so, you might want to go through the advanced settings and set the proper time zone, select the starting page, and even set up email notifications.
Ease of Use (5 out of 5)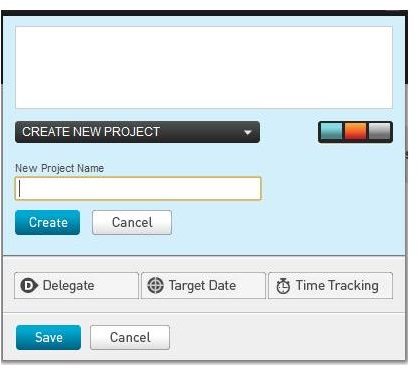 Action Method Online is an easy software program to use. The application's forms are easily navigated. The tabs are well-labeled, and the program ranks among the easiest software programs to use when it comes to tracking projects and tasks. The application is set up in such a way that users can color-code their projects and tasks, prioritize them, delegate them, and even track time - all quickly and easily.
It's important to have easy to use software, especially when it comes to tracking your work at home tasks. You don't want to use a program that makes it so that you spend so much time organizing what needs to be done that your left with very little time to complete your tasks.
Please continue reading on page two to find out about the features, pricing, and user support options available for this software program.
Features (5 out of 5)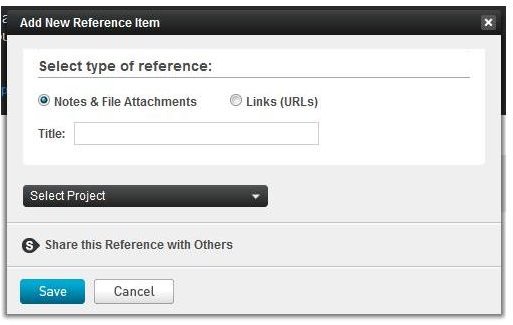 There are many great, yet simple, features included in Action Method's online application. When you create an action item, you can describe the action in as much or as little detail as needed. Note, however, that you need to start each "task" with an action. In other words, when you create an action item, you should begin it with an action verb: Call x, Follow up on y, Write z. That way, exactly what needs to be done has been made clear.
Once you've laid out your actions for each of the projects you need to track, then you can look into adding references. When you add references, you can either add notes and files, or you can add links to webpages. Whatever you add, you will find your notes and links sorted by project so that you may easily refer to them when needed.
In addition, the backburners section allows for you to track tasks that don't need to be tackled at the moment, tasks that are neither immediate nor important, and things you would like to accomplish "someday".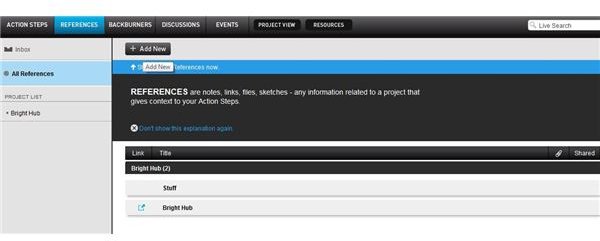 You can also track the discussions you have with others about projects and action items. Whenever you are collaborating on a project, things are made much easier if you use good communication and track the communication that occurs with regards to the project in a uniform manner.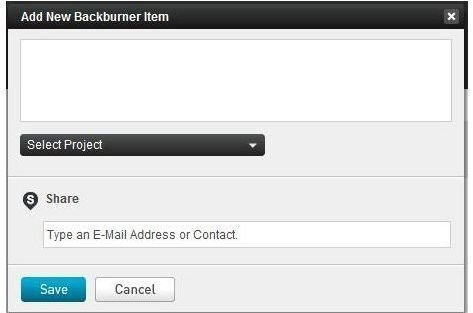 You will also find that Action Method Online allows for you to track key events associated with your projects, allows you to view all of your project information at once, and that you are able to share any project items with others.
Should you have action items not related to any project, you can either create a project called "Scraps" to capture these, or you can create "projects" out of contexts to organize such items.
Price to Value (4 out of 5)
If you rely upon this application for very long, you will soon realize that you are out of action items, and you will need to make a decision: Is it worth the $12 per month or $99 per year to continue using the application? For everything you get, this is an outstanding deal. Additionally, there are options for non-profit organizations wishing to use the productivity tool and corporations.
Even though the program seems expensive at first glance, when all the features, the ease of use, and the ability to collaborate when necessary all make the program well worth the price - especially for home office workers.
User Support (4 out of 5)
When compared to other online task management software programs, there are many different user support options available. While using the program, you can click on the tab "resources". Here you will find FAQ, downloads to use the program on your desktop using Adobe Air, articles on using the action method, forum, and contact information to receive support for using the program. Action Method creators also run a blog with current news associated with their program and with news related to productivity.
Is the Application for You?
The program is for you if you need a way to track your tasks and keep tasks associated with projects or contexts. The great thing about the program that I found, is that you can keep just about all of your information in one place, including the documents associated with your projects and action items. If you don't want to always have a browser open, you can run the program in Adobe Air, making it even more useful. If you're looking for ways to boost your productivity when working from home, you may want to look into this very useful tool.
References
Action Method https://www.actionmethod.com
All screenshots in article courtesy of Ronda Roberts Levine