Find a Tool for Tracking Important Tasks in This TeuxDeux Review
What Does the Program Do?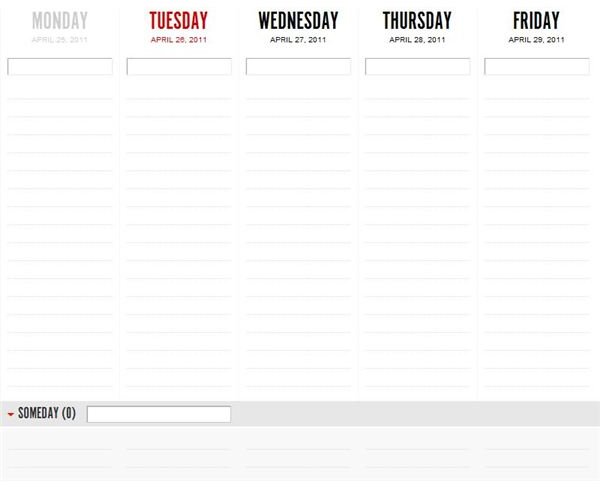 TeuxDeux is an application that is meant to track to-dos and action items. This program allows users to quickly and easily enter their to-do list and organize that list on a weekly schedule. Moreover, you can track all those "someday" actions as well - and then move them to a day when appropriate. Perhaps one of the most exciting capabilities of TeuxDeux is its compatibility with android and other mobile platforms. What else does this application allow you to do?
Installation and Setup (5 out of 5)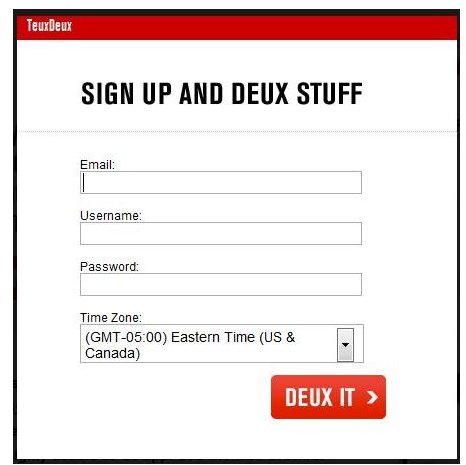 You can be up and running with TeuxDeux in a matter of minutes. While some task tracking applications do not allow you to set up your list so easily, TeuxDeux requires only an email address, username, password, and timezone to get started. Once you fill in the required information, then you will be taken to the application.
Setting up your TeuxDeux on your iPhone is equally simple. You pay $2.99 through the iTunes store and download the program onto your phone. You will then be ready to sync all your tasks - no matter what platform you access your TeuxDeux from.
Ease of Use (5 out of 5)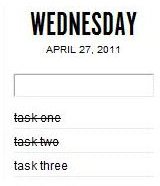 The main selling point of TeuxDeux, at least for me, is how easy the program is to use. This program is ideal for individuals who tend to get hung up on making lists (I take the fifth). The only organization of your tasks you need to worry about when using this program is whether a given task needs to be completed on a specific day or if it's a task that can be completed "someday."
What I also like about this program is that all of your tasks are viewable at once in an agenda-like format. Other programs, like Microsoft's Outlook's tasks application, might show you tasks - but you have to enter a lot of information and work at customizing the program to get it to show tasks when and where you need to see them.
Features (1 out of 5)
If you're looking for a program that does more than just track your tasks on the day they are due, this program is not for you. TeuxDeux instead is pretty straight forward. You track your tasks, you drag the task up into the entry box to edit the task, and you click on the task to check it off. If you don't complete something, it will roll over to the next day.
You cannot prioritize tasks, sort tasks by subject, or link tasks to larger projects. For some, this simple style and the ability to access their TeuxDeux from any computer or mobile device may be enough. For others, like me, the program is great on a number of levels, but it doesn't offer two of my most needed features as a consultant: The ability to link tasks to projects and the ability to prioritize tasks. Other people, I'm sure, will find the program perfect for their needs.
Price to Value (4 out of 5)
TeuxDeux is a free application - unless you are using it on your iPhone, then it costs $2.99. That's a pretty fair price to pay for the convenience of being able to access your to-do list from anywhere. This is one of those places where I can say, "If you love the simplicity of the program, then it's well worth it to use it as much as possible." And really, you can't get much better with a price to value ratio than when a program is free - or less than five dollars - to use. Especially if it saves you time and increases your productivity levels.
User Support (3 out of 5)
The creators at TeuxDeux have made a FAQ for the use of those interested in the program. While some of the answers to questions are kind of goofy - one refers to Nutella as being the sixth greatest invention of all time (I have to agree…where's my jar again?) - other answers involve future developments for the program and technical support concerns. Users may also watch three videos explaining how the program works, and how you can maximize your use of the program. Finally, users can follow the creators of TeuxDeux on Twitter to be kept abreast of new developments.
Is This Program for You?
TeuxDeux is a great program for those who like to keep it simple when it comes to their task management or PIM system. While there's no bells and whistles, the program is visually appealing and it is extremely easy to use. It makes a great resource for students who need to track assignments from a syllabus, individuals who do not have a lot of projects to manage, or for those who devise an alternate system of sorting their tasks.
Resources
TeuxDeux: www.teuxdeux.com
All screenshots courtesy of Ronda Roberts Levine