7-zip file extraction and compression as a replacement for Vista's internal functionality
Introduction
When you work at home you collect a lot of data. Some of that data you use often, and some you simply keep for backup or odd assignments. You can manage your data by compressing what you don't use very often. Compressing the data causes it to use up less space on your PC's hard drive.
Vista and XP come with their own compression options, however, the inbuilt functionality for handling compressed files can be slow, limited in the formats it can handle and sometimes produces compressed folders that are not recognised as a valid compressed archive. There are other options.
7-zip: a freeware alternative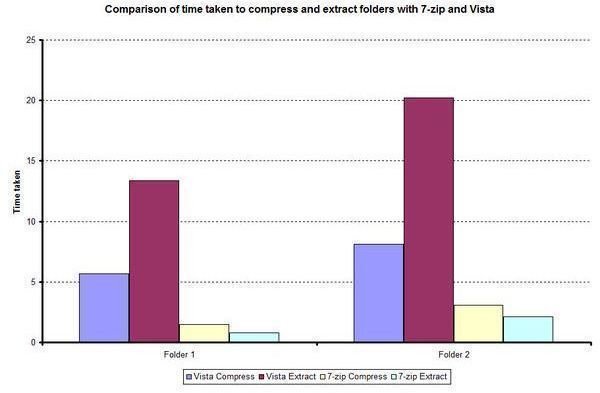 7-zip is a freeware alternative to the internal functionality for handling the extraction and compression of files, downloadable from https://www.7-zip.org. The first area where 7-zip shows its superiority is in terms of performance. I tested relative performance using two folders. Folder 1 contains 19 mixed files, total size 4.5Mb, made up of mostly Word files, some Acrobat files, and an Excel spreadsheet. Folder 2 contains 69 images already compressed in a .jpeg file, totalling 18Mb. I compared the time for Vista and 7-zip to compress or extract the folder.The results are shown in Figure 1.
On compression, 7-zip outperforms Vista by at least 50%; on extraction, 7-zip is up to 10 times faster.
On bigger files, this can make a huge difference. The second area where 7-zip impresses is the range of formats it will handle. Vista handles .zip and that's about it. Apart from its own 7z format, 7-zip will compress in 7z, ZIP, GZIP, BZIP2 and TAR formats and extract from RAR, CAB, ISO, ARJ, LZH, CHM, MSI, WIM, Z, CPIO, RPM, DEB and NSIS. This can be particularly important when seeking to download applications developed primarily for UNIX or Linux environments such as Drupal. These are often downloaded as .tar.gz files which require a two step extraction, first to generate a .gzip file with extension .gz and then extraction to a folder for upload via FTP if your application is to be placed on-line.
7-zip enables you to password protect and encrypt your archives to keep your files safe: read about why this is important at https://www.brighthub.com/office/home/articles/22746.aspx
Finally, there is the area of usability, you can integrate 7-zip into Vista by associating the various file formats with 7-zip. This allows you to extract archives with 7-zip by right-clicking on the archive and selecting an option form the short menu. For the adventurous, you can also disable Vista's internal compression functionality. Information is available on the web, at https://www.annoyances.org for example. However, as this requires editing the Registry, it comes with the standard health warning; don't try this at home unless you know what you are doing.
Conclusions
Overall 7-zip provides a vast improvement in performance and formats compared with the standard Vista functionality. For those needing formats not handled by Vista, a utility like this is essential, for others, it is still highly desirable.