Social Media Marketing Made Easy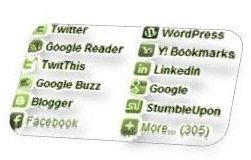 Often freelance workers are asked to help clients with their social media marketing campaigns. Taking important knowledge away from those projects is imperative if you want your freelance career to continue to grow and flourish.
The great part of the social marketing aspect, is that all of the hard work has already been done for you on the largest of social marketing sites. Twitter, Digg, Myspace, FaceBook, LinkedIn, Blogger and many more have already created the foundation for sending your profile straight to the top of the list in your specific niche. This means that beginning your social media marketing project is as simple as visiting the sites you would like to take part in, and creating an account and a profile.
What Do I Have to Learn to Take Advantage of Social Media Marketing?
With so many options available in social marketing marketing, targeting viewers that have an interest in your niche can offer you incredible
coverage, great back linking for a personal profile or website and even increased opportunities for more freelance work projects.
Twitter
One of the most important aspects of creating an account that will help to promote your freelance career is to do targeted following. Although creating a substantial Twitter following may take considerable time, having a Twitter account with niche-targeted followers will make each follower a prospective employer, cut down on spam and earn you followers quicker in return.
In order to be successful in adding followers who are willing to follow you back, check for two things on each Twitter account you are considering following. On the top right corner of a Twitter profile you will see Following followed by a number. You will also see Followers, also followed by a number. The ideal accounts to follow will have very close numbers next to both titles. Someone who has a thousand followers, but only follows a handful of accounts is unlikely to follow yours. It is considered good Twitter and social media marketing etiquette to follow an account that follows yours. After all, most are there for the same reason you are: To get the word out about their products, services and skills.
LinkedIn
The great part about LinkedIn is that it is incredibly easy to build a profile and join groups targeting your niche. Another great aspect of LinkedIn is the ability to connect with past employers, clients or coworkers. Doing so allows those who know of your skills to post a review to your profile. Since most freelance workers do not have a list of previous employers to provide references, LinkedIn can do this for you.
Once you log in to LinkedIn, it will give you the option to search your email contacts. This may help you find people you have worked with or for in the past. Send them a connect invite and expand your social media marketing and networking capabilities just a bit more.
Facebook
A lot like Twitter, Facebook is a great form of social media marketing that allows you to target those who have listed an interest in their profile that matches one of yours. Additionally, Facebook offers the option of creating groups. If you feel your niche could have a large following, you may want to consider building a group and promoting it to other users. It is also important to remember not to use your Facebook account for a nonstop spam machine. Users will quickly get tired of your constant clutter and remove you from their friends list. One way to be a helpful member of the Facebook community and a valued friend on someone's user list is to play some of the social games available as applications on site.
As with any other manual form of marketing, your success can depend on the amount of time you have to commit to building on your fan or follower base regularly. Although it may seem tedious, ignoring social media marketing even in favor of bigger marketing strategies could be a cost mistake for your career as a freelance worker.