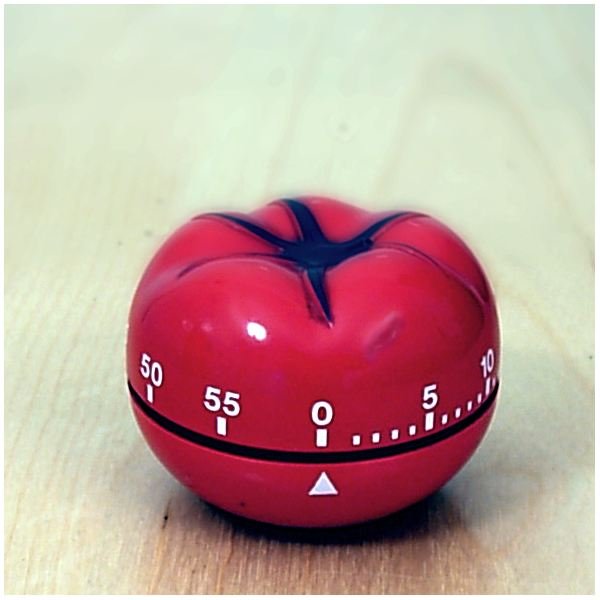 Research has established that the human mind can stay focused on a particular task only for a certain time-period, after which fatigue creeps in and productivity declines. Frequent breaks are one way to preempt fatigue and overcome such loss of productivity. The Pomodoro technique of time management bases itself on this approach and entails using a timer to divide work into chunks or 'pomodoros' of 25 minute duration, interspersed with a 5 minute break, and a 15 minute break after four pomodoros.
Image Credit: Wikimedia Commons
Focus Booster
Focus Booster (https://www.focusboosterapp.com/) is a freeware pomodoro software timer either downloaded to the desktop, or used online in the browser. The advantage of web-based version is its ability to work across platforms and computers, and its minimal system requirements.
The biggest advantage of Focus Booster is that it works in the background, allowing the user to continue to work seamlessly. Other highlights include its sleek and unobtrusive design, ability to customize settings, presence of session counters, and a color change feature to indicate sessions coming to close.
Keep Focused
Keep Focused (https://keepfocused.codeplex.com/) is a freeware pomodoro app compatible with MS-Windows. It is a portable application that does not require any installation. Computers without .NET Framework 2.0 need to install the same from the setup file.
Keep Focused is an enhanced time management software program that incorporates a session management feature allowing the user to keep track of the activities done during each 25-minute pomodoro or session. Each session log automatically saves as .txt file to the MyDocuments folder, allowing easy retrieval and analysis. Other advantages of KeepFocused include its unobtrusive nature, sitting in a small window on the desktop. The play/pause button allows starting and stopping a session. Pressing stop however ends the session, which cannot be re-started. A beep sound indicates the time limit.
MaToMaTo
MaToMaTo (https://www.vivasoftware.it/PomodoroTimer/MaToMaTo/) is an animated Pomodoro timer compatible with MS-Windows, and like most pomodoro timers, a freeware.
Unlike most pomodoro timers that work in the background or remain in the browser bar, MaToMaTa stays on top of all windows, allowing for easy view.
MaToMaTo scores on its simplicity and attractiveness. The animated display swings every second for the first 20 minutes of the pomodoro, and pulse like a tomato-heart during the last five minutes. It does not make any noise, making it ideal for public spaces. To top it all, installation is easy and requires only unzipping the downloaded file and starting the .exe file.
On the other side, MaTomaTo has no activity manager, and just acts as a timer. MaToMaTo requires .Net 3.5 to run it.
Pomodario
Pomodario (https://code.google.com/p/pomodairo/) is another free pomodoro timer, suitable for MS-Windows. This software is an Abode air based app that doubles as both a simple pomodario timer and task list that tracks tasks, and times unplanned work and interruption. Other features include the facility to include custom sounds, allowing for a mini view that toggles on and off. Unlike many other applications, Pomodaio counts sessions as pomodoros only when the timer completes.
Time Boxed
All the above pomodoro reviews are for web based pomodoro timers or Windows operating system based pomodoro apps.
TimeBoxed (https://www.macmation.com/TimeBoxed) is a popular pomodoro application for Mac computers. Its major strength includes a non-obtrusive user interface that does not interfere with the work. The time bar rather changes color. The user can set the alert options to sound, speech alert, visual animations, growl messages or more, and the alert takes place with no other background activity.