Todiost Review: Online Task Manager and ToDo Lists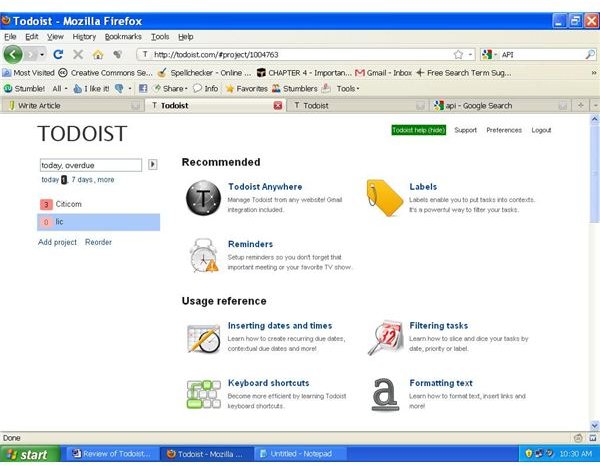 Home Page (4 out of 5)
Todoist is a free easy to access online personal task manager build in Ajax interface that allows the user to schedule, maintain, and prioritize tasks in a better way.
Sign up is fast and easy, with only the name, email address, password, and time zone required, and users remain logged in unless they sign out. The home page lists out the to-do projects in the left side, and a review of the various features and functions offered on the right side, including a Todoist tips feature that provides users with helpful information.
Typing in a date or even 'tomorrow,', '5 days' or other recognizable text lists out the to-do's date wise. The listing of tasks is in project and sub-project wise hierarchical structures, and the facility to collapse project and sub project lists make viewing easy.
Task Entry (5 out of 5)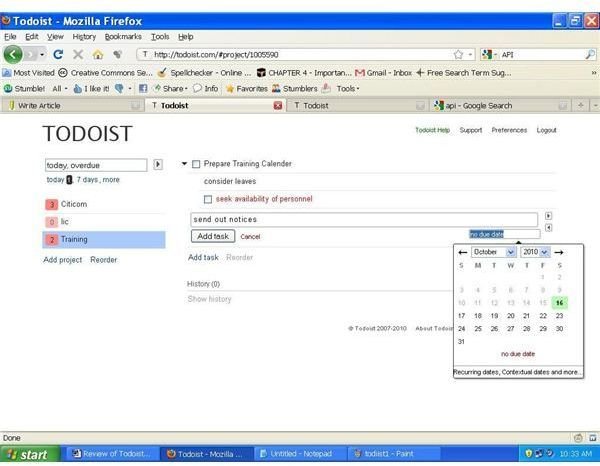 Todoist allows making to-do lists project wise. Creating a project is simple and straightforward. All the user needs to do is click on 'Add projects' at the left side of the screen, and type in the project name. To-do items are created within the project, again through a simple process of clicking on the project, clicking on the 'Add task' button and typing in the task description and making an optional due date selection.
Todosit thrives on leveraging the power of simplicity, and offers various options that make task entry and management easy.
Simply pressing Ctrl-Left indents the to-do list (Ctrl-Right to undo the indent) allows creating sub projects and hierarchies, and allows for a simple way to associate a whole bunch of little tasks with a main task.
Starting off the task description with the * symbol removes the checkbox associated with the to-do list, converting that specific entry into a note.
Placing @ at the start creates contexts.
Addition of syntax shortcuts such as '!p1' and '!p2' help prioritize tasks.
Todoist recognizing URL's and allow incorporation of links to tasks.
Date Function (5 out of 5)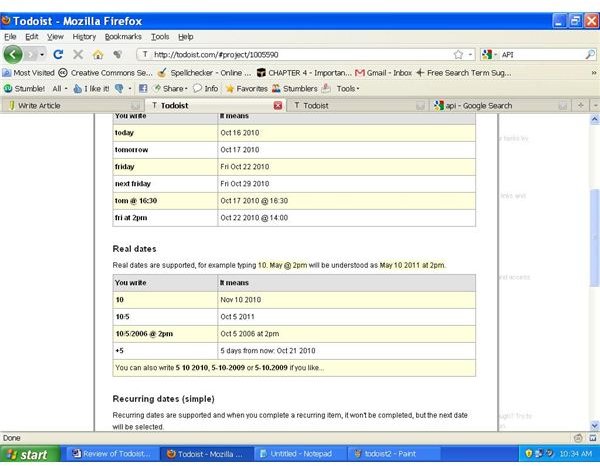 Todoist review shows one of the biggest strengths to the application as its built-in calendar. This date feature has recurring dates that allows setting due dates on tasks and shows an overview of what needs doing, day-wise. The strength comes from the application recognizing a variety of date and time formats such as 'Next Wednesday, ' '+5' '10 Oct 2010' and much more automatically on entry.
Keyboard Shortcuts (3 out of 5)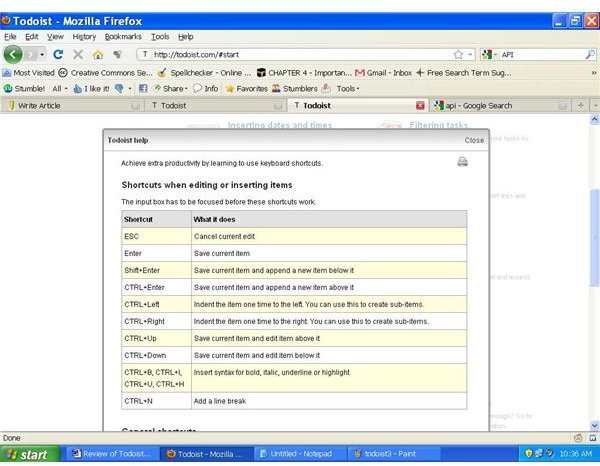 One great feature of todoist is the many keyboard shortcuts that make entering, formatting, and editing tasks easy. For instance, creating items requires hitting the "a" key from the project list. The abbreviation "ev 2 mon" lists out the tasks due fortnightly on Mondays.
The number of keyboard shortcuts however leaves some room for improvement.
Features (5 out of 5)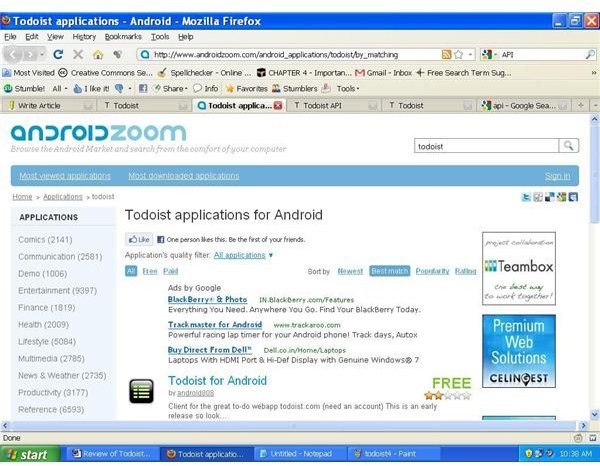 Todoist prides itself on many features such as gmail integration, mobile access, browser plugins, labels, and widgets.
Todoist export feature that allows users to quickly create a manual back up using an XML format
Todoist offers a comprehensive API that offers access to all of the basic functionality. Mac OSX users can access it via Quicksilver or the Dashboard widget. Installing a Firefox plug-in place a 'Add to Todoist' link at the bottom of every Gmail conversation, which makes turning mail into action items a one click endeavor.Widgets for Netvibes and iGoogle replicate the applications functionality.
A mobile application adds to the various accessibility options.
Conclusion
The biggest drawback of todoist is the lack of facility to share tasks or projects. The founder of todoist has launched wedoist.com, another application aimed specifically at project collaboration. There is however no facility to integrate todoist and wedoist.
Another major drawback is the limited notification options available on missing a project or task deadline.Todoist notify tasks that are due via an email or SMS. This however is a pay only feature.
Overall Todoist is a very simple yet solid and elegant online application that leverages the power of simplicity, and a must-have for people who love to stay organized by sorting their tasks using 'to-do' lists.