Klok Review: Tracking Your Time Visually with Klok Free Time Tracking Software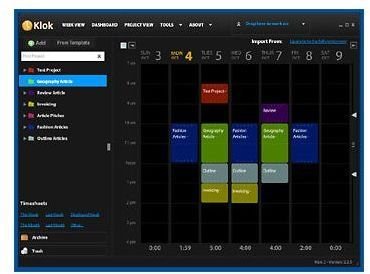 Klok Overview
Similar in look to popular calendar applications like Google Calendar, Klok Time Tracking Software allows you to track your time spent on projects by adding tasks in "chunks" of time, allowing you a quick at-a-glance view of the ways your workday gets filled up.
The program runs on Adobe Air directly from your desktop and utilizes HTML, JavaScript, Adobe Flash® software, allowing users to work in a visually rich environment.
To track your time spent on projects, you simply add projects or tasks and start the timer. Billable hours and rates can be added to each project so creating invoices at the end of a project are simple.
Scheduling future projects can be done by dragging projects to the calendar. Doing so will insert a "block" of time that you can then edit the start and end times, if needed. When you are ready to work on any given project, you can simply start the timer and your progress will be tracked.
Adopting good habits when it comes to keeping track of everything you do in your workday is one of the keys to effective time management. Klok makes it easy to do just that.
Features (5 out of 5)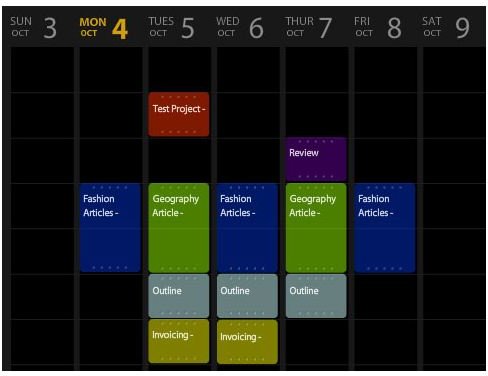 Klok's tracking, reporting and export features allow entrepreneurs to track those all-important hours spent working on client projects. The main features of Klok include:
Visual displaye of your time: gives a quick overview of how your day fills up
Flexible client/project: set up your clients, projects and tasks in a way that suits your needs & working style
True Time Tracking: projects are tracked automatically
Timesheet Export: view and export entries into spreadsheet format
Dashboard Reporting: helpful data such as whether billable hours are increasing or days of the week when you do most of your work
Import Meetings: the Premium version of Klok allows you to import tasks from other calendar applications
Ease of Use (5 out of 5)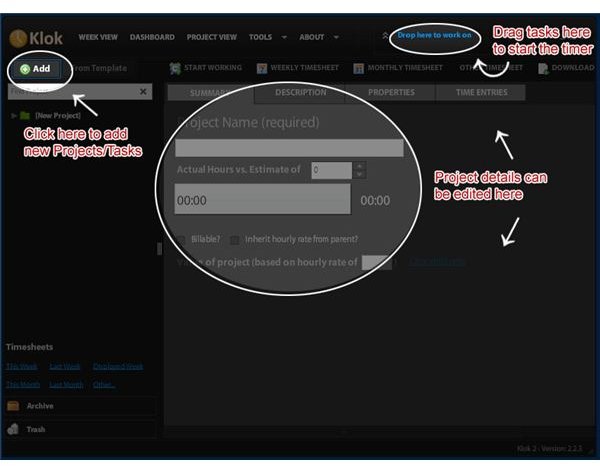 The Free version of Klok installs immediately after a quick download.
To begin tracking time, you must first add a project or task to track. Simply add projects by clicking the "Add" button at the top left side of the screen. A new project is added to your left-hand column, which you can then double-click and edit details such as Project Name, Project Code, Contact Name, Contact Email, Contact Phone, as well as add any tasks or sub-tasks pertaining to the project.
To start the timer for a project, it's as easy as clicking on the project in the left-hand sidebar and dragging it to the "Drop here to work on" space at the top of the screen. Alternatively, you can right-click on the project name and select "Work On."
(5 out of 5)
If you are already tracking a project and begin work on another one, your original timer will stop and a new one will start, making switching between projects easy and unencumbered.
Creating repeating tasks from already-existing tasks can be completed simply by clicking "Project View" in the top menu, then clicking "Create New Entry" at the bottom of the Time Entries panel and selecting the date, start and stop times of your task.
Klok is a very intuitive program which allows users with no experience to manage their tasks, projects and business effectively.
Klok Free Vs. Pro (4 out of 5)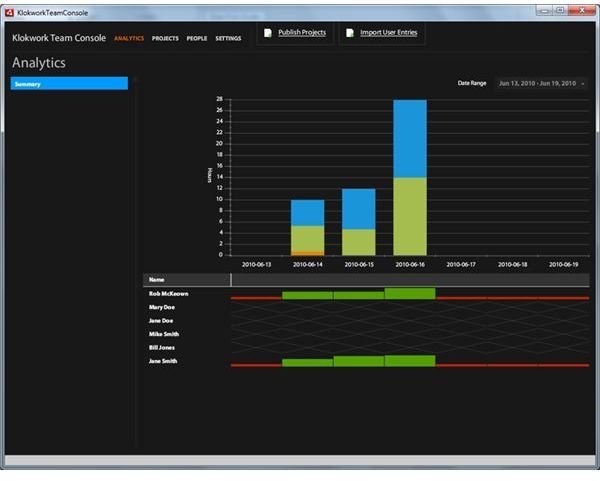 Klok offers both a Free and Pro version. But with the Pro version at only $15.99, it is well worth the price to be able to sync your projects with Google Calendar, one of the many features only available in the Pro version.
Other features of the Pro version include:
Klokwork Team Connector, which allows you to share projects with a team of co-workers through a plugin
Klokwork Team Console: aggregated reporting across your team members and projects
If you are an individual freelancer, you may not need these features and could very well get along with the free version, but if you are looking to keep your projects synced with an external calendar, pricing for the Pro version is well within the budget of most small businesses.
Photo: Klok
Overall Klok Review Rating (5 out of 5)
Klok is a fantastic tool that every freelancer or entrepreneur can add to their small business arsenal.
With drag and drop time entries, a simple dashboard view with colored entries for a quick project view, the ability to export timesheets to Microsoft Excel for analysis and printing, and optional Pro features that can help keep your projects synced, Klok helps you to visualize your productivity and is an invaluable tool for managing your time.
To experience the Klok Time Tracking System for yourself, visit their website and download the free version today.
Screenshots created by Mary Rajotte except as otherwise noted
This post is part of the series: Time Management For The Home Office
Keeping up with one's to-do list can be a struggle, but these time management strategies for the home office will help to keep you on track and improve your productivity.