Plans for Home Office Cabinets: DIY Cabinets at an Affordable Price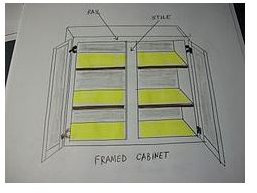 Make Your Own Home Office Cabinets Cheap!
Home office cabinets can cost you thousands of dollars to purchase premade from a retailer. If you want some custom work, it could cost you as much as $25,000. Most people do not have that type of money for one piece of furniture. With a little research and elbow grease, you can learn how to make your own home office furniture for less than half the price.
Take Your Measurements
The typical base cabinet size is 34.5 inches for the height, and 24 inches in depth. If you have found something you would like in a magazine, copy down the dimensions for your own use. If you are walking around a retail store, bring a tape measure and pen and paper with you to write down any measurements you may need to take when you find something you adore.
Visualize and Sketch It Out
Now that you have your measurements, especially if you have taken the design idea from something you saw at a store, you need to sketch it all down. Write down the measurements you took for each side and don't worry if you are not the greatest draftsman.
Image credit https://commons.wikimedia.org/wiki/File:Framed_Cabinets.jpg
Go to Your Local Lumber Store or Home Depot
Although Fused Melamime is recommended as the best lumber for the job because it does not rot, if you find it is not within your budget look around for something similar that is. If you are unsure of the best wood to use for both the price and features, seek out the help of a sales professional who will be more than willing to help with your project.
For sheets of wood, the best size to use is 48" X 96". Edge banding over the edges of the cut sides also adds a nice finishing touch.
Gather Up Your Tools
Some of the tools that work well for making home office cabinets are a dado saw, wall saw, table saw and chop saw. If you do not have all of these, see if you can borrow from a friend or relative. Many shops will let you rent these tools for a small fee.
Starting Your Project
Remember to wear safety goggles at all times when working. First, put the sheet of fused melamine onto the wall saw very carefully. Taking your measurements, set the saw to cut at the length you require for your cabinet. Once the measurements have been set correctly, turn the saw on and begin to cut very slowly as to keep as even and steady as you can. For one cabinet, you are going to need to cut two of this size sheets.
Next, change the settings of the saw to cut to 24 inches for the other length you will need. When completed, you should have two sheets that are 34 1/2 by 24 inches. For your top and bottom pieces, you will want to cut them with the 24 inch depth measurement and then whatever you want for the width of your choice.
Banding the side that has the length that you chose and not the 24 inch side, set up a closed dado and be sure to dado both ends of both pieces of wood. Next, connect a staple gun to an air hose. Using 1½-inch staples, secure the sides to your top and bottom pieces. Put your bottom piece in the bottom dado of the cabinet and staple it. Follow by finishing both sides of the cabinet and then your top piece. Finally, you can add a stain to it if you would like for a more finished and professional look.
If you would like to know what the cost of the project will be before you begin, you may choose to go online and price what you will need. This will help you to know exactly what you will need, what questions you may need to ask, and will allow you to stay within your budget. If you are just setting up your home office, finding design ideas on a budget can be a tricky thing. You may find once you have built your home office cabinets, that you want to tackle another job such as building shelves to make your space go further. Use your imagination, do some research and you can create an efficient working space that won't break the bank.
Resources
https://www.woodworkingplans4free.com/plans/stackablewallunit/wallunit1.html
https://www.woodworkersworkshop.com/resources/index.php?cat=417&topic=wood%20cabinets
https://www.diynetwork.com/videos/base-cabinets-installation/19527.html