Top 10 Cheap & Easy Decorating Home Office Ideas - Part One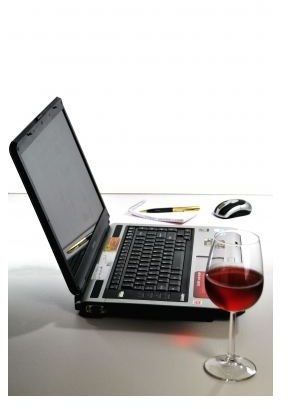 10 Cheap & Easy Ideas for Decorating a Home Office
Many people want to create a home office from a spare room, an unused walk in closet, or in a corner in the basement. Whatever your plans, there is a way that you can build on a budget and not worry about breaking the bank. If you do a little studying up on the techniques of painting, putting up wallpaper, putting together a desk or a bookshelf, putting up drywall and a door, or simply just some basic design concepts, you should be prepared for most do it yourself jobs with cheap and easy decorating home office ideas. The following article will share 10 cheap and easy ideas for decorating your home office.
Image Credit: https://www.freedigitalphotos.net/images/Computers_g62-Home_Office_p14556.html
1. Check Out Garage Sales and Liquidator Shops
If you are in need of some furniture but do not have the budget for brand new stuff, you'll be amazed at the possibilities there are with used and older furniture. Checking out garage sales is a fun way to spend some of your weekend time and find ideas for small home office decorating. If it is not warm weather, you can look in your local paper for people selling furniture in the "under $100" section. There are many liquidation stores that carry furniture brands that are older or not as popular and often have them on for good prices just to get rid of them.
2. Give New Life to Old Treasures
If your mom decides to give away your old desk from high school that she has had in her basement for years, this may be a great time to bring out the sanding equipment, paint, and materials for upholstery. It takes only a little time to sand down any scratches and imperfections on a desk top. If you find you can't smooth out the surface, you can always use something like a world map, lay it over the top, apply some glaze, and when it is dry, if you find it is not solid enough, you can look for a stronger shellac or even a piece of glass. Don't want to paint by hand, you can always find a variety of patterns and colors for spray paint options as well.
3. Re-Upholster Furniture

Re-upholstering a chair can be easy and affordable as well. You can use old material from around the house, or buy some on sale. You will only need a big enough piece to wrap around the top of the chair seat, leaving enough material to tuck underneath where you can staple it to the base of the seat. If you want a nice soft and cushy seat, just buy a piece of foam or a choice of other padding material to put underneath the seat material before stapling.
Image Credit: https://www.freedigitalphotos.net/images/Dining_g187-Chair_p3675.html
4. Add Accessories
Items like pens, papers, a staple gun, hole punchers, paper clips, post it notes, or any such useful little item you use throughout the day, can not only add up in monthly expenses but find their way all over your office throughout the day. While there are places such as Home Depot, Staples, or Office Depot where you can buy organizers to put them in, these can run a pretty penny. The dollar store has just what you need at a fraction of the price. You can find many varieties of plastic organizers to help keep on top of your home office organization efforts.
5. Decorative Accents
Continuing on with decorating home office tips, while at the dollar store, you can also browse around and pick up some decorative accents like a colorful flower vase and some silk flowers, a picture for the wall, or even a desk lamp or two. You can also find little ceramics to decorate your shelves and add some cheer to the room. Browse around and let your imagination flow.
6. Add a Bulletin Board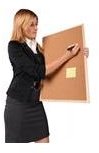 You can purchase a blackboard or bulletin board to hang on the wall to help you save time and space. With the ability to hang up your calendar where you can see it, hang up notes or business cards for people you are supposed to meet with for the day, you can save yourself time digging around looking for addresses and directions at the last minute. These can be purchased at an affordable price and come in all sizes to fit the wall space you have.
Image Credit: https://www.freedigitalphotos.net/images/Business_People_g201-Woman_Writing_On_Pinboard_p9655.html
7. Give Your Room a Little Splash of Color
Don't forget the walls. You will want a little color in your room to give you some energy power. Choosing a warm color on only one or two walls will add just enough color but keep the costs down. You can go and ask the paint store if they have mix match cans on sale. These are colors that someone else had wanted but found out once mixed, they were the wrong choice. These end up selling for a cheaper price but are still perfectly good choices for someone else.
8. The Right Lighting
While many offices come with a light overhead, having a tall lamp or a pretty accent lamp on the desk or table may be more decorative and allow you to use a lower bulb wattage and save on electricity. Check around at your Home Depot store, or specialized lighting shops. Often you can find a good deal for less than you thought.
9. Make Use of Your Space
Spaces such as the back of the door are often not thought of in design plans. But by purchasing something like a shoe rack, you can have a simple storage solution for CDs, wires, staples or anything else you may want to grab at a moment's notice. A shoe rack can be affordable, and many times can even be found at the dollar store.
10. Accent Rugs or Full Carpet?
If your home office is in the basement, you will more than likely appreciate having a rug or carpet underneath your tootsies. There is no reason to invest in a complete carpet laying adventure. You can purchase large area rugs for affordable prices, or you can visit a carpet shop and look for the end rolls. End rolls are cheaper and still do the same job when wanting to work within a budget.
If you are just setting out trying to think of the best design for your home office on a budget, you may want to browse around and see what options you have before you decide on anything final. Often times you can get set up for as little as $100. If you are working on a limited space but want to make the most of it, you can find more ideas here. With a little time, planning and a some imagination, there should be no reason why you can't find the best decorating home office ideas to fit within your budget.
References