Tips, Tools and Time Management Strategies for the Home Office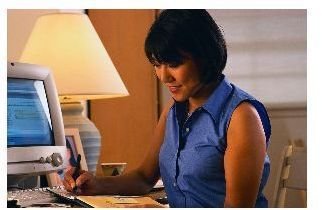 One of the major downfalls of running a home office is the difficulty of separating work from home life.
When your office is just down the hall from your living area, the tempation to put in a few extra hours of work can be overwhelming, and can lead to a pattern of overworking and burn out.
These time management strategies for the home office will help you work more effectively, & productively.
Photo: Microsoft Office Online
Get Organized
Whether you prefer to work for a classic paper to-do list or ned something more robust such as project management software, simply getting all of your tasks down is a great place to start.
Simply getting your thoughts, ideas, appointments and responsibilities out will clear your head so you can work without worrying about everything that you have to accomplish on any given day.
Set Achievable Goals
After you organize your projects, it is time to lay out the smaller actions that you will need to take to complete each larger task.
While you may be tempted to try to accomplish everything all at once, you inevitably set yourself up for failure when you over plan and try to take on too much at once.
Just because a task is on your list does not mean it needs to be taken care of immediately. The easiest way to avoid feeling overwhelmed is to prioritize.
Prioritize Your Tasks
While there are certain tasks you may want to work on, that does not necessarily mean they are all urgent.
By making a list of your top priorities for the week, you will know exactly what you need to work on and you will be able to jump right into your to-do list at the beginning of every day.
Having a set of goals already laid out for you will help you work more productively and will eliminate the trap of procrastinating when you are not sure where to start with your to-do list.
Work To Your Strengths
If you know that you cannot function in the morning without first having a cup of coffee, schedule less taxing tasks, such as answering emails or updating your website for those times.
Save the more time-consuming tasks for later in the day when your brain is more focused.
Zap Productivity Killers
Email, blogs, and social networking can be both fun & helpful to your business, but they also sap a lot of time.
Set up specific time slots throughout the day to check in. After all, there is no harm in taking a break every now and then. But try not to let that become the bulk of your work day. Otherwise, you will find yourself having to make up your work during your off-hours.
Final Thoughts
When you remain focused, you are able to check things the important things off your to-do list and reach the end of the work day feeling accomplished instead of feeling like you didn't do enough, which may lead to you pulling an all-nighter to simply catch up.
With some organization, you can utilize these time management strategies to create a successful and accomplished business.