Ideas for Decorating a Small Home Office: Try These Tips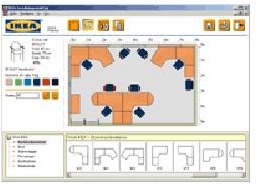 The home office is no longer a novelty. Whether used as a study, a computer room or as a space fully dedicated to a small business, entrepreneurs and executives alike are setting up work spaces inside the home. The following ideas will help you to get your new workspace up and running.
Decide How You Will Use Your Space
Whether you have a separate room available or will be building a workspace within your living area, the first step is to define how you will be using your space.
Will you need space for a computer?
What sort of shelving or filing system will you need?
Do you need a large work area or will something smaller do?
Defining your space makes it easy to decide what furniture you will need. Those with a separate room may have an easier time when making decorating decisions but for those who do not, separating one's work from living space as much as possible will make for a more productive work day.
Create a Blueprint
After choosing your work space, you may be tempted to dive right in and start rearranging things. Using a worksheet or design software, however, can save you a lot of time - and give your back a rest.
Ikea offers free downloadable software that are extremely helpful to those furnishing and decorating a home office.
Their Office Planner makes it easy to virtually redesign your space by inputting your room dimensions and even adding in their own furniture into your design to see how it will fit into your newly redesigned office.
Ikea's furniture is also relatively inexpensive and offers styles that would suit a range of professionals.
Photo: Ikea.com
Decor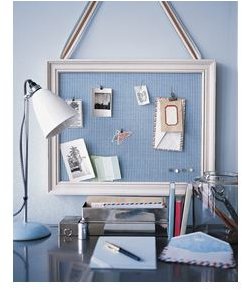 While the focus of your home office should be work, that does not mean you cannot infuse your own personal style into the space. Plain white walls are not necessarily inspiring, so this is the perfect opportunity to bring in some color, decorations and accents.
Wall art and paint are two of the easiest ways to add interest and neither will break your budget. Here are a few creative ideas you can incorporate:
Paint
Paint one wall in your favorite accent color. It will enliven your space and can easily be changed if you get bored of the color. You can use your favorite skirt, blouse or sports team as inspiration for your color palette. You may even wish to consider adding decorative stencils for an added punch.
Wall Art
Framed prints are inexpensive and you can even choose one of your favorite family photos and have it enlarged for your wall. Postcards, magazine clippings and color swatches can be easily compiled on an inspiration board. Need a place to display your calendar, notes or important papers? Why not create a fabric covered memory board? This not only serves a funtional purpose…it adds a little glam to your work surroundings.
Image credit MarthaSterwart.com
Final Thoughts
There are many ways to set-up a home office without breaking one's budget. By following these decorating ideas, you can transform your workspace into one that will suit your needs, reflect your personal style, and allow you to work efficiently from the comfort of your own home.
Resources