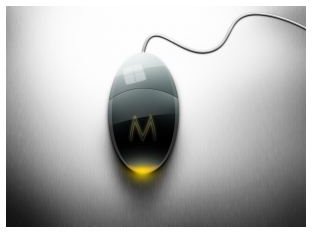 Going Mouse Shopping
For most people, mouse shopping isn't on the top of their must-shop for computer list, but it should be. Choosing the right mouse makes the difference between scrolling in pain, and scrolling in comfort. Most computers purchased come with a standard mouse, but this mouse may not be compatible or comfortable for your specific uses. This is why it's important to purchase a mouse separately. With so many choices now available, it can be dizzying to know what option is right for you. In this article, we'll go over the most popular mice and the pros and cons of each. Choose the right mouse to avoid common problems like wrist pain and carpal tunnel syndrome.
Mouse Connection Choices - USB
Most computer mouse options connect via a USB cable. In the old days, they connected through serial ports, but the newer computers no longer have this option. Serial ports were slow and limiting. With USB, you receive a faster connection, which means that the pointer moves as you do. These USB mice can connect directly to your PC or to your keyboard (if it has a USB port).
Go Wireless with Your Mouse
Aside from USB (or wired) mouse options, there is another option available, which is wireless. A mireless mouse is a great alternative because you don't have to deal with messy cords. A wireless mouse works much the same way that remote controls do, which is a potential drawback because this option requires precise alignment with the sensor, especially when it comes to the less expensive brands. Another drawback is that your wireless mouse may require AA batteries, which can continually drain your budget.
Mouse Configuration Choices
Mouse options come in three different configurations: the mechanical, the optical, and the trackball. Let's explore the differences between these.
The mechanical mouse is the the most common type. It has a ball that rolls against the surface of a desk. Also known as a ball mouse, this device requires constant maintenance because the ball attracts lint and dirt from the desk surface. A mechanical mouse may have come by default with your computer purchase, but these products are currently being phased out for the next generation, optical tracking mice.
The Optical mouse differentiates uses a light beam sensor to direct the pointer, instead of a ball. The wonderful thing about this mouse is that you don't need a mousepad (it works best without it), and you don't have clean it, because there are no exposed gears. Most optical mice come with a scrolling wheel, which comes in between the right and left buttons on the mouse. It's a wonderful feature because it allows you to scroll while keeping your hand stable.
The Trackball Mouse
Finally, there is the trackball mouse. The trackball uses a rolling ball that you control directly to move the cursor. It's like an upside down mechanical mouse. The benefit to this mouse is that you don't move the device around your desk, you only move the rolling ball within the mouse. It's got a huge learning curve, especially if you're accustomed to the traditional mouse. An additional benefit to this mouse is that you minimize shoulder or arm pain because you're not constantly pushing a mouse back and forth, and your hand is stable.
It's Your Choice
Choosing a mouse isn't overwhelming when you narrow down the benefits of each type. A final bit of advice is to go to the store and physically test the models, and see what works best with you. You may be surprised by results, and your hand will thank you.